Back to Air Conditioning
Air Conditioner Maintenance Can Save You a Bundle
Posted: January 25, 2016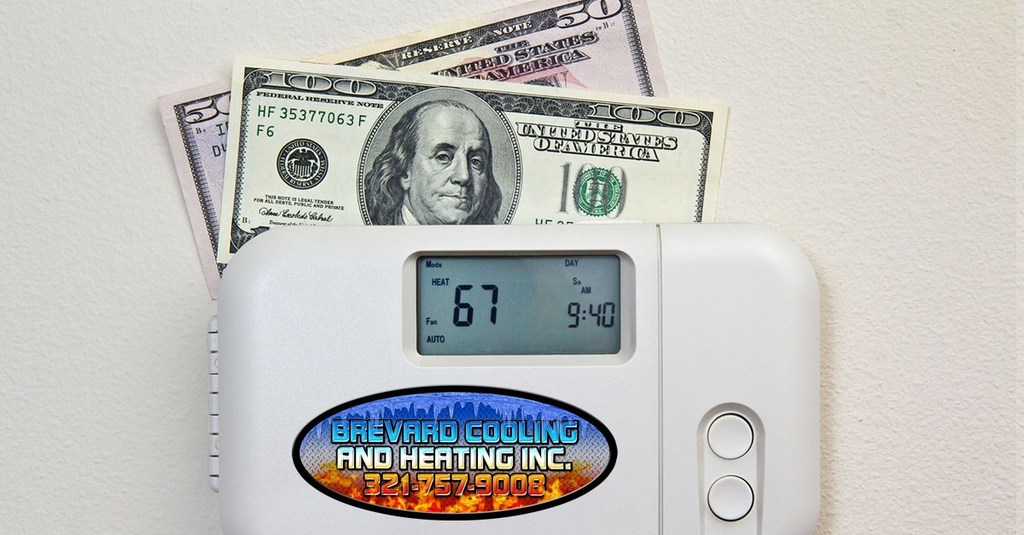 If you've lived in Florida long, you know that your air conditioner runs nearly nonstop from May through October. Taking into consideration the rare cold snap when temperatures dip below 70 degrees, that's about 3,500 hours of operation over the course of a single cooling season. If your air conditioner were a car driving at 50 miles per hour, it would cover 175,000 miles in a single summer.
One way to vastly reduce your annual cooling bill is to move from Indian Harbour Beach to, say, Montana or Michigan, where the cooling season is considerably shorter. A better way to reduce your cooling costs is to schedule your annual A/C maintenance with Brevard Cooling & Heating, Inc. before it's time to crank up the cool.
The Importance of Spring A/C Maintenance
If you drove your car 175,000 miles in one summer, would you do it again the next summer without a thorough tune-up? Of course you wouldn't. And if you did, it would likely break down. And if it didn't break down, it certainly wouldn't get very good gas mileage.
The same goes for your air conditioner. Over the course of a Brevard County cooling season, minute vibrations can loosen electrical connections and motor mount screws. Dust buildup can coat essential components and reduce overall system efficiency, and dirt and grime on the indoor and outdoor coils prevent the optimum absorption and release of heat. Lubrication dries up, belts and controls wear out, and thermostats lose accuracy. Not all at once, of course, but neglecting your air conditioner will lead to problems down the road, guaranteed.
The Top Five Benefits of the Annual Spring A/C Tune-Up
Cooling and heating your home accounts for about half of your annual utilities. An inefficient air conditioner typically costs an additional five percent per year for each year it's not maintained.
If it's been three years since the last tune-up, you could be paying as much as 15 percent more than necessary for cooling your home, and given the high price of electricity, that's a lotta lettuce.
But a lower cooling bill isn't the only benefit of the annual spring tune-up, although that's the number one reason on most homeowners' lists for scheduling routine service. Preventive maintenance has other benefits, too:
It helps prevent costly repairs due to mid-summer breakdowns.
It cools more effectively to increase comfort.
It uses less energy, which lowers your carbon footprint.
It extends the operating life of your air conditioner.
Major Checkpoints Included in Preventive A/C Maintenance
Brevard Cooling & Heating hires only highly qualified, NATE-certified technicians who pass a comprehensive background check and drug test. Our multiple-point maintenance checklist includes these essential tasks:
Lubricate moving parts of the system to prevent friction.
Clean essential components, including the blower assembly and coils.
Tighten electrical connections.
Inspect wires and terminals and apply nonconductive coating to prevent corrosion.
Inspect belts and motor bearings for wear.
Measure the refrigerant level and check for leaks if it's low; repair any leaks, and add refrigerant if needed.
Measure the airflow to ensure top efficiency and effective cooling.
Test the system controls for proper cycling.
Flush the condensate drain to prevent clogs and overflow.
Test the thermostat for accuracy.
Essential DIY Maintenance
Once the technician has packed up and left the building, the tender loving care of your air conditioner is up to you. Just two simple monthly tasks will help ensure continued A/C efficiency for the duration of the cooling season.
Stock up on good quality air filters, and inspect the filter every month. When it's coated with dust and you can no longer see the white filter material, replace it with a clean filter. A dirty filter is one of the most common culprits when it comes to air conditioner failure. A clogged air filter restricts airflow, allows dust to infiltrate the system, and reduces efficiency.
Maintain the outdoor unit monthly. Remove any plant growth from within 16 inches of the unit, and hose down the housing to flush away dirt and debris trapped in the metal fins. Use a fin comb to straighten out bent fins to ensure the optimum exchange of heat.
Are you ready to kick off the cooling season with a freshly tuned-up air conditioner? Call Brevard County Cooling & Heating, Inc. today to schedule your appointment.
Have a specific Heating, Ventilating, & Air Conditioning related question?
Ask a Professional. We're here to help! Call anytime day or night (321) 757-9008