Back to Air Conditioning
Automation & Your HVAC System
Posted: July 22, 2015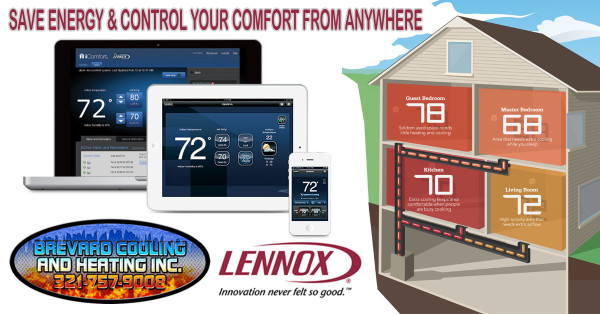 If you are thinking about replacing your HVAC system, it's always a good idea to have a conversation with your HVAC technician, who can help you navigate all the considerations that must be weighed before making this investment. When you are thinking about this or that type of model, be sure you investigate how systems outfitted with the latest technology could enhance your home and even reduce your energy costs.
What Type of Automation Accompanies Today's HVAC Systems?
Residential property owners now have a myriad of options when it comes to selecting an HVAC system or its components. From programmable and touchscreen thermostats to innovative apps that allow users to access their system from far away are just a couple options you can consider when upgrading your HVAC system. There are also technically astute features associated with today's new systems that have smart sensors to more effectively self-modulate to control the dwellings temperature. Improved control leads to reduced energy bills and improved conservation of energy.
Touchscreen Thermostat
Many homeowners are opting for new touchscreen thermostats that are convenient to operate. Many of these devices do more than just control the home's temperature. Some models have been developed to humidity, ventilation, and, of course, fan settings. These thermostats are invariably programmable as well. You can program your thermostat to reduce heat or air conditioning during the hours you are away at work, but increase heating or AC operation an hour or so before you are scheduled to be home. You don't sacrifice any comfort, but you will wind up paying less for energy–energy that you are not home to enjoy in any case.
Smartphone Apps and Your HVAC System
Many new HVAC systems are now accessible via your smartphone with the use of a mobile app. You can adjust your thermostat settings remotely, which is another great way to cut back on energy use. If you are running late or change your plans, you can turn down your heat, for instance, so you aren't consuming more energy at home than you need. This convenient feature can lead to incredible cost savings over the course of a year.
Zoning Systems
Many homeowners are opting for new systems that allow up to eight zones within their home that can be independently controlled. If you aren't using specific areas of your home during the day or evening, it makes sense to reduce the energy these spaces consume. Moreover, it's a great way to enhance comfort for each member of the household. Some people get cold easily and while others can't stand to be overly warm. It also makes sense to adjust temperatures for upstairs and downstairs since heat rises and cool air sinks. You can now adjust your system accordingly. When you install system that supports zone control, you can more effectively control temperature and humidity throughout the entire setting.
Technology and Variable Speeds
Many new HVAC systems are now equipped to support variable speeds. Variable speed handlers affect the beginning and ending of heating and cooling cycles. As speeds reduce, less energy is consumed and the cost of energy use also diminishes. Variable speed handlers are designed to support temperature and comfort without using excess energy.
What Technology Features Are Ideal for Your Home?
Today's new HVAC systems marry functionality with convenience. You can now choose controls and technology options that suit your lifestyle. You can choose models that complement the unique design of your home. Unless you are an HVAC professional, you might not be aware of all the latest advances in residential heating and cooling systems. For this reason, you should consult your HVAC service technician to assess your space and help you narrow down some options when it comes to replacing your system.
In the end, there's no reason you can't choose a new system that enhances the comfort of your home but also saves you money on energy. An energy-efficient system that allows for improved convenience is what you have to look forward to when you install your new HVAC system. From smart thermostats to mobile apps, you'll be able to select a new system that is easy to use and ideally suited to your home's heating and cooling needs.
Have a specific Heating, Ventilating, & Air Conditioning related question?
Ask a Professional. We're here to help! Call anytime day or night (321) 757-9008