Back to Daikin Whole House Air Handlers and Coils
DVPEC Air Handler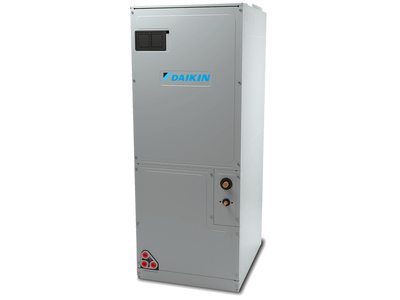 Electronic Expansion Valve (EEV) for cooling and heat pump applications
Variable-speed ECM indoor blower motor
ComfortNet™ Communicating System compatible
Provides constant CFM over a wide range of static pressure conditions independent of duct system
CFM indicator
Thermostat provides adjustable low CFM for efficient fan-only operation
All-aluminum evaporator coil
Fault recall of six most recent faults
Improved humidity and comfort control compared to units without ECM or EEV
3 kW – 25 kW electric heater kits
Horizontal or vertical configuration capabilities
21 inch depth for easier attic access
DecaBDE-free thermoplastic drain pan with secondary drain connections
Screw-less sides and back helps to reduce condensation when installed in humid locations
Foil-faced insulation covers the internal casing to reduce cabinet condensation
Tool-less filter access
AHRI certified and ETL listed
Specifications:
ComfortNet™ Compatible: Yes
Compressor Type: Variable-Speed
Capacity (Tons): 2 to 5 Tons
Installation Options:
Motor Type: Variable-Speed ECM
Warranty
*Complete warranty details available from your local dealer or at www.daikincomfort.com. To receive the 12-Year Parts Limited Warranty, online registration must be completed within 60 days of installation. Online registration is not required in California or Quebec.
Have a specific Heating, Ventilating, & Air Conditioning related question?
Ask a Professional. We're here to help! Call anytime day or night (321) 757-9008