Back to Commercial Services
Commercial AC & Heating Installation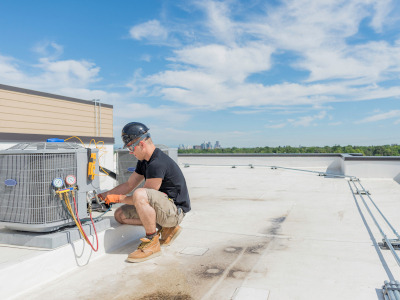 If you're a business owner or commercial property owner in Melbourne, Florida, you understand the importance of a fully operational heating and cooling system. Not only is it required to keep tenants and customers comfortable year-round, it's also necessary for maintaining your building.
The soaring temperatures we experience throughout Brevard County - from Palm Bay, Florida to Titusville, Florida and everywhere in between - is no joke. For at least 6 months out of the year, we are dealing with 80+ temperatures, high humidity and lots of sunshine.
Keeping temperatures mild can facilitate longer stays in the store or commercial property which could mean more sales and overall happier customers and staff members.
Brevard Cooling and Heating has been providing expert HVAC installation throughout Melbourne and Brevard County for over a decade. Our team of experienced, trained technicians can handle your commercial HVAC install, whether it be for a small business or something more on the light industrial scale. Schedule service with Brevard Cooling today.
As a full-service commercial HVAC company, Brevard Cooling and Heating serves:
Retail Stores
Light Industrial/Industrial Buildings
Churches
Apartment Complexes
Warehouses
Strip Malls/Plazas
And More
Commercial cooling and heating issues span from small and trivial to large and complex, we can get to the root of the issue and get it repaired or suggest why a replacement is needed.
Stubborn commercial HVAC issues can include, but are not limited to; clogged condensate drains, frozen evaporator coils, worn-out fan belts, defective fan motors, defective compressors, refrigerant leaks and more.
Our knowledgeable technicians are well-versed in all types of AC and heating options and will recommend to you the right unit for your property and budget.
Signs Your May Need A New HVAC Unit
If you think your commercial HVAC unit is having issues, there could be a variety of warning signs that it needs to be replaced.
Is the air conditioning unit leaking, leaving a pool of water around the unit? Does it make a strange noise when started or while it's running? Is the air coming out of the unit warm or just not as cool as it once was? Does the unit hum, but the fan doesn't operate? If so, give us a call immediately!
Our knowledgeable team is ready to assist, from installation to preventative maintenance, Brevard Cooling offers quick response times completed by a company you can trust. We pride ourselves on using the best installation techniques in the industry and are professional, careful and meticulous.
Heating Installation
Residents of Melbourne, Florida and surrounding cities don't have to put too much thought into heating systems, there is a short period of time during which our homes and businesses even require heat. Nonetheless, those chilly times still occur typically throughout a few of the winter months in the Sunshine State.
Choosing the right heating system and HVAC company install or service the heating system is equally important. This is especially true if the heating system is for your business or other type of commercial property. As a commercial property owner, you need to ensure customers, tenants, and employees feel comfortable and warm when it's chilly outside.
Brevard Cooling and Heating offers a variety of Whole House Heat Pumps if you find yourself looking to replace the current heating system. Our certified technicians offer highly skilled and professional services at the lowest prices possible; this company was founded on the highest quality of workmanship you will find in the area. So, although heating systems, heat pumps, and furnaces aren't as popular of an item as air conditioners, we always aim to meet and exceed industry standards.
Contact Brevard Cooling and Heating
Brevard Cooling and Heating is the number one air conditioning and heating system in Brevard County, Florida. We work as a one stop shop for all commercial AC and heating needs. If your HVAC system needs an upgrade, give us a call or request a free estimate and someone from our team will reach out to you.
Have a specific Heating, Ventilating, & Air Conditioning related question?
Ask a Professional. We're here to help! Call anytime day or night (321) 757-9008