Back to Helpful HVAC Hints
How to Prepare Your AC Unit for Hurricane Season
Posted: June 9, 2021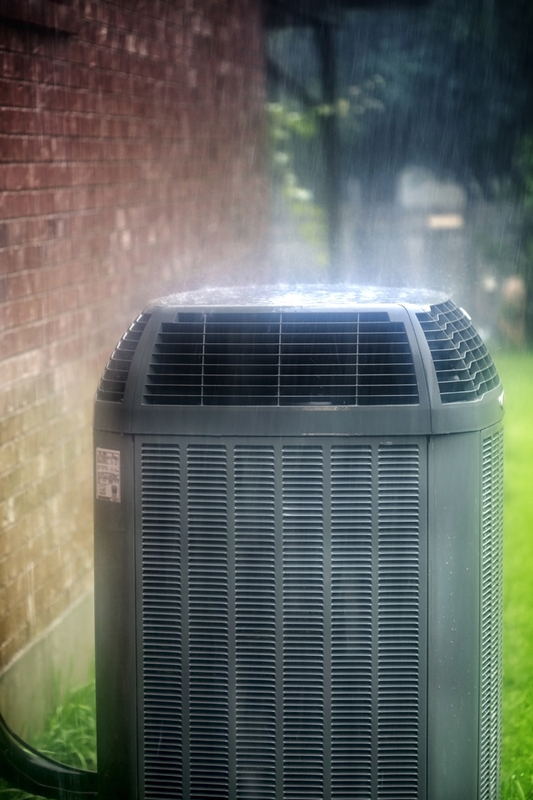 Homeowners and business owners alike know how severe the weather can get here in Melbourne, Florida, and are familiar with preparing their homes for the annual hurricane season. We experience severe weather events and torrential downpours coupled with high winds that homeowners in other parts of the country just can't relate to. We spend time preparing our homes to lower the risk of damage, stock up on non-perishables and other supplies and oftentimes, protection of the AC unit/HVAC unit is overlooked. There are a few simple steps you can take to prepare your AC unit, here are a few tips.
Adjust the Temperature Before the Storm Hits - In the middle of a hurricane or severe storm, it's a good idea to not run the AC. Before an impending storm or hurricane you can run the AC as normal or even a few degrees colder than you typically would, this way when the unit is turned off or should your home lose power, the cooler indoor temperature can be maintained for a longer period of time.
Turn off Your HVAC System / Surge Protection - Turning off your unit can lessen the risk and severity of damage should something unfortunately happen like getting hit by a bolt of lightning. If you opt to keep your AC unit running throughout the storm, at the very least you should use a surge protector to prevent damage to your HVAC unit due to a lightning strike. A surge protector works by diverting any extra voltage to ensure devices receive a consistent power level, as opposed to a surge of electricity which damages any devices that were receiving power, like AC equipment.
Secure the Outdoor HVAC Equipment - Typically, your HVAC unit will be secured to a concrete surface outside of the home and these fasteners rarely fail. However, what you need to check is the shape of the fasteners and also the concrete surface below, if it has previously suffered structural damage we recommend getting it remedied before the severe weather event. If you find that you don't have the time to fix the concrete surface or the fasteners are damaged or deteriorating you could look into securing the HVAC unit with hurricane straps.
Remove Possible Projectile Objects - Take a look around the perimeter of your home or business and check for items like lawn chairs, tables, umbrellas and more. If there are any objects that can easily be picked up and hurled through the air by the hurricane force winds we are familiar with in Brevard County, Florida you'll want to get those out of the way immediately! A garage or shed is a safe space to put these items throughout the duration of the storm. Objects flying through the air can not only damage your HVAC unit but other areas of your home, vehicles or fly through unprotected windows. You may also want to consider covering the outdoor HVAC unit, flying smaller debris like dirt, leaves and more could also cause damage. Better to be prepared than suffer from the effects of unpreparation.
Get Your HVAC System Inspected - If you haven't had your HVAC unit inspected in a while and are not up-to-date on regular maintenance it's a good idea to get the unit serviced before hurricane season. Making sure it is properly working could save you time and money and could thwart off costly repairs for damage done during a hurricane. There may be repairs that need to be made of preventive measures that can be taken.
Call Brevard Cooling and Heating for an Expert Opinion!
Contact us today by calling or filling out the contact form on our website. We service residential and commercial customers throughout the county from Palm Bay, Florida to Titusville, Florida and everywhere in between. We wish you and yours a safe hurricane season.
Have a specific Heating, Ventilating, & Air Conditioning related question?
Ask a Professional. We're here to help! Call anytime day or night (321) 757-9008