Back to Helpful HVAC Hints
Lower Your Holiday Energy Bills With These Tips and Have More Money For the Things That Matter
Posted: December 28, 2015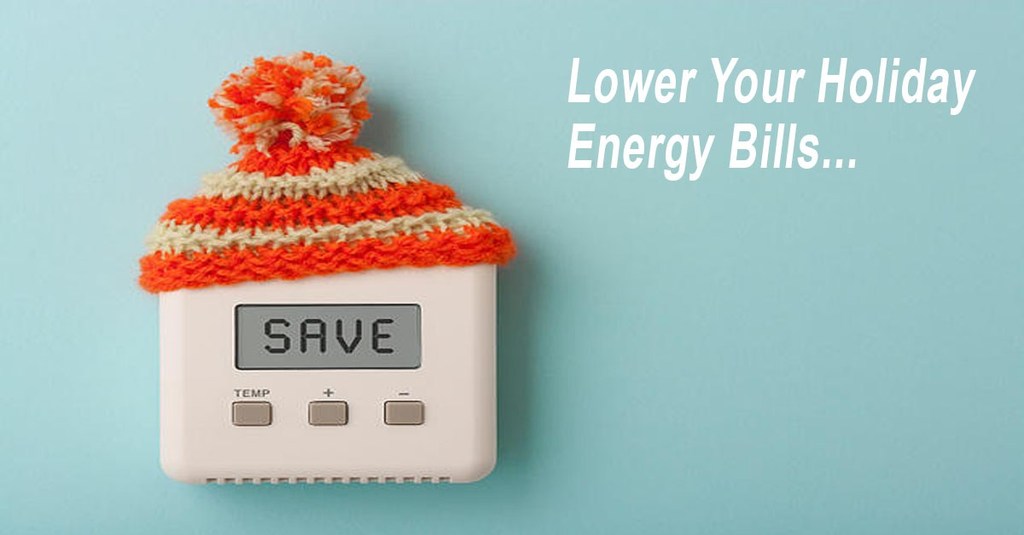 The winter holidays are a time of joy and fellowship–not to mention festive lights, smooches under the mistletoe, and bellies full of Christmas cookies. But there is just one downside to December, which is that household energy bills can increase significantly enough to make you consider easing up on the giving just a bit, but that's no fun for anyone. So in the spirit of giving, we hereby present you with a sleighful of energy saving tips for the winter holiday season.
Kitchen Tips
Chances are, you'll be slaving away in the kitchen making snickerdoodles, sugar cookies, and chocolate snowballs and concocting feasts for your friends and loved ones. You'd be surprised at how much energy you consume opening and closing the fridge and oven and washing all of those dishes. Here's how to conserve as much energy as possible while you're cooking up a storm.
Oven & Stove
Don't be tempted to open the oven to check the progress of what's inside. Doing so lowers the temperature inside by as much as 25 degrees, which means your oven has to use more energy heating it back up. You'll also send heat pouring into the kitchen, sending the A/C into overtime mode. Instead, turn on the light and peek through the window.
Let the oven pull double duty whenever you can by cooking two or more items at the same time. Just be sure to leave space between the dishes so that heat can circulate adequately.
On the stovetop, use the burner that best fits the pan so that more heat makes cooking go faster and less heat escapes into the kitchen. A pan that's two inches smaller than the burner will result in a 40 percent energy loss.
Before you get cookin', clean the stove's burners and reflectors to improve their heating power. If your reflectors have seen better days, a new, high-quality set can conserve as much as one-third of the energy used for stovetop cooking.
Consider using more energy efficient appliances, like the microwave, electric skillet, toaster oven, and slow cooker. An efficient microwave alone uses half the energy of your oven, and your slow cooker will cook an entire meal for under 20 cents' worth of electricity. Neither will heat up the kitchen like the oven or stove will. Also keep in mind that the grill won't cost you a dime in energy consumption, and it won't heat up the kitchen at all.
Refrigerator
When you need to grab something from the refrigerator, think about everything you'll need for the dish, and take it all out at one time. Leaving the door open while you're looking for what you need–and opening and closing it repeatedly–warms up the interior and requires more energy to get the temperature back to where it should be.
Dishes
If you're going to do dishes by hand, fill one sink basin with hot, soapy water and the other with hot, clean rinsewater. That way, you'll use less hot water–about half the amount needed for the same load in the dishwasher. But if you usually keep a steady stream of hot water flowing while you wash by hand, your dishwasher will use about 40 percent less water. Just make sure you fill it full–partial loads will cost you more.
Lighting Tips
Decorating accounts for at least half of the fun of the holiday season. But those old string lights can cost you a pretty penny, to the tune of up to 10 watts per bulb! This year, consider replacing those ancient big-bulbed string lights with new LED mini lights, which use up to 90 percent less energy and last far longer.
Put your lights on a timer so that you don't accidentally leave them on overnight or while the sun's shining. An automatic timer will save you money, and if you plug it into a smart plug that shuts off the flow of electricity completely, you'll save even more by eliminating energy vampires.
HEATING AND COOLING TIPS
This year's temperatures look to be pretty average through the Christmas season, which means it'll be toasty warm during the day but chilly at night. If you haven't already had an HVAC tuneup this fall, scheduling it now can save you money on heating and cooling your home. But there are other ways to save energy on heating and cooling, too:
Close your window shades when the sun is up to keep your rooms cooler during the day. In the late afternoon, when the temperature starts to fall, open the shades on your west-facing windows to let the last of the sunlight in to warm your rooms.
Do most of your holiday cooking and baking after the sun goes down, when you can open the windows to let extra heat out.
Keep the thermostat set to the lowest comfortable temperature at night and the highest comfortable temperature during the day.
Consider installing a programmable thermostat, which can save you around $180 a year. You'll never have to remember to set back the thermostat, which is particularly helpful in the winter, when you're often using both the A/C and heater.
Turn off the A/C and open the windows on nice days, and don the sweaters and comforters at night so you can stay warmer at lower thermostat settings.
For more energy-saving tips for the holiday season and beyond, please feel free to contact us at Brevard Cooling & Heating, serving Brevard County and beyond. And from our family to yours, Happy Holidays and Merry Christmas!
Have a specific Heating, Ventilating, & Air Conditioning related question?
Ask a Professional. We're here to help! Call anytime day or night (321) 757-9008