Back to Helpful HVAC Hints
Need help dealing with HVAC Industry Topics this Fall?
Posted: October 11, 2016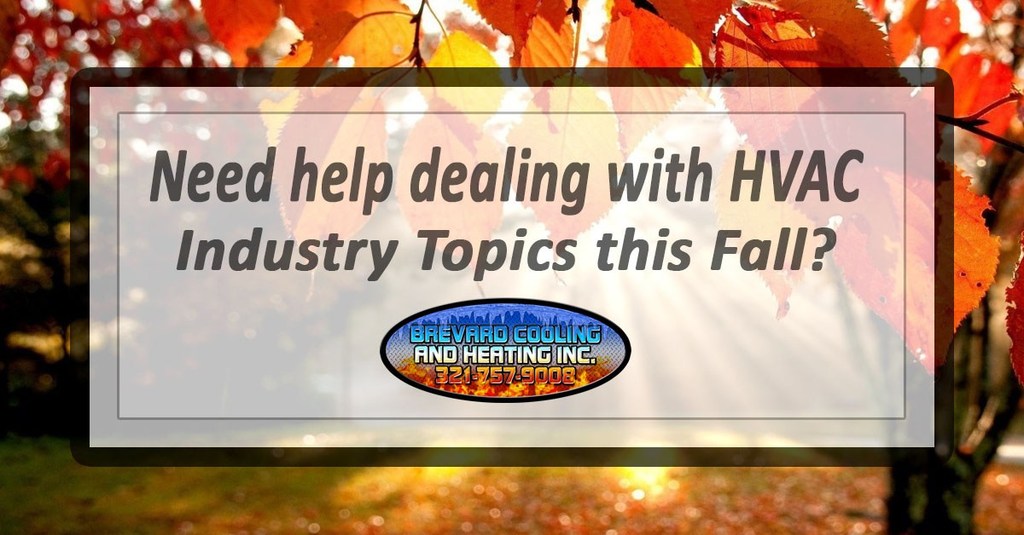 Now that fall is here, there's no question that HVAC industry topics turn up in discussions about seasonal tasks for nearly everyone, especially those topics surrounding heating system issues. Here's a few things you'll want to keep in mind.
Convert to a Heat Pump
If your home has not yet converted its old electric furnace to a heat pump, consider switching this fall. Electric resistant heat, typically found in baseboard heaters and electric furnaces, tends to be more costly to operate than heat pumps.
We're fortunate here in Brevard County because a home in the southern part of the United States is a excellent candidate for conversion to a heat pump. Most homes have electric furnaces, central air-conditioning, and the warmer winters are a breeze for the efficient heat pump. Although the winters are not too cold, even January's overnight low of 50 will put a bite in the old ambiance if your home's heating system is not working properly.
Convert Heating and Air Conditioning at the same time
You can save considerable amounts of money by switching out your heating and cooling systems at the same time when you exchange for a heat pump. Recent studies indicate that installing a heat pump in place of electric furnaces can save homeowners about 50% of their usual electricity usage.
How Heat Pumps Work
In summer, the heat pump transfers heat from inside the house to the outside. In winter, the heat pump takes warm air from the outside and transfers it inside to the heating system, producing efficient heat. So, heat pumps move heat around. They don't generate heat. That's why they are more efficient. Some HVAC systems are a combination heat pump and air-conditioning system.
To Repair or To Replace Heat Pumps: that is the question
The general recommendation is if your heat pump is 10 or more years old when you encounter an expensive repair, you are probably better off replacing it. Most warranties are ten years now.
When the Heat Pump Won't Turn On
If your heat pump unit won't turn on, there is probably a problem with power getting to the unit.
Check your thermostat to see if is the culprit.
Check the breakers to see if they need reset.
Check for faulty wiring around the unit itself. If you find faulty wiring or if you cannot identify the problem with these simple observations, then please call the professionals at Brevard Cooling & Heating to come help you.

Do not try to fix faulty wires yourself!
The Heat Pump's On but There's Not Enough Heat
Several reasons can cause a heat pump to produce too little heat. Something might block the air ducts and keep air from moving through the system. You may discern this if it is one or two registers in particular that seem blocked. Another reason might come from dirty air filters that can block air from moving within the HVAC system. Also, faulty valves in the heating system can cause trouble with too little heat.
There are a few things you can do yourself to diagnose the problem.
Change the air filter.
Check the thermostat to see if it is the culprit because settings are too low.
If you changed the air filter, checked the thermostat settings and don't believe anything is in the ducts, it's time to call the professionals at Brevard Cooling & Heating.
If you'd like to talk about heat pumps or anything else, please contact us. Here at Brevard Cooling & Heating, we look forward to helping you keep your HVAC system running in tip-top shape all year round.
Have a specific Heating, Ventilating, & Air Conditioning related question?
Ask a Professional. We're here to help! Call anytime day or night (321) 757-9008