Back to Helpful HVAC Hints
Trouble Brewing: Tips to Troubleshoot Your HVAC System
Posted: May 8, 2015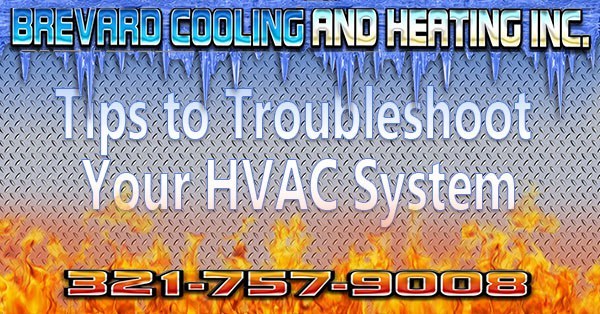 As one of your home's most essential features, your HVAC system requires important maintenance to ward off potential problems. Sometimes, however, problems can sprout up between scheduled maintenance checks. For this reason, it's important for home and property owners to obtain a well-rounded understanding of their HVAC system and how to spot issues before that become major problems.
Common HVAC System Problems
As with any mechanical and electrical system, your HVAC system isn't perfect. Problems are just part of the natural aging process of the household feature. Many of these problems are actually quite simple to spot and repair. Others may require the professional know-how of heating and air conditioning techs. As a homeowner, even if you can't apply the necessary fix, it helps that you have a general understanding of the issue at hand. The following are some common issues that impact HVAC systems:
Motor Problems
One of the initial signs that a motor may be going bad is a blown fuse. If your motor isn't operating, you should check for a fuse. Your HVAC technician will need to check your motor to ascertain the trouble. If your system is aging, you may need to consider checking into replacing your system. Your service tech should be able to supply you with the information you need to make a decision about whether to replace parts of your unit or replace the system altogether.
Air Flow Problems
In many cases, poor air flow is a sign that your filter is dirty. The filter can be cleaned, but if it's particularly filthy, you should replace it, especially if it's already been cleaned before. Usually, this is the only fix you need to apply–and it's an affordable one! If you still continue to notice poor air flow, you should have your tech assess the problem.
Pilot Light Trouble
If your HVAC system's pilot light won't stay lit or won't light at all, you may need a new thermocouple. Some do-it-yourselfers will be able to change this part themselves, but it is a common issue that techs deal with all the time. They can change out this part within twenty minutes. Sometimes, however, the problem may be more severe. The system's gas valve may need replacing or there could be a cracked heat exchanger that requires your tech's no how.
Leaking Refrigerant
If you've been noticing that your house feels warmer than it should even though the air conditioning is running, you may have a refrigerant leak. These leaks are common and are typically caused by the vibration of the system when it runs. Your technician should be able to handle this problem as a matter of course. It needs to be dealt with soon, however, or you'll be running your machine without the benefit of cooled interior.
Thermostat Issues
Thermostats are a common part of HVAC systems that may need replacing or recalibration. If your thermostat reading doesn't match your home's temperature, it will need to be checked out by your HVAC tech.
Whopping Utility Bills
If you're running your HVAC system as you normally do, but start to receive substantially higher utility bills, there could be a problem with your system. First, you can check to see if your energy provider has raised its rates. Then, have your system checked out for any issues that could be causing it to work harder–and generate more expensive bills. There could be a bad compressor valve or a refrigerant flow issue. Again, your tech will be able to address the problem so that you can get your energy bill back within budget.
Choose a Respected HVAC Maintenance Provider
When you can rely on a trusted HVAC tech, you'll have the peace of mind of knowing that this essential system of your home is in good hands. Once you have a provider to rely on, you can schedule seasonal maintenance on your system to ensure that it remains in good working order. While you may not always be able to ward off expense, you may be able to head it off by replacing worn out parts before they can lead to a break down in the middle of winter or during the intense heat of summer.
Keep these issues in mind as you contemplate upcoming household maintenance projects. Your HVAC systems requires routine care, so be sure to contact your local Brevard Cooling and Heating Technician to schedule a maintenance appointment today and let us help you to identify and prevent the small problems before they become large ones.
Have a specific Heating, Ventilating, & Air Conditioning related question?
Ask a Professional. We're here to help! Call anytime day or night (321) 757-9008