Back to Manufacturers
Bard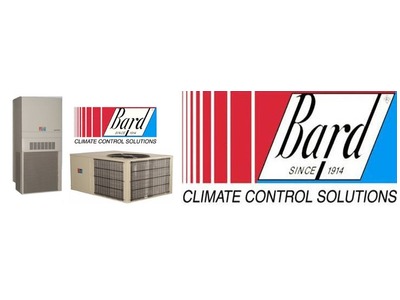 Bard Manufacturing was founded in 1914 where it started out as a heating and plumbing business. Today, Bard produces residential and commercial furnaces, heat pumps, and air conditioners. A privately owned company that is headquartered in Ohio, Bard has features a wide array of HVAC products that are known for their durability and efficient operation. With more than 100 years of experience, Bard's name and products are trusted throughout the industry.
Bard Products
Bard produces exceptionally well-crafted products for residential and commercial consumers. Bard's products include: heat pumps, geothermal heat pumps, air conditioners, oil furnaces, ventilation systems, and thermostats. The company is also renowned for its CO2 sensors. Bard's products can be found in schools, businesses, and industries as well as residential settings. With its focus on energy efficiency, Bard is delivering advanced heating and cooling solutions to a growing customer base.
Bard: Focused on Innovation
Bard is a leader when it comes to product innovation. Bard's geothermal platform is continued evidence of the company's push for more sustainable and energy-efficient products. Other Bard advances have resulted in HVAC systems known for their quiet operation and precision climate controls. With Bard products, you can enjoy a consistently comfortable indoor climate. Your Bard dealer can talk to you about specific energy-efficient products that make for smart investments in your business or home.
Quality Testing
One of the cornerstones of the Bard operation is its focus on product testing. Bard's units must meet rigorous standards before they are marketed to customers. Bard's insistence on reliable performance has led to its large customer base. Bard is also committed to developing improved products based industry advances and best practices. Never an organization to rest on its laurels, Bard is associated with excellent customer satisfaction. Strong warranties coupled with high product production standards make Bard an industry leader you can count on.
Tax Credits and Incentives
Be sure to talk to your Bard dealer to learn more about tax credits and special incentives. Investing in a Bard HVAC system has many benefits. Energy-efficient operation, great customer service, and outstanding warranties make Bard a top company to consider when investing in a new HVAC system for your business or home. It's important to choose a system that meets all your heating and cooling needs. Your dealer will assist you during the selection process so that you choose the most appropriate system for your home and setting.
Have a specific Heating, Ventilating, & Air Conditioning related question?
Ask a Professional. We're here to help! Call anytime day or night (321) 757-9008