Back to Manufacturers
Carrier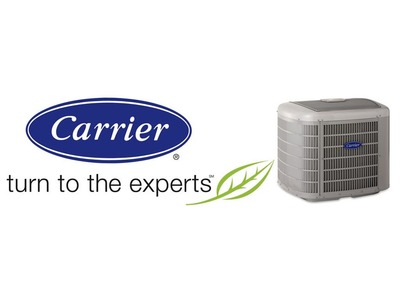 Carrier is a world-class leader of the air conditioning / refrigeration and heating industries. Carrier United Technologies has its roots in 1902. Since then, the company's earliest air conditioning designs have evolved to become some of the most innovative systems on the planet. With more than a century's worth of innovation, Carrier continues to advance the industry with its myriad of heating and cooling solutions. Today, Carrier is dedicated to designing products that enhance the comfort of the home or workplace while helping to protect the environment with their green designs.
Serving Residential and Commercial Customers
Carrier is dedicated to manufacturing products that meet the needs of residential and commercial customers. The company's heating and cooling products are known for their efficient operation and reliable durability. Carrier routinely supplies refrigeration solutions for the restaurant / food industry and well as heating and cooling systems for the construction industry. In addition, the company continues to produce leading heating and cooling products that are ideal for homes in all types of climates.
Carrier Products
Over the past 100 years, Carrier has been busy advancing its designs and adding new heating, cooling, and air quality products to its lineup. Today, the Carrier produces the following:
Air Conditioning Systems
Ductless Systems
Gas Furnaces
Oil Furnaces
Heat Pumps
Geothermal Heat Pumps
Thermostats and Controls
Indoor Air Quality Systems
Carrier has built its reputation on decades' worth of innovative product designs that have made their way around the globe. Your Carrier dealer can help you select heating and cooling solutions that are ideal for your home or business.
Sustainability
When it comes to energy efficiency, Carrier is routinely ahead of the curve. Its engineers continually strive to create ever-more efficient products that use less energy or operate with sustainable energies. Carrier's product platforms like Greenspeed are renowned for their precision heating and cooling operation. Why should you operate your essential heating and cooling systems at 100% when your home's comfort demands only 40%? Imagine how much money you can save on utility costs? Conversely, when the temperature dramatically rises or falls, the Greenspeed system can increase or decrease its operation intuitively. The system actually "adapts" to meet the needs of your home or business.
Carrier is a global leader that is likely to be around for another 100 years if its current designs and strategies are any indicator of the future. To learn more about this historic company and its wide range of innovative products, visit the website or contact your area Carrier dealer.
Have a specific Heating, Ventilating, & Air Conditioning related question?
Ask a Professional. We're here to help! Call anytime day or night (321) 757-9008