Back to Manufacturers
Maytag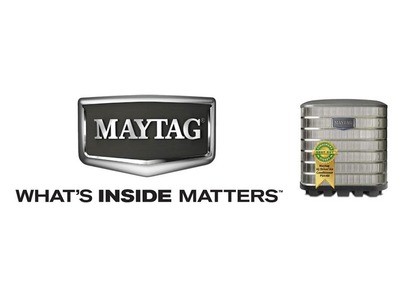 Maytag is easily one of the most recognized names when it comes to household appliances and heating and cooling systems. Maytag boasts an exceptional array of heating and cooling products that can increase your home's comfort and save consumers on energy costs. Known for its reliable and affordable products, Maytag is also devoted to providing the best customer service. If you are in the market for a new HVAC system, be sure to consider the benefits of owning a Maytag system.
Maytag Products
If you think your Maytag washer is great, wait until you experience the reliability of Maytag's heating and cooling systems. Maytag produces products such as: air conditioners, furnaces, heat pumps, packaged units, and more. Maytag sells a wide array of indoor air quality products as well. Your nearby Maytag dealer will help you design a system that meets your home's specific needs. Maytag's HVAC systems come with a 12-year limited parts warranty. Some buyers are also interesting in taking advantage of Maytag's extended coverage for added protection.
Think Green, Think Maytag
Maytag boasts several green product lines that are known for their exceptional energy efficiency. The EcoLogic line's products meet all Energy Star criteria but have added features that further enhance their energy-efficient performance. The iHybrid system is an amazing product that combines heating and cooling functions in one convenient packaged system. This system uses less energy to heat and cool your home and also relies on earth-friendly refrigerant, which adds to its many "green" charms. Maytag's iSEER line of products relies on energy-efficient operation to heat and cool homes with improved comfort and reduced energy costs.
Outstanding Customer Service
One of the reasons that Maytag is a household name is because it understands the importance of unstinting customer service. Maytag has an incredibly loyal customer base. From product reviews to the company website itself, new customers will find that Maytag boasts an exciting Platform for meeting all its customers' information needs. If you aren't sure about what Maytag system is right for your home and setting, a Maytag representative or your nearby Maytag dealer can help.
Keep in mind that Maytag also offers great financing options for its products. If your old HVAC system unexpectedly goes out, you can get a brand new state-of-the-art HVAC system for your home even if you can't afford to pay for it outright. Talk to your Maytag dealer to learn more about the company's finance options and wide array of residential heating and cooling products.
Have a specific Heating, Ventilating, & Air Conditioning related question?
Ask a Professional. We're here to help! Call anytime day or night (321) 757-9008