Back to Manufacturers
NORDYNE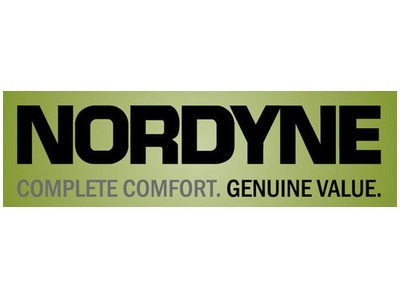 Nordyne has changed its name to Nortek Global HVAC
When it comes to indoor comfort, Nortek Global HVAC is a proven leader. Nortek's mission is to develop innovative products that are known for their reliability. Unlike other manufacturers that batch-test their products to determine quality, Nortek can ensure that each product it manufactures has been 100% computer-automated tested. When you purchase a Nortek system, you have superior quality to look forward to. Heating and cooling your home with Nortek's advanced products is sure to leave you with a tremendous amount of peace of mind, knowing that your HVAC system isn't likely to fail any time soon!
Nortek's Household Brands
Nortek has various celebrated brands under its umbrella. When you purchase a Maytag or Frigidaire, you're relying on Nortek and its leading manufacturing programs. Founded as the International Oil Heating Co. in 1919, Nortek has come a long way in the heating, cooling, and appliance industries. Nortek licenses rights for many of its heating and cooling to companies like Westinghouse, Philco, and Gibson. Major brands you're familiar with trust Nortek's products and you can too.
Nortek Technology
Nortek is known for its advances in technology. Its iQ Drive technology is especially revered throughout the industry for its amazing energy-efficiency benefits. Many Nortek Products boast the Energy Star label. If you would like to save money on your energy costs without sacrificing your home's comfortable climate, Nortek heating and cooling systems operate using less energy. When it comes time to replace your outmoded HVAC system, talk to your Nortek dealer about Nortek brands and products that are likely to be ideal for you.
Racking up Accolades and Awards
When it comes to industry showcases, it's no surprise that companies are all looking closely at Nortek to see what the company has going on the innovation front. Nortek is continually receiving accolades and awards for its new products and innovations. Ultra-high efficiency heat pumps, 20-SEER air conditioners, HVAC high-efficiency residential systems–these are just a few of the recent products Nortek has made industry headlines with.
Investing in a new HVAC system and indoor air quality products is a challenging moment in any homeowner's life. Choosing a company with excellent standards and a reputation for reliable products is a must in order to safeguard your investment in such an essential system for your home. To find out more about specific products, consult with a Nortek dealer near you.
Have a specific Heating, Ventilating, & Air Conditioning related question?
Ask a Professional. We're here to help! Call anytime day or night (321) 757-9008