Back to Manufacturers
Payne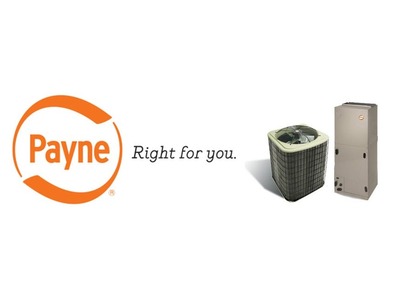 Payne has more than 100 years of experience in the heating and cooling industry. Founded as a family-owned business in 1914, Payne continues to operate with those early ethics and standards that laid its foundation for greatness. Payne manufactures a simple line of products known for their durability and efficiency. Payne also manufacturers parts and provides heating and cooling solutions for homes throughout the country. Known for its affordable prices, Payne is a brand you can trust to reliably heat and cool your home from one season to the next.
Products Manufactured by Payne
Payne produces parts and various heating and cooling solutions like gas furnaces, heat pumps, air conditioners, and popular ductless systems. Because Payne distributes its products and parts to operators throughout the U.S., customers can typically find a Payne dealer in their region. Payne is also known for its great product warranties. If you register your new system within 90 days (and your Payne dealer can help you if you need), you will receive a 10-year parts limited warranty. Your dealer can address the specific ins and outs of each product's warranty when you narrow down your selections.
Financing
Your heating and cooling system is a major investment–and one that you can't always afford when your current system fails. With its real-world mentality, Payne understands that it isn't always possible to pay for a brand new system up front. To help its financially strapped customers, Payne offers financing for its products. Affordable systems paired with reasonable financing options make Payne a popular option for a wide array of customers. In fact, financing an energy-efficient system is a great choice. The cost-savings on utilities can actually help you fund your heating or cooling system!
A Trusted Industry Pioneer
Payne has been producing innovative products for decades. Having manufactured the first forced-air down-discharge furnace in 1933, Payne has never rested on its laurels. Subsequent company innovations have led to new system designs that have driven the industry forward. Not only did Payne pioneer zone heating, the company produced the first horizontal forced-air furnace for outdoor installation.
If you are interested in learning more about Payne and its outstanding line of products, be sure to speak with a Payne dealer soon. Your Payne dealer can help you select products that complement your comfort and are best suited to the structure of your home and climate. When it comes to reliably heating and cooling your home, Payne is a first-rate choice with its stellar products and exception customer service.
Have a specific Heating, Ventilating, & Air Conditioning related question?
Ask a Professional. We're here to help! Call anytime day or night (321) 757-9008