Back to Manufacturers
Rheem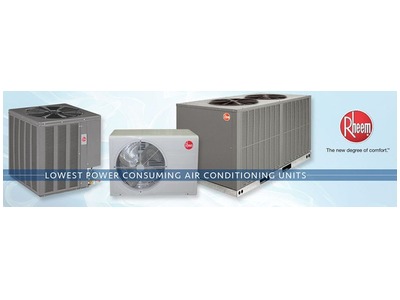 Privately owned and headquartered in Atlanta, Rheem is a revered producer of residential and commercial furnaces, air conditioning systems, heat pumps, and water heaters. First established in 1927, Rheem has decades of expertise designing highly effective products that customers can rely on year after year. With its best industry practices firmly in place and its commitment to high standards, Rheem is definitely a brand to consider when you are replacing your heating and air conditioning systems or installing an indoor air quality system.
One-Stop Shop
Rheem sells its products all over the world and has built an outstanding reputation for itself through reliable customer service and excellent products. Customers love shopping for Rheem products because the company sells everything they need. You can install a complete Rheem HVAC system in your home or business along with indoor air quality devices that will substantially add to the comfort of your home. Rheem features impressive warranties for all of its products and systems. Your Rheem dealer can go over the ins and outs of each warranty as you are shopping.
Designed for Quality
Rheem's heating and cooling systems are highly respected for their superior quality and long-term durability. Each phase of Rheem's product production is overseen and must meet strict manufacturing standards in accordance with the company's best practices. Whether you purchase a gas furnace or a central air conditioning unit for your business or home, you can rest assured knowing that your purchase is backed by a leading company that puts its customers first.
Customer Support
One of the reasons Rheem has such a loyal following of customers is due to its impressive customer support teams. As a global brand, Rheem has designed a customer service platform that is sure to meet your needs. Affordable prices, high-quality products, and superior customer support are hallmarks of the Rheem brand. If you have questions about Rheem products, your Rheem dealer can address them or you can call the company to obtain the information you need.
Investing in a new HVAC system can be a difficult decision. However, when you choose a brand like Rheem, you can enjoy the peace of mind, knowing that you made an excellent purchase for your home that is even likely to increase its value. Ask your Rheem dealer about energy-efficient models and to help you navigate Rheem's various systems. You want to ensure that you purchase the best Rheem HVAC system for your setting.
Have a specific Heating, Ventilating, & Air Conditioning related question?
Ask a Professional. We're here to help! Call anytime day or night (321) 757-9008