Back to Locations
Titusville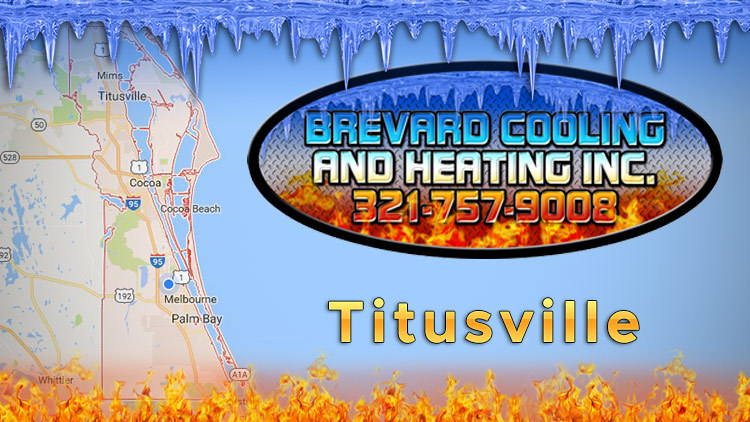 If you need help with your air conditioner, furnace, or some other piece of HVAC equipment in Titusville, call Brevard Cooling and Heating, Inc. for the best service in the area. At Brevard Cooling and Heating, Inc., we are proud of our reputation as the leading HVAC business in Titusville. We have been in business for a long time, and we have more than 34 years of combined experience.
During our time as HVAC providers, we have learned a thing or two about operating in Titusville. We have learned how to make sure our customers are happy and satisfied, and we're excited for the opportunity to show you just how great our service is!
Our Service Options
Providing customers with the best in HVAC service solutions is our top priority. We know that heating and cooling systems can break down at any time, so having access to installation and repair services are a must. Each of our technicians is well-versed and continually trained in HVAC techniques so that we can provide you with repair service or suggest a new installation.
With our installation option, we focus on providing you with an essential unit that will provide heating and cooling comfort when you need it most. Whether you are building a new home or business and need a brand new unit, or you have an older system that needs to be replaced, we can help.
Our team of professionals will arrive at your home and begin the inspection and review process. We will take a look at your existing unit and evaluate what type of system will work best for you now. All considerations are made, including the size of your home, comfort needs, energy efficiency, and affordability.
We make the process of installing a new unit as simple as possible. Our technicians will create several estimates for you, breaking down the information on each unit type. This way, you can make an informed decision as to what type of system you will be installing in your home. With our help, you will have a quality heating and cooling system in the home that will work for many years to come.
Along with our installation service, we provide the essential repairs for all types of heating and cooling systems. If your unit breaks down unexpectedly, we can help. Is your furnace making an odd noise or shutting off without reaching the desired temperature? Have you found that your cooling unit is icing up and not operating effectively? If so, we can help.
Simply give our office a call when your HVAC system is in need of repair work. Never delay and put off repair needs as you can end up with an even bigger problem on your hands. Let our team of experts provide the much-needed assistance so that your unit is back in action in no time.
Maintenance of your existing unit is also imperative. Every type of HVAC system, be it a furnace, central unit, or other option, needs to be inspected from time to time. An experienced technician needs to review your unit, making sure that each component is operating in the right manner. With an HVAC system, every component is important. If one component is not working properly, it can cause other areas of the system to work overtime. When this happens, your system will have issues and even break down.
By scheduling regular maintenance with our team, you can rest easy knowing that your system was inspected by a professional. Any problems will be discovered and taken care of, ensuring your unit is ready to function when you need it most!
Professional Service
We make sure that all of our professionals are highly-trained. Each and every one of our employees is required to obtain all the licenses, certifications, and other credentials required by law. What's more, we take steps to ensure your comfort when you allow them into your home or business: we perform background checks and drug screening to make sure that they are truly professionals in every sense of the word.
We know that you rely on your heating and cooling system in your Titusville home or business. Without a properly functioning system, those in your home are uncomfortable and you may lose business in your storefront. With our professionals on call, we can help with any HVAC need, ensuring that your property is comfortable at all times.
If your air conditioning is going out, or if your furnace is not working properly, give our Titusville office a call. We'll be happy to send someone out to investigate the matter and pinpoint the issue. We want every client to have quick and responsive service, determining the issue in a timely manner and getting your system back in working order as soon as possible.
If it's something minor, we may be able to make a repair or adjustment right there on the spot. On the other hand, if it's something major that might require the installation of a new air conditioner or furnace unit, we'll sit down with you, explain the problem and possible solutions, and let you make the choice that you feel is best for your home or business. We work with you so that you understand what's going on and can make an informed decision.
And we offer additional services for your HVAC needs. Schedule our duct cleaning or duct sanitizing service to ensure your duct work is clean and clean of debris. With our professional cleaning tools, dust, dirt, pet dander and other issues will be, mostly removed from your duct work. Avoid poor air quality by having these contaminants removed with our cleaning services and indoor air quality products.
Let us show you why we have the reputation as the best place to go for HVAC service in Titusville. We look forward to working with you! Give our office a call today to learn more about our many service options or to schedule an appointment. Our team is standing by to assist you with any HVAC service need.