Back to Locations
Titusville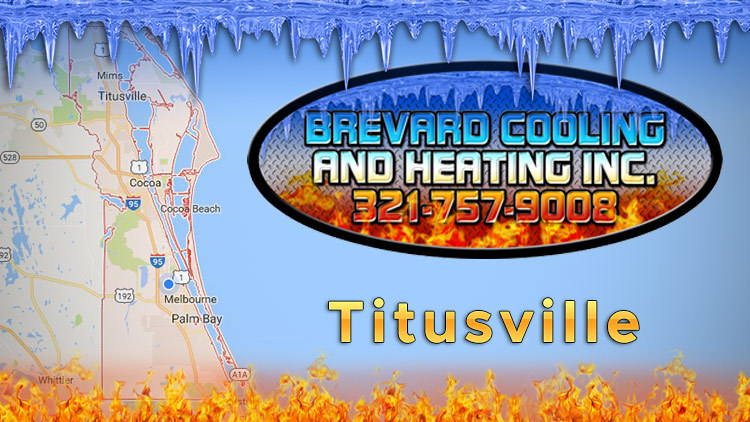 Professional, Affordable Cooling & Heating Services in Titusville, Florida
If you need help with your air conditioner, furnace, or some other piece of HVAC equipment in Titusville, call Brevard Cooling and Heating, Inc. for the best service in the area. At Brevard Cooling and Heating, Inc., we are proud of our reputation as the leading HVAC business in Titusville. We have been in business for a long time, and we have more than 34 years of combined experience.
During our time as HVAC providers, we have learned a thing or two about operating in Titusville. We have learned how to make sure our customers are happy and satisfied, and we're excited for the opportunity to show you just how great our service is!
---
Our Service Options
Providing customers with the best in HVAC service solutions is our top priority. We know that heating and cooling systems can break down at any time, so having access to installation and repair services are a must. Each of our technicians is well-versed and continually trained in HVAC techniques so that we can provide you with repair service or suggest a new installation.
Installation
With our installation option, we focus on providing you with an essential unit that will provide heating and cooling comfort when you need it most. Whether you are building a new home or business and need a brand new unit, or you have an older system that needs to be replaced, we can help.
Our team of professionals will arrive at your home and begin the inspection and review process. We will take a look at your existing unit and evaluate what type of system will work best for you now. All considerations are made, including the size of your home, comfort needs, energy efficiency, and affordability.
We make the process of installing a new unit as simple as possible. Our technicians will create several estimates for you, breaking down the information on each unit type. This way, you can make an informed decision as to what type of system you will be installing in your home. With our help, you will have a quality heating and cooling system in the home that will work for many years to come.
Repairs
Along with our installation service, we provide the essential repairs for all types of heating and cooling systems. If your unit breaks down unexpectedly, we can help. Is your furnace making an odd noise or shutting off without reaching the desired temperature? Have you found that your cooling unit is icing up and not operating effectively? If so, we can help.
Simply give our office a call when your HVAC system is in need of repair work. Never delay and put off repair needs as you can end up with an even bigger problem on your hands. Let our team of experts provide the much-needed assistance so that your unit is back in action in no time.
HVAC Maintenance
Maintenance of your existing unit is also imperative. Every type of HVAC system, be it a furnace, central unit, or other option, needs to be inspected from time to time. An experienced technician needs to review your unit, making sure that each component is operating in the right manner. With an HVAC system, every component is important. If one component is not working properly, it can cause other areas of the system to work overtime. When this happens, your system will have issues and even break down.
By scheduling regular maintenance with our team, you can rest easy knowing that your system was inspected by a professional. Any problems will be discovered and taken care of, ensuring your unit is ready to function when you need it most!
Professional Service
We make sure that all of our professionals are highly-trained. Each and every one of our employees is required to obtain all the licenses, certifications, and other credentials required by law. What's more, we take steps to ensure your comfort when you allow them into your home or business: we perform background checks and drug screening to make sure that they are truly professionals in every sense of the word.
We know that you rely on your heating and cooling system in your Titusville home or business. Without a properly functioning system, those in your home are uncomfortable and you may lose business in your storefront. With our professionals on call, we can help with any HVAC need, ensuring that your property is comfortable at all times.
Fast Repair Times
If your air conditioning is going out, or if your furnace is not working properly, give our Titusville office a call. We'll be happy to send someone out to investigate the matter and pinpoint the issue. We want every client to have quick and responsive service, determining the issue in a timely manner and getting your system back in working order as soon as possible.
If it's something minor, we may be able to make a repair or adjustment right there on the spot. On the other hand, if it's something major that might require the installation of a new air conditioner or furnace unit, we'll sit down with you, explain the problem and possible solutions, and let you make the choice that you feel is best for your home or business. We work with you so that you understand what's going on and can make an informed decision.
Duct Cleaning Services
And we offer additional services for your HVAC needs. Schedule our duct cleaning or duct sanitizing service to ensure your duct work is clean and clean of debris. With our professional cleaning tools, dust, dirt, pet dander and other issues will be, mostly removed from your duct work. Avoid poor air quality by having these contaminants removed with our cleaning services and indoor air quality products.
Let us show you why we have the reputation as the best place to go for HVAC service in Titusville. We look forward to working with you! Give our office a call today to learn more about our many service options or to schedule an appointment. Our team is standing by to assist you with any HVAC service need.
---
New System
I have to say that off all the times (5) in 32 years of having built the house and had replacement units both inside and out (I know...we've been very unfortunate) this has been the best experience. Brevard Cooling and Heating did an amazing job. Not only are the workers a wonderful bunch of men they were in and out in less than 5 hours and left my garage unit looking like it was a newly built house! Thank you for doing an amazing job!
Richard Vales
Titusville , Florida

Thursday, May 06, 2021
exceptional service
I have called for service on two different occasions since I have two systems in my home. Both service techs arrived on time. They were both friendly and courteous and took the time for me to explain the problem I was having. They both demonstrated a lot of product knowledge and had the parts needed in their vans to complete the service work on the first trip. And, they did it right the first time!! My hat is off to Brevard Cooling and Heating.
John Millen
Titusville, Florida

Wednesday, February 10, 2021
New installation of Daikin 3 ton air conditioner
Thanks for a great job! Eric was very helpful and well informed and installation works beautifully.
raymond alvin crigger
Titusville, FL

Tuesday, October 27, 2020
Prompt and friendly
I had a problem with my AC shutting off. I called Brevard Heating and Cooling on a Sunday and left a message.
In less than an hour John called me back. In addition to being prompt and friendly John was able to diagnose the problem over the phone.
If you have an AC issue these guys are definitely the ones to call.
Richard Gaede
TITUSVILLE, Florida

Sunday, August 30, 2020
Excellent service
Greg was our tech. He came on time, introduced himself and went right to work. He explained everything he did and answered questions iff we ask them. I
Great experience. Would tell friends.about Brevard Cooling and Heating.
Patsy Killingsworth
Titusville, FL

Friday, November 15, 2019
Daiken 5-ton Inctallation
this is what I sent to the BBB...for some reason they are playing email tag with each other internally...hope they finally get it to post...

When my Rudd A/C system developed an evaporator coil leak and my service contract with Mid-Florida expired (they no longer service Titusville after 14 + years) I contacted Eric at Brevard Cooling and Heating. I called on 23 May19 and was actually connected with Eric (Sales and installation Supervisor) who came to my house that afternoon and discussed the various systems available. I found out my original unit was only a 3.5 ton and for the size of the house, with 9' ceilings, and single pane windows it was undersized. In talking with Eric we evaluated the units available and earlier pricing received from another contractor – but decided to go with the Daikin, 5 ton, 16 Seer full system. As it was Thursday afternoon, Eric called and had the units required for installation sent to the BC & H shop but since we were up against the Memorial Day Holiday and having to get the required building permit, the units couldn't be installed until Tuesday, 28 May 19. I received a call around 8:30 Am and Dan said they would be at my house in approximately ½ hour. Dan, Dereck, Will and Mike arrived and immediately went to work…removing old unit and central system, new ducting, enlarging and reinforcing plenum, running all new copper and electrical connections, outside disconnect with surge protection, new thermostat and the list goes on. Excellent teamwork between all of the installers – they knew what had to be done and it was. Quality of installation and attention to detail would make a finish carpenter proud. Eric dropped by to do some checks and make sure everything was 'thumbs up'. The System entered test modes (required by Daiken) around 2:30 PM and after schooling my wife and I on the thermostat operation the team departed. Set for 76 degrees we were 'very cool – if not actually cold – by 6:30 PM. The unit inside and out is so quiet I have to get next to it to determine if it is actually running! GREAT JOB by the entire team…110% recommendation…George S.

GEORGE E SPINNEY
Titusville, FL

Wednesday, May 29, 2019
Review on Service
I've been having Brevard Cooling service my AC for several years now. I recently had a problem and they were timely coming my aid. Franco diagnosed the problem within 2 minutes. The part was ordered and it was Franco who did the repair. He is consistently professional, knowledgeable and courteous as he has been the tech servicing my unit from day one.
Becky Pearson
Titusville, FL

Monday, November 12, 2018
Great Install
Had Brevard cooling and Heating come to my Son's house to install a new AirConditioning system on Aug 15,2018. I can tell you Sam and Dillion were two of the greatest installers I have met. Very Polite and knowlegable of the product. Great experience. Franco set this up so Hat's off to him also.
Charles Weldon
TITUSVILLE, Florida

Thursday, August 16, 2018
New Installation of A/C
We had our new unit installed on 7/20/18. They did a terrific job. They were efficient, worked constantly, and did a wonderful clean-up job. We had experience with Brevard Cooling cleaning and servicing our old unit. Now we can look forward to them keeping our new unit in top shape.
Barbara Alesandro
Titusville, Florida

Tuesday, July 24, 2018
New AC
Brevard Cooling and Heating replaced my ac and did an excellent job. I was recommend and use them again for sure!
Cyndi Putnam
Titusville, Florida

Wednesday, July 11, 2018
Very Satisfied
On June 18, 2018 Dan, from Brevard Cooling and Heat, Came out to my home for an estimate on replacing my 14yo A/C unit that was running 24/7 trying to cool my home. He was on time and super professional. We agree on an A/C unit and set the appointment for July 3, 2018. On this date 1230 pm installers /A/C Technician, Ben and Adam arrived and began their magic. At 2:41 pm the a/c unit was in and the new WiFi thermostat was on the wall and the unit was turned on. Once again very professional , everything cleaned up and old unit was removed. Within 2 1/2 hours my home went from 83% to 75% YES!!!
Arieux Randolph
Titusville, FL

Sunday, July 08, 2018
Excellent service
Frank and Matt installed a unit at my town house in March of 2018. They were very professional and did a great job with the install and clean up. They made sure I understood the new system and was happy with everything before they left. This is the second unit I have had Brevard Cooling and Heating install (we have another house in Brevard) and I would hire them again if needed! Highly recommend this company!
Jeff Hubert
Titusville, Florida

Saturday, May 26, 2018
Draus A/C System Review, 4/25/18
Very pleasant experience with entire BC&H team including receptionist (don't remember her name), Dan R. the salesman and the technicians Sam Arrigo and Scott Nemitz. A/C system installation went very well. Dan, Sam and Scott were always curteous, friendly and answered any questions I had. Dan assisted in getting a technician out 2 days later, Franco, to assess the new thermostat. Franco verified it was working properly and provided me with much appreciated advice on air flow from the vents and window tinting to help in more efficient cooling of the house. Very pleased with overall experience. Jim & Gloria
Jim & Gloria Draus
Titusville, FL

Saturday, April 28, 2018
Always the Best
Franco just finished or Spring check-up,everything was cleaned and polished. Franco review maintaince tips we should follow and reminded reviewed great warranty on our "Daikin" system. As always very professional and thorough. Re -caulked and sealed all openings.System has proven to lower our Electrical Bill.
FRANCO IS ONE OF THE BEST TECHS WE HAVE HAD.
Ed & Cathy Radik
Titusville, Florida

Tuesday, April 03, 2018
Four Ton Amana Installation
Replace existing A/C unit with 4 ton Amana, cleaned and resealed ductwork.
John was very punctual and professional. He took the time to explain all our options and listened and addressed our concerns. As promised, the installation crew stayed until the work was completed and everything cleaned up. While installing the new air handler one of the crew accidentally hit the safety on the hot water heater and it began leaking. Chad took care of the dripping by replacing the existing safety and then connecting it to the outside piping that was not done when the hot water heater was originally installed several years ago. He made it right. Brevard Heating and Cooling went above and beyond just getting the job done. I would definitely use Brevard Heating and Cooling in the future and would highly recommend them to others looking for a new air conditioning unit.
Ron K.
Titusville, Fl

Friday, April 26, 2013