Back to Locations
Indialantic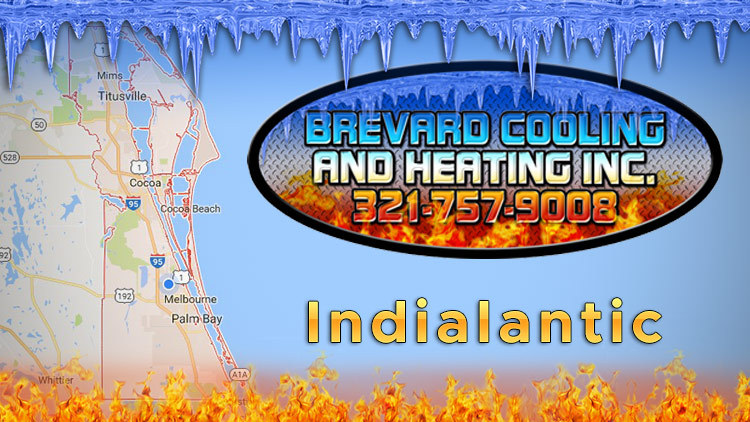 Air Conditioning & Heating Services in Indialantic, Florida
Residents and business owners of Indialantic have been taking advantage of our air conditioning and heating services for many years now. At Brevard Cooling and Heating Inc., we understand the importance of quality HVAC services. We take great pride in offering not only the best service options but actually caring for our clients. We want every customer of our business to feel respected and assisted properly when it comes to HVAC needs. From repairs and installations to maintenance, we offer everything home and business owners need for quality comfort.
Unlike other businesses, we treat our customers like family. We know that heating and cooling are important to you and we want you to feel involved with our services. Our technicians will discuss every service option you need in order to ensure you understand what is going on and how you can benefit. We don't try to trick you into a new unit or provide unneeded repairs. We focus on exactly what you need so that you can have a fully functioning heating and cooling system within your property.
---
Highly Training HVAC Technicians
Each of our HVAC technicians is highly trained in all areas of cooling and heating systems. We have technicians who specialize in air quality and duct cleaning as well as those who are more well-versed in repairs and maintenance. We also have specialists in installation, easily able to complete a new installation on time and in the proper order.
We take great pride in hiring only qualified individuals who have trained in all areas of service and are able to provide you with excellent customer service. While we understand the technical aspects are important, we also know that a friendly smile and demeanor go a long way. When hiring technicians, we look for friendly people who can get the job done and treat our customers well.
Our Cooling and Heating Services
At Brevard Cooling and Heating Inc., we focus our services on what our clients need most. In Indialantic, we provide installation, repair, and maintenance service, along with cleaning needs to ensure you have a properly functioning heating and cooling system within your business or home. Every HVAC system needs to be inspected on a regular basis to be able to function properly. With our regular tune-up and maintenance service, we focus on reviewing your existing system for any flaws.
Our technicians will go over every inch of your system to see if any issues are present. All components are reviewed and if any problems are found, we alert you of the issue. We then go over what needs to be done to repair the system and ensure that it works properly. With a regular checkup, any problems are found right away. This helps to protect the integrity of your heating and cooling system.
HVAC Maintenance and Checkups
When regular maintenance and checkups are avoided, a small problem can grow until the unit breaks down or is in need of a major repair. There is nothing worse than the Florida temperatures raging into the high 90s only to find that your air conditioning system has shut down. Due to the high-temperature levels in the state, it is not uncommon for an air conditioning system to become overworked over time and break down.
With a checkup before the severe season, any small problems are caught by our expert technicians. The problem is then fixed and you can worry less about your unit breaking down and just enjoy the cooling comfort the system provides to your home. We can schedule maintenance checkups around your busy schedule, ensuring that your system is reviewed in a timely manner when you are available.
We also offer break down repairs when your system shuts down unexpectedly, contact our office and alert our team of your break down. We will send a technician to your property as quickly as possible to work on the issue. Once the system has been reviewed, a plan of action will be created and your air conditioning system will be operational in no time.
Duct Cleaning
An additional service we provide that many home owners are unaware of is duct cleaning. With units that use duct work to move the heating and cooling air throughout the space, will require duct work. Duct work is usually located in the crawlspace of a home or within an attic space. Over time, the duct work can become dirty due to particles that move through the system.
Without regular duct cleaning, particles such as dirt and allergens can move through the home, disrupting the air quality in the space. When the unit is not in use, dirt, pet dander, and other contaminants will rest within the duct work. When the system is turned on, the particles then are blown into the home via the duct work.
When air quality is poor, those inside the home can suffer from allergy issues. By taking advantage of our duct cleaning service, the air quality of the space will be free and clear of any contaminants. This provides a healthier home.
Serving Our Community
At Brevard Cooling and Heating, Inc., we focus on serving our community. We provide quality HVAC services in Indialantic as well as surrounding areas. We feel that offering top quality heating and cooling services are a must and we strive to offer such services for our community. We want home and business owners to have access to the best options so that they can enjoy comfort at all times.
The weather in Florida is extreme and a quality HVAC system must be installed to ensure comfort and health. With our help, your home or business will have an HVAC unit that is in proper working order. Rely on our team to repair and maintain your existing heating and cooling system, as well as the installation of a new unit, if needed.
Contact our office today to learn more about what we can provide for you, or request a free estimate. We look forward to offering you the best in HVAC services in the Indialantic area. Let us be the HVAC service company you rely on!
---
Install of Dual System in BR
Initially the inside unit on a Dual System was faulty after install. Guys, informed me and order another one and two days later came back and removed and replaced. Good communication and bottom line system is up and working well.
Harris Hickman
Indialantic, FL

Friday, July 16, 2021
Excellent Company and Service
Today, February 14, 2020, we had an entire installation of a Daikon air conditioning system. This company is phenomenal. Eric, the owner, was so patient in answering our questions. Sean and Derek, the technicians, were extremely knowledgeable, kind and very neat. We totally appreciate this company and would highly recommend them!!!!!
Lisa and Paul Meyer
Indialantic, FL

Friday, February 14, 2020
From a happy customer
In October of 2019, after 2 previous service calls, we decided the best option would be to have a new compressor installed.

For all the calls the technicians showed up on time, they were friendly and professional and got the job done in a timely manner. Their work was approved by the Inspector from the Permit Department without any problems.
Britt Allen
Indialantic, Fl

Friday, January 17, 2020
AIR CONDITIONER
As we have a older Beach house in Indialantic not only the ac unit outside had to be replaced but the inside equipment also. From the first call with Holly to make a appointment to the completion was the best experience with Brevard Cooling and Heating Inc. Thank you to Tommy for explaining everything regarding a new unit and your patience (so much new technology) Daniel and Shawn you guys rock.. thank you.. Jessica thank you also for additional calls I made you were so helpful. I appreciate everyone's help and assistance from start to finish Great job. For Great customer service and just being a great team to work with I thank you all and highly recommend Brevard Cooling and Heating Inc.
Beverly Marts
Indialantic, FL

Sunday, October 27, 2019
WOW! IMPRESSED! OUTSTANDING!
That's how I felt after service was completed at my home. I purchased my current home in June of 2016 and it came with a new system that was installed by the prior owner. I noticed that the company that it was installed by was Brevard Cooling and Heating. I called the company and explained my situation. The customer service representative mentioned a coupon on their website that gave a nice discount on freon to be installed if that was the issue. WINNER~! I have had good experience in the past with other A/C companies but since this company sold and serviced the brand installed I figured who better to "know" my system than them. Eric C. was dispatched to my home to determine the cause of why my home wasn't cooling as well as it was. I started my evaluation process from the minute Eric C. showed up all the way until the task was completed and I had complete satisfaction that everything was done with excellence. Eric showed up on time. He presented himself as neat and clean. His van and work space in the van also showed pride of employment and his work. He introduced himself with confidence while looking me in the eyes stating he was here to help. My next evaluation was regarding Eric's product knowledge and if he was going to be a troubleshooter or a parts replacer. I quickly learned that Eric had plenty of knowledge and experience and watched him troubleshoot my issue. A short time later Eric confided in me that the initial install on a cap that went over a line did not have an O ring in it and that the unit wasn't cooling as well due to a very very slow leak. Without blinking Eric stated that was their responsibility and would take care of the issue at no charge. In addition to troubleshooting the cooling issue Eric noticed some lines that should be re-routed around the air handler for better access to the filter. Done with no charge. The gentlemen that came out to do the relocation, Brandon and James were just as polite, professional and did an outstanding job. My air handler even got cleaned as well. I felt these guys went above and beyond the call of duty and reflect great credit upon themselves and Brevard Cooling and Heating. Did you know these employees come out on the weekends as well? As I got to know Eric C. and questioned him about the repair work I determined that he was a Navy Veteran. From then on it was "squid" as Eric's name. I can call him that because I am a Marine Veteran aka "jarhead". Now I understand why his level of professionalism, integrity and work ethic were so high. His core values line up with mine in my personal and professional life. In conclusion, I have switched over to Brevard Cooling and Heating because of all of the items I have listed. Thanks again squid! Semper Fi~
Steve Mugar
Indialantic, Florida

Friday, August 04, 2017