Back to Services
Full Tune-Ups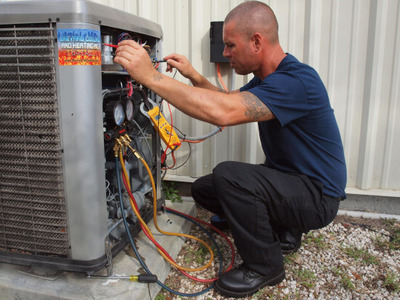 If you have noticed that your electric or gas bill seems unusually high, it could be a sign that your air conditioner or furnace is in need of servicing. HVAC units don't just operate at full efficiency and then one day stop working: rather, they tend to slowly wear out, and as they begin to fail, their cost of operation goes up.
The good news is that a full tune-up can often restore your air conditioner or furnace to proper working order. It can also prolong the life of your equipment, helping you to save money.
Brevard Cooling and Heating, Inc. is your place to go for a Heating, Ventilation, & Air Conditioning System tune-up
If you've noticed an increase in your gas or electric bill, or if you have any reason to believe your HVAC system may not be operating at peak efficiency, give us a call. We are happy to come to your home or business and closely inspect your air conditioner or furnace.
We can fix any issues we see and give you a good idea of how long you can expect your equipment to continue operating at its current level. What's more, we can educate you on preventive maintenance, helping you to keep things running smoothly for even longer.
Even if you don't notice a difference in the performance of your system or your utility bills, it's a good idea to have your HVAC equipment serviced on a regular basis. At Brevard Cooling and Heating, Inc. we have more than 34 years of combined experience in the heating, ventilation, & air conditioning industry, and we know what to look for on your furnace or air conditioner.
Give us a call today, and we'll come right out. We're here to help you, and we're excited to show you exactly why we have such a strong reputation for friendly, reliable service.
Have a specific Heating, Ventilating, & Air Conditioning related question?
Ask a Professional. We're here to help! Call anytime day or night (321) 757-9008