Back to Daikin Whole House Air Handlers and Coils
ASPT Air Handler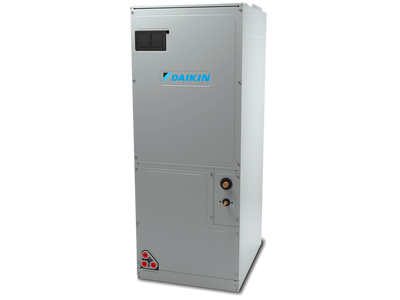 Compatible with the ComfortNet™ Communicating System family of products
Maximum four low-voltage wires required for operation in communicating mode
Auto configuration of the airflow and tonnage in communicating mode
Factory-installed
inverter-tuned thermal expansion valves
Direct Drive ECM indoor blower motor
All-aluminum evaporator coil
Provides constant CFM over a wide range of static pressure conditions independent of duct system
Provides adjustable low speed for efficient fan-only operation
CFM and diagnostic indicator with front-panel sight glass
Galvanized leather grain-embossed finish
Foil-faced insulation covers the entire blower case to reduce operating sound and cabinet condensation
Multi-position installation: upflow or downflow or horizontal
AHRI certified; ETL listed
Specifications:
ComfortNet™ Compatible: Yes
Installation Options: Multi-Position
Motor Type: Multi-Speed ECM
Compressor Type: Variable-Speed
R-410A Refrigerant Compatible: Yes
Warranty
*Complete warranty details available from your local dealer or at www.daikincomfort.com. To receive the 10-Year Parts Limited Warranty, online registration must be completed within 60 days of installation. Online registration is not required in California or Quebec.
Have a specific Heating, Ventilating, & Air Conditioning related question?
Ask a Professional. We're here to help! Call anytime day or night (321) 757-9008