Back to Locations
Cocoa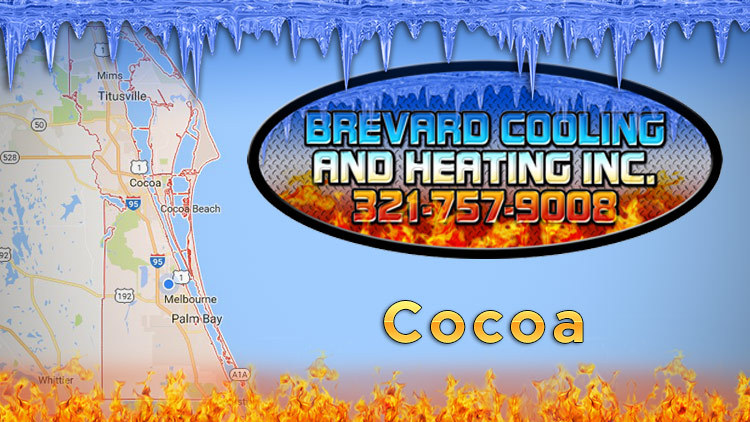 Professional Air Conditioning & Heating Services in Cocoa, Florida
Air conditioning and heating services are essential to the Cocoa area and with Brevard Cooling and Heating Inc. by your side, your systems will always be in proper working order. We know the importance of comfort in the home or within a business, particularly air conditioning, as temperatures in Florida can be unbearable. Whether you are a home or business owner, we can help you have a comfortable space as we provide the essential HVAC services needed, be it repair, installation, cleaning or more.
When it comes to HVAC needs, you want to work with a company that you can trust. At Brevard Cooling, we have a long history of providing the essential services needed in a timely manner for air conditioning and heating units. Our team of experts is highly trained in all areas to ensure any unit can be taken care of. We focus on quality customer service, with our clients fully understanding the needs of their heating or cooling units.
We want our clients to be happy with our service and trust our expert opinion. Have you been told that your system is in need of an upgrade or expensive repair? If so, perhaps you can benefit from a second opinion. Our technicians are constantly serving home and business owners who have been falsely directed by other companies of what is 'needed'. Let our technicians evaluate your system and help you better understand what is needed. We work with you to meet budget needs as well as ensure you have a quality system installed.
---
Duct Work Needs
If you are like most Florida home or business owners, then you have a central HVAC system installed that provides both heating and cooling. This dual system is the perfect solution as it provides energy efficiency as well as dual comfort in the home. With this system type, you will have duct work that will run from the unit to each room in the home or business. The duct work takes the heat or cool air to each space, helping to meet temperature setting needs.
Over time, duct cleaning, as well as duct sanitizing, is needed. While most home and business owners focus on the unit itself for repairs or maintenance, the duct work plays a vital role in comfort and needs to be cared for as well. In Cocoa, we offer quality duct work services to ensure your space stays at a pleasant temperature and energy efficiency levels are being met.
Why You Should Clean Your Air Ducts
The duct work can easily become blocked or ripped, which leads to air flow problems. With air flow issues, you have a unit that is trying to meet your temperature setting but just can't seem to reach it. This leads to a unit working constantly which means more energy usage and more money spent as your unit is operating 24/7.
With our duct work repair service, we can inspect your duct work and check for any imperfections. We can repair any issues and then your system will be able to function as needed, helping you to use less energy and meet desired comfort levels in a timely manner.
Duct work can also become home to dust, dirt, and allergens. As your unit works to provide cooling or heating in the home, the air is pulled from inside and runs through the system via the duct work. Any allergens, dirt and other contaminants will eventually lay within the duct work. Over time, this buildup can cause air quality issues in the home.
Professional duct cleaning needs to be done on a regular basis to ensure any dust, dirt, and allergens are removed. Once these pollutants are removed, the air quality in the home becomes much better. Home owners and their families are able to breathe easier and avoid any allergy issues or other problems in the home due to dirty duct work.
Tune-ups and New Installations
Existing HVAC systems need to be inspected from time to time with a tune-up provided. With a regular inspection, our technicians can determine if any issues are taking place and provide a solution. In most cases, a problem can be solved during a tune-up to ensure the system is functioning as it should. Regular full tune-ups should be provided so that the system maintains its integrity and is able to continue to function with maximum energy efficiency.
Over time, a unit that is not maintained can lose efficiency and have other problems. When a unit is not inspected, a small issue can become a big problem that can lead to the shutdown of your system as well as a major repair cost. In a home, those inside will be uncomfortable due to hot or cold weather temperatures. With a business, sales may dwindle as customers do not want to be too hot or too cold due to HVAC problems.
With our help, your Cocoa home or business will be cared for via our trained technicians. Our team can easily provide tune-ups for your HVAC system as well as installations if a new unit is needed. Often times, a repair need is so severe that a new unit is a better solution. If this is the case with your system, our technicians will explain your options and help you better understand the situation.
As a unit ages, the system will have a lower energy efficiency and greater need for repairs. HVAC systems that are 10 years of age or older should be replaced with a new system. With our help, we can evaluate your existing unit and determine if repairs are the answer or if a new system is the better choice in the long run.
We help you weigh the pros and cons as well as consider budget restrictions, as well as overall heating and cooling needs to ensure that the right system is provided for you.
Contact Brevard Cooling and Heating Today
When it comes to your heating and cooling needs, rely on the expert services of Brevard Cooling and Heating, Inc. Give us a call to find out more about our service options or to schedule an appointment for a free estimate today.
---
Excellent company!
After our old ac system died we got several estimates. Some were cheaper but they were also "cheaper". Brevard Cooling and Heating gave us the best offer. They answered every question and explained every option available to help us make a quality and very satisfactory decision. The entire staff was very helpful and friendly. The installers were prompt, professional, and courteous. They explained the completed system and answered all questions with the assurance we could contact them at anytime with any thing we needed. They were also in and out in a day and left area as clean as when they got there. I would and will definitely recommend them to anyone! 😊
Hoyt Lucas
Cocoa, FL

Wednesday, July 14, 2021
good service
I called approximately 9:30am and tech was here by approximately 10:30 am. He did a thorough check of the air handler unit, explained what problems he found. Got the air working for us. He was personable and knowledgable. Would recommend your company to anyone.
Cheryl Hammett
Cocoa, FL

Friday, October 30, 2020
Great company, great people!
great company,great people. they got the job done when promised.Eric and crew were great
Mike Southerling
COCOA, FL

Monday, September 21, 2020
I highly recommend them!
When my air conditioner stopped working on the weekend in late July, I was thrilled that Brevard Cooling & Heating was able to come out within 24 hours and had my unit working until I could have a new one installed. The installation went exactly as promised, no surprises and very courteous and knowledgeable employees. I highly recommend them!
Barbara J Henderson
Cocoa, FL

Monday, August 31, 2020
THIS ONE TO KEEP !!
Well Well..............Had 6 est.......Brevard C/H was the most easily informative meeting with Eric and his installer, Derek & Tyler, were very professional & meticulous workers to complete my installation in ONE day........outstanding...........Thank You Brevard C/H........GB
Gerald Badia
COCOA, FL

Friday, May 29, 2020
Awesome job!
From the first service call with Franco to having a new unit installed, working with all the staff at Brevard Cooling has been a pleasure! Thank you Chachi, Greg and David for installing our new system and doing such a great job. 5 🌟!
Jackie
Cocoa, Fl

Thursday, March 26, 2020
Outstanding Service!
Great Service! Franco explained in detail what was wrong with our current A/C. We made an appointment to have a new unit installed asap.
Franco was extremely professional and knowledgeable....very impressed.
The 2 techs who installed the new unit were wonderful. On time, professional and completed the install faster than estimated.
Great job everyone.....and many thanks!
charlotte lewis
Cocoa, FL

Tuesday, March 24, 2020
Replacement AC
As relatively new home owners, having our home AC die was a potential financial nightmare and huge stress. When looking to purchasing a replacement system I wasn't sure where to look and what to expect, but had heard from several friends and colleges that Brevard Cooling and Heating is the only way to go when needing AC work done. To say their reputation preceded them is a huge understatement. After giving Brevard Cooling and Heating a call, a fantastic service rep, Will, came out to the house and checked on our existing AC unit. He didn't just push for us to get a new unit, but went through the first option of what it would take to repair our existing unit, what he predicted the lifespan of the unit would then be, and finally went through the option of a replacement system and his recommendations.
The decision to replace the whole system wasn't a tough one, ours truly was dead and gone, but the decision of which unit to get and how to pay for it was still plugging my mind. Within a few minutes, Will had run through several options, clearly explaining every aspect and answering every one of my many questions. He even set up financing for us, so we didn't have to pay for the whole unit at once.
The following day the instillation team came to the house at the time they had said they would come, and were just as polite, respectful and knowledgeable as Will was. The instillation of the new unit was done with speed and excellence. The guys cleaned up after the work was done and fully explained the new system throughout to us.

Thank you Brevard Cooling and Heating, your service and quality truly is excellent. Your team went over and beyond to get us the right AC system and work within our means. 100% recommendation every time!
Ciaran Stirling
Cocoa, FL

Saturday, October 19, 2019
AC replacement
Derek and Greg did a fantastic job. They called to let us know they were on the way, and got down to business a half hour early. The whole job took a little less than the 6 hours initially projected, even though a different set of breakers were called for and delivered. These technicians were friendly, helpful, and very professional. I will recommend your company to all of my friends when it's time to replace or service their systems.
Jeffrey Curl
Cocoa, Florida

Thursday, October 03, 2019
New Amana AC
Finally....our new Amana 3.5/4.0 AC was installed as a replacement for a 23-year-old 3.5/4.0 Rheem AC. If was a difficult decision on my part as I generally don't have a lot of faith in contractors, but after weeks of reviewing manufacturers, models, and contractors I chose Brevard Cooling and Heating because of their online reviews and my discussions with Dan R. concerning what was needed for my home. The install was scheduled for 8/1/19 and Derek and Dave came despite a heavy downpour and lightning. I was waiting for the phone call to reschedule, but they came despite the rain and immediately began working. By 2:00 most of the work was finished when the third installer Dan came to help finalize the installation. Derek, Dave, and Dan installed a larger air return, UV light, thermostat, breakers that met code, insulated platform outside, all new copper tubing, condensate line, whip, permits and a 3.5-ton condenser and 4.0-ton air handler. My family if very satisfied with the insulation and the system (so far).
Conrad White
Cocoa, FL

Thursday, August 01, 2019
Air Conditioner Install
They did a great install. They were very professional. They left the area clean. If you have any problems with your air conditioner, I recommend you to call Brevard Cooling and Heating.
Patricia Cottrell
Cocoa, FL

Wednesday, July 31, 2019
Completely Satisfied
Installed new Daikin A/C and Heat Pump yesterday. Happy with information provided by Franco in selecting what we needed to install and the benefits of installing UV lights in both of our A/c units.
Very happy with the installation done by Will and Dan both professional and polite and neat. All pluses, would highly recommend Brevard Cooling and Heating.
Mary Sink
Cocoa, FL

Wednesday, April 10, 2019
AIR CONDITIONING SYSTEM
Franco, Eric, Mike, and Steve all did a professional job and all did an excellent job on installing the system.
RAY SPRINGER
COCOA, FL

Monday, January 14, 2019
Review on Install
New AC installed by Matt and Anthony - they were very clean and efficient - so far so good system is working (day 3) spent two years W/ Brevard AC for maintenance over $2000. to be told we need a new system. Prayers that this Amana is the charm
Jeanne Cawley
COCOA, FL

Sunday, October 21, 2018
Maintenance
John did a great job on our yearly maintenance.
Diana Leach
Cocoa, fl

Wednesday, August 15, 2018
Outstanding Service All Around
Just want to express my thanks and appreciation for the top-notch service received from Brevard Cooling and Heating. Specifically, I want to thank Franco, Eric, and Adam for their professionalism and outstanding service. They are all a credit to this company and should be acknowledged for their great customer service. Thank you! We love our new unit and look forward to many years of working with you guys to keep it running smooth.

Jesse
cocoa, Fl

Thursday, August 02, 2018
Great Experience Buying all New Systems
Eric was phenomenal!!! He answered all our questions and came out on multiple occasions to go over our options for replacing all 3 of our HVAC systems. We got much better systems at a much better price than we could have with any of the other companies we got estimates with. They completed the job in the time they said they would and made sure all was completed to our satisfaction. We highly recommend their services and would ABSOLUTELY used them again!!!
Brooke Jacobson
Cocoa, FL

Wednesday, June 06, 2018
Contract maintance
Our AC unit was serviced in preparation for the summer today. Franco was the technician. He was very punctual, friendly, efficient and knowledgeable. We trust our unit will run smoothly for the season and we are very pleased with the service. Thank you.
Jeanne and Jim Cawley
Cocoa, FL

Wednesday, March 28, 2018
New System
Very professional service and anytime I had questions there was always a timely response
Scott Gillespie
Cocoa, Florida

Tuesday, March 20, 2018
Was time to upgrade
It was time to replace our 15 year old system, Brevard Cooling & Heating was our first and last call. They where able to install a more efficient system at a fair price and completed the install in a single day.
Dean
Cocoa, FL

Friday, November 17, 2017
new unit
From the beginning, it was a pleasant experience. I had gotten several other bids and what a nightmare and how pushy. With Brevard I was able to relax and think. They worked around my work schedule and came after 5. Franco was wonderful going over the unit I had and the vents, the unit outside and in the garage and up in the attic. He took whatever time I need to explain to me, went over all the paperwork, warranty, payment plans, etc. I was ready to go. I was not one to do without my air and they worked with me on a day I could get off work. The next day I got a call from Franco and he was able to find a better deal for me with as they get deals on different models. This change made and we were off and running. Oh the guys that came to take out the old and put in the new WERE FABULOUS. They came ready to work, were pleasant, neat and worked till the job was done. They answered any questions I had along the way. When finished they made sure everything was working and took time with me to go over the thermostat and other items as well as my questions. I was so happy. They cleaned everything up and you would not know that they had been there except for the new unit. I would highly recommend them. They even checked back with me to make sure all was okay and if I had any questions. Here we are months later, nothing wrong and we made it through the storms. I am very thankful for them because I was worried about having to deal with this. At least 10 or more people in our neighborhood have used their services and there have been no complaints. Nice to have a business that is run by real people.
Myrna Foster
Cocoa, Florida

Wednesday, September 27, 2017
Quality Service
As a former aerospace quality inspector I can usually spot technicians who take pride in their work within the first few minutes of starting a job. Soon after starting our HVAC installation I knew it was going to be a quality installation. This new Daikin system has cut the humidity in our home to 50%. Our old unit never did that! Their reasonably priced installation package included: Surge protection, corrosion protection, Air Ducts cleaned, sanitized and sealed, Install new copper lines, PVC drain line, and outside electrical system. If you want the total package in an HVAC company, choose Brevard Cooling & Heating!
James Davis
Cocoa, FL

Thursday, August 10, 2017
2043
I received three quotes on replacing my old unit. Your company's price was the lowest. Being retired, saving money is important. The job was completed in a short time and the shroud the crew installed was just what I wanted to keep animals out. The unit works great. We are very happy with the whole experience.
Bob Rutigliano
Cocoa, Florida

Tuesday, July 18, 2017
New Unit August 2016
We had Brevard Cooling out on a Wednesday and by the next Friday, we had Mike and Mike out in the morning and by the afternoon we had cool air again. Ryan and Danny were friendly and very informative, as was the whole team. They didn't mind answering any questions we had and no one skipped a beat as they worked. The whole team was very professional. I would recommend Brevard Cooling to friends and family.

THANK YOU!!!
Wendy Stiteler (Bratsch)
Cocoa, FL

Thursday, September 08, 2016
New AC Unit
They all did a great job. From the person who came out to do the estimate, to the installers. They went the extra mile and fixed our old unit so it would work until the new one was installed. Very pleased with our experience with this company!
Jean
Cocoa, Fl

Wednesday, September 07, 2016
Thank You
My wife and I both feel it noteworthy to express our appreciation for the high quality and courteous professionalism displayed by your work crew consisting of Eric, Mike, Jarod on 4-15-15. They were hard workers, very efficient and had good attitudes during the replacement of a new residential heat pump system. Thanks, and we are sure they will continue to make you proud.
Foster T. & Renee Williams
Cocoa, Fl

Wednesday, August 24, 2016
Wonderful Service
The 2 young men that installed our a/c unit were very professional, respectful and went over everything before they left. They did the job in a timely manner and I would give Brevard Cooling and Heating a rating of a 10 plus. A hard working company for our community. Thanks for the wonderful job guys, you all need a raise and thank you Brevard Cooling and Heating for being there when we needed you.....
Dianna Marsella
Cocoa, Fl

Wednesday, August 03, 2016
I've used this contractor for the past couple of years. Yesterday they did a complete Heat and A/C installation. The technicians were very professional and did an excellent job on the installation. System runs very quiet and cools a two story house very quickly. I would highly recommend this business for all your heat and air conditioning work.
Charles Estes
Cocoa, FL

Thursday, December 10, 2015
They came out and bid for a major repair. Franco, Wes and the other guys on the crew were great. Did a very good job and the price was good.. Will recommend to anyone I know that need HVAC work..
Thanks guys....
Will Ratliff
Cocoa, FL

Monday, March 30, 2015
"Great Company With Godly Values..."
What a great company with Godly values. I recommend Brevard Cooling and Heating!
Gary M.
Cocoa, Fl

Thursday, June 27, 2013
"THE BEST IN BREVARD!!!"
This is the only company you should call for all your cooling/heating issues! They are simply "THE BEST IN BREVARD!!!" They have put in 2 systems for me in 2 of my homes and I am completely satisfied! I highly recommend them! They are Honest, Reliable, Reasonable, and do outstanding work! The office staff and technicians are very friendly and they know what they are doing! I can't say enough about how satisfied I am with this company and their customer service. They are a family owned business and treat their customers like family too! A+++ 5***** Call them, you will not be disappointed!
Lisa A.
Cocoa, Fl

Monday, June 24, 2013
This Company is AWESOME!
I could not be happier! From my request for an estimate through installation, this company was awesome. The sales person was extremely knowledgeable and explained several options. The installation crew was top notch, very professional, on time and did an excellent job. Quality product, fair price, excellent service. I would highly recommend this company.
Ron G.
Cocoa, Fl

Tuesday, August 14, 2012
We are very pleased to have our new air conditioner
which was installed on Tuesday, September 26th.
The two gentlemen were very professional
and precise. Thank you Daniel and Anthony
for a great job. We are very happy with your work.
Keith & Paula Partlow
Cocoa, FL

Monday, November 30, -0001