Back to Locations
Cocoa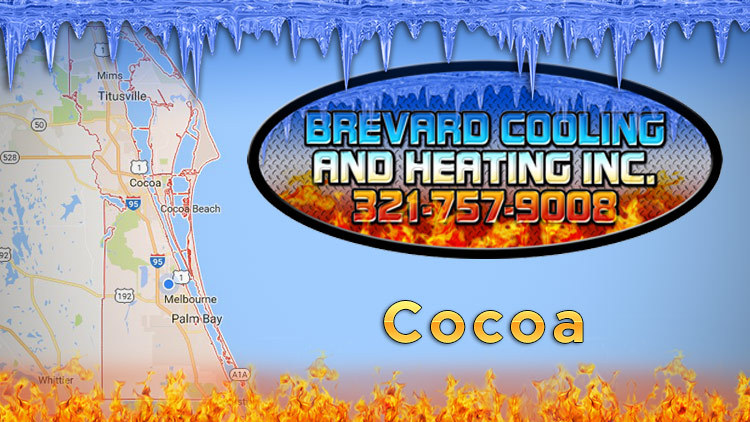 Air conditioning and heating services are essential to the Cocoa area and with Brevard Cooling and Heating Inc. by your side, your systems will always be in proper working order. We know the importance of comfort in the home or within a business, particularly air conditioning, as temperatures in Florida can be unbearable. Whether you are a home or business owner, we can help you have a comfortable space as we provide the essential HVAC services needed, be it repair, installation, cleaning or more.
When it comes to HVAC needs, you want to work with a company that you can trust. At Brevard Cooling, we have a long history of providing the essential services needed in a timely manner for air conditioning and heating units. Our team of experts is highly trained in all areas to ensure any unit can be taken care of. We focus on quality customer service, with our clients fully understanding the needs of their heating or cooling units.
We want our clients to be happy with our service and trust our expert opinion. Have you been told that your system is in need of an upgrade or expensive repair? If so, perhaps you can benefit from a second opinion. Our technicians are constantly serving home and business owners who have been falsely directed by other companies of what is 'needed'. Let our technicians evaluate your system and help you better understand what is needed. We work with you to meet budget needs as well as ensure you have a quality system installed.
Duct Work Needs
If you are like most Florida home or business owners, then you have a central system installed that provides both heating and cooling. This dual system is the perfect solution as it provides energy efficiency as well as dual comfort in the home. With this system type, you will have duct work that will run from the unit to each room in the home or business. The duct work takes the heat or cool air to each space, helping to meet temperature setting needs.
Over time, duct cleaning, as well as duct sanitizing, is needed. While most home and business owners focus on the unit itself for repairs or maintenance, the duct work plays a vital role in comfort and needs to be cared for as well. In Cocoa, we offer quality duct work services to ensure your space stays at a pleasant temperature and energy efficiency levels are being met.
The duct work can easily become blocked or ripped, which leads to air flow problems. With air flow issues, you have a unit that is trying to meet your temperature setting but just can't seem to reach it. This leads to a unit working constantly which means more energy usage and more money spent as your unit is operating 24/7.
With our duct work repair service, we can inspect your duct work and check for any imperfections. We can repair any issues and then your system will be able to function as needed, helping you to use less energy and meet desired comfort levels in a timely manner.
Duct work can also become home to dust, dirt, and allergens. As your unit works to provide cooling or heating in the home, the air is pulled from inside and runs through the system via the duct work. Any allergens, dirt and other contaminants will eventually lay within the duct work. Over time, this buildup can cause air quality issues in the home.
The duct work needs to be cleaned on a regular basis to ensure any dust, dirt, and allergens are removed. Once these pollutants are removed, the air quality in the home becomes much better. Home owners and their families are able to breathe easier and avoid any allergy issues or other problems in the home due to dirty duct work.
Tune-ups and New Installations
Existing HVAC systems need to be inspected from time to time with a tune-up provided. With a regular inspection, our technicians can determine if any issues are taking place and provide a solution. In most cases, a problem can be solved during a tune-up to ensure the system is functioning as it should. Regular full tune-ups should be provided so that the system maintains its integrity and is able to continue to function with maximum energy efficiency.
Over time, a unit that is not maintained can lose efficiency and have other problems. When a unit is not inspected, a small issue can become a big problem that can lead to the shutdown of your system as well as a major repair cost. In a home, those inside will be uncomfortable due to hot or cold weather temperatures. With a business, sales may dwindle as customers do not want to be too hot or too cold due to HVAC problems.
With our help, your Cocoa home or business will be cared for via our trained technicians. Our team can easily provide tune-ups for your HVAC system as well as installations if a new unit is needed. Often times, a repair need is so severe that a new unit is a better solution. If this is the case with your system, our technicians will explain your options and help you better understand the situation.
As a unit ages, the system will have a lower energy efficiency and greater need for repairs. HVAC systems that are 10 years of age or older should be replaced with a new system. With our help, we can evaluate your existing unit and determine if repairs are the answer or if a new system is the better choice in the long run.
We help you weigh the pros and cons as well as consider budget restrictions, as well as overall heating and cooling needs to ensure that the right system is provided for you.
When it comes to your heating and cooling needs, rely on the expert services of Brevard Cooling and Heating, Inc. Give us a call today to find out more about our service options or to schedule an appointment.