Back to Locations
Melbourne Beach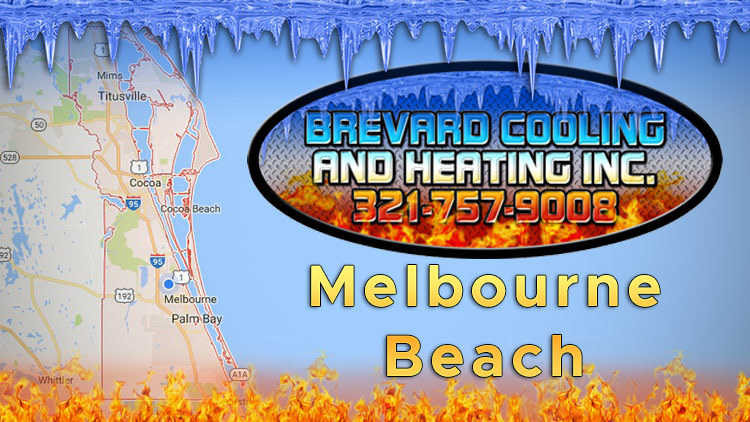 At Brevard Cooling & Heating Inc., our goal is to provide customers in our community with quality air conditioning and heating service options. In Florida, the temperatures are always extreme, which requires home and business owners to have a quality HVAC system installed. When faced with hot and cold temperatures, you want to be able to rely on your system to function as needed. With our help, you will never be lacking in quality care for your heating and cooling system.
As an HVAC service provider, we focus on three main areas of service and offer additional options that come in handy when it comes to maintaining your unit. The three main areas of service include installation, repairs, and maintenance. By offering such services, we can ensure that every client has access to a properly functioning HVAC system, providing comfort in the home or business year-round.
By learning more about our service options, you can see what we specifically offer in Melbourne Beach. Whether you own a business or home in the area we can provide you with exactly what is needed to ensure comfort and a healthy environment.
HVAC Installation
As one of our main areas of service, our installation option allows home and business owners to upgrade their air conditioning and heating system. Once a unit has reached its lifespan, it's time to have a new system installed. Our clients can rely on a customized approach to installation, with every factor considered, ensuring only the best unit is installed in your home or business.
With an installation, there is much to consider. Our technicians will arrive at your property and review your existing unit. If this unit type works best for your cooling and heating needs, then we can simply offer an upgraded solution. However, you may have an outdated and outsized system operating for your home or business. Newer and more energy efficient models might work better, offering you a more comfortable space and lower utility bills each month.
With each of our installations, we focus on the size of the space as well as the energy needs, type of unit to be installed, SEER levels and much more. We cover every aspect and go over a variety of options for the installation. We can work with any budget and help you to feel more comfortable with your new installation. In no time, you will have a new unit installed, ready to provide your home or business with quality and energy efficient cooling and heating.
Repair Needs
Just like any other piece of machinery, an HVAC system will be in need of repairs from time to time. In Melbourne Beach, if your unit breaks down during the hotter seasons, you want access to quick and reliable service. At Brevard Cooling and Heating Inc., we provide quick and efficient service for your cooling and heating needs. We schedule an appointment as soon as we can to ensure your unit is up and running again in no time.
Our repair technicians are highly trained in all areas of HVAC. Each technician knows how to service every type of HVAC unit, so you never have to worry about the repair needs of your system. Once we arrive at your home or business, we do a thorough inspection to determine the repair need. Once we know what is going on, we will talk to you about the repair needs and cost. We work with you so that the system can be repaired, and you will be comfortable in your home once again.
Each of our technicians will arrive at your home prepared, with tools and components that can be used for your repair. If we do not have a part with us onsite, we most likely have access to what we need at our office. Any parts needed for your unit can be ordered and arrive quickly, so you are never without an HVAC system for an extended period of time.
When it comes to your HVAC repair needs, let our team of experts provide the quality repair service you need for a top operating system.
HVAC Maintenance
Every air conditioning and heating system needs to be maintained in order to remain energy efficient as well as function properly. A unit that is not serviced regularly can fall victim to small repair needs which can create larger issues in the future. With regular maintenance, your HVAC system is reviewed and cleaned, ready to provide cooling in the summer and warmth in the winter.
Maintenance service involves every aspect of the HVAC system being inspected and cleaned. Our technicians are well-versed in all unit types, able to easily provide the much-needed maintenance for your home or business HVAC unit. The process of maintenance can take only a few short hours, but you will reap years of benefits.
A system that is regularly maintained will be able to last for a longer period of time as well as maintain energy efficiency. This means you will be spending less money over time on repairs or with a new installation. You are investing in your future by scheduling regular maintenance on the heating and cooling unit of your property. Allow our technicians to provide the much-needed servicing to the heating and cooling unit of your Melbourne Beach home or business.
Additional Service Options
Aside from the main areas of service, we offer even more for your heating and cooling system. Duct cleaning and duct sanitizing are additional options we provide to ensure your home or business has healthy air quality. With this service, any dust, dirt or other contaminants are removed from the duct work so the air that runs through the space is clear.
We also offer quick system check-ups and full tune-ups to ensure your system is ready for the next extreme weather season. Contact our office today to learn more about the services we offer or to schedule an appointment.