Back to Locations
Port St John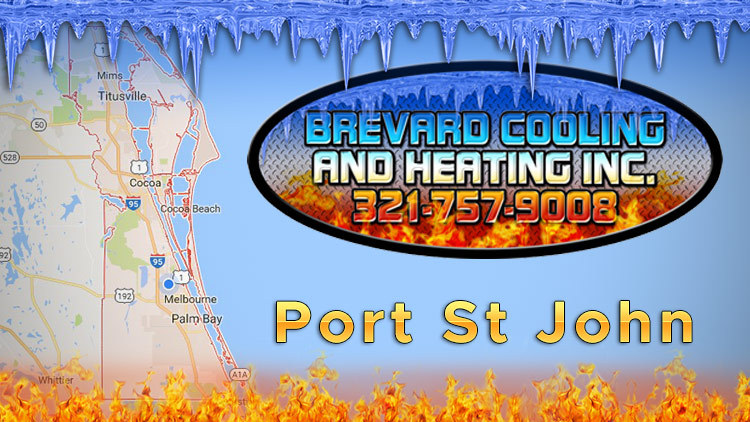 Professional, Affordable HVAC Company in Port St. John, Florida
When it comes to HVAC needs in Port St. John, Brevard Cooling & Heating Inc. has you covered. Our company has spent years servicing the area, providing exactly what home and business owners need when it comes to HVAC systems. We can offer installation service, repairs, and maintenance, along with duct cleaning and sanitizing. Our team has you covered to ensure that your property is comfortable no matter the season.
Our team of highly trained experts can handle any question you may have regarding your Port St. John heating and cooling system. Having trouble turning your unit on? We can help. Is your unit constantly freezing up? If so, we have you covered. Learn more about our service options to see how we can help your home or business with HVAC servicing.
---
New Unit Installation
Are you having trouble with your existing HVAC unit? Once it gets hot outside, the air conditioning system needs to be turned on. So, what do you do when the unit won't turn on? In the Florida heat, it won't take long for your home or business to become sweltering. To avoid being uncomfortable, let our team of experts help.
We can look at your unit and try to determine why the system is not working. It could be that your breaker has flipped, and it simply needs to be turned back on. It may also be that an electrical short is causing your unit not to run properly. We will look at every aspect of your unit and then determine the problem.
If your unit is an older one, it may be that the system has run its course and it is time for a new system to be installed. Over time, an air conditioning and/or heating system can fail to function. As the unit is used day in and day out, it starts to see wear and tear and eventually will not work any longer. When your unit shuts off and no longer wants to work, it's time to have it evaluated.
Our trained technicians will take a look at your Port St. John system and see what will work best. If it can be repaired, then we can fix it for you. However, if you will benefit from a new system to be installed, we will provide the information you need to make an informed decision. We know that a new HVAC system can be costly and we want you to be able to afford a new system as well as reap the benefits.
Our technicians will take a look at options that will work for your home and make recommendations. We list the pros and cons, so you can feel good about making the decision to upgrade to a new HVAC unit.
Quality Cooling & Heating Repair Service
As mentioned, we also provide quality repair service for both heating and cooling systems. At Brevard Cooling and Heating Inc., we have vast experience in working on systems in residential and commercial settings. No matter how large or small the unit, we can provide repair service to ensure your space is comfortable once again.
We handle several problem areas on a regular basis. Take for example if your unit is leaking water or icing up. A system that is leaking water can be damaging to the home. A safety float switch can be beneficial in stopping any water leakage issue. We can help by installing this switch on your system.
If your air conditioner is icing up, the problem can be caused by a few issues. A dirty air filter can be one such cause. When an air filter is not changed out regularly, it can lead to restricted airflow over the evaporator coil. This causes ice to form over time and then stress is placed on such components as the blower motor and compressor. If the issue is not taken care of quickly, there can be an automatic motor failure, or the compressor will fail. Other issues can take place that lead to big money repairs.
By contacting our office immediately, we can begin working on your system to ensure even the smallest problem is repaired so that you no longer have to worry about your unit functioning properly. From the AC not blowing air to the heating system making an odd noise, we can provide you with the exact solution.
Maintenance Needs
When it comes to a Port St. John HVAC system, the unit requires regular maintenance to be able to function properly. Without regular cleaning and checkups, your system can easily begin to show signs of wear and tear. A maintenance appointment will have our technicians arriving at your home and reviewing every aspect of your system.
Components are greased as needed, checked for imperfections and cleaned accordingly. When your unit is inspected, and the integrity questioned, any repair needs that arise are taken care of quickly. The focus is to ensure your unit is working as it should be, continuing to maintain energy efficiency and quality operation.
Time and time again, we arrive for an inspection to find a problem that can easily be repaired. However, if the problem had remained unchecked, the system may experience even more issues. Each component of an HVAC system works together to provide heat or cooling in the home. When one component is not working correctly, other areas of the system suffer. Over time, the operation does not run smoothly, and a small problem becomes an even bigger one.
By scheduling maintenance service, you are avoiding major issues and maintaining the integrity of the unit. With our help, your Port St. John system will function correctly for many years to come.
Contact Brevard Cooling and Heating Today
Give us a call today to learn more about our local service options. See how we can help your home or business HVAC system run better and maintain quality energy efficiency. Give us a call today to schedule an appointment or to discuss further what we can offer you for your air conditioning and heating system needs. We look forward to chatting with you!
---
Intallation of a new unit
After hearing the advantages & disadvantages of the new units . I decided to replace my20 year old unit. Eric,Matt & crew were very courteous, knowledgable on the installation of the new unit. I am very satisfied and would recommend Brevard cooling & Heating.
Wm Benson
Port St John, Fl

Wednesday, December 19, 2018
My new AC
I wanted to wait until I had a few months of using the new unit to give a review. I thought that would be accurate vs just talking about the installation (which was great). Everything from the estimate to install was professional & informative. The installers cleaned up after themselves 100% the system has kept us comfortable all summer. We were installed in spring & it's end of August
Cool & comfortable
Price was good for everything that comes with it and the professionalism & knowledge
Deana Satow
Port St John, FL

Wednesday, August 29, 2018
The crew from Brevard cooling and Heating just put our system in 1/5/2016. We are quite pleased with the work that was done and would highly recommend them to everyone.
Ed Conti
Edward Conti
Port St John, Fl

Wednesday, January 06, 2016