Back to Locations
Satellite Beach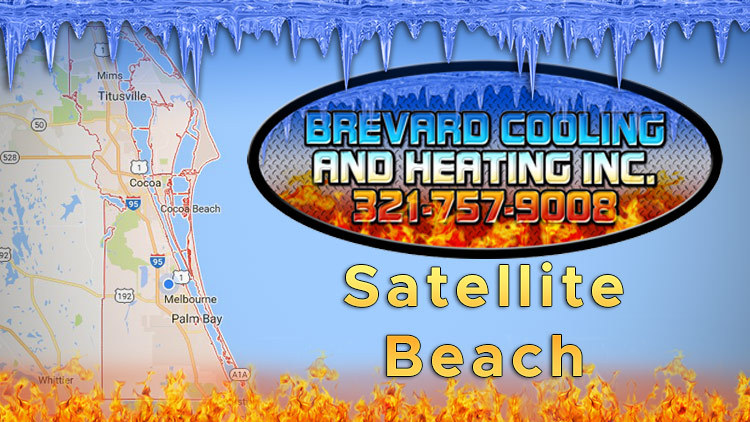 For home and business owners in Satellite Beach, Brevard Cooling and Heating Inc. is ready to offer you every HVAC service needed for a comfortable and healthy space. Our HVAC company focuses on the main objectives of HVAC services, including installations, repairs, and maintenance. However, we also provide additional service options, like ductwork cleaning and duct sanitizing, to ensure the air you breathe is fresh and clean.
If you are like most HVAC system owners, you take care to change out the air filters in your unit and scheduled maintenance service. However, did you know that most home and business owners neglect a key component to the system? The duct work plays a vital role in providing comfort and it is often neglected. Duct work needs to be cleaned and sanitized on a regular basis to ensure the system continues to operate smoothly and can provide healthy and clean air in the home or business.
Creating a Healthy Environment
Because duct work moves heating and cooling into a space, it needs to be cleaned from time to time. The air of your home or business will only be healthy and clear of contaminants if the proper cleaning and sanitizing methods are provided. In Satellite Beach, we focus on providing such services, so you can ensure the air you breathe is clear.
Over time, allergens can build up within the duct work, along with other issues. Dust, pet dander, even biocontaminents can exist within the duct work. When this happens, the health of those inside the home or business is at risk. By contacting Brevard Cooling and Heating Inc., we can provide the essential services needed to clear your duct work.
Our company has highly trained technicians that can use specialized equipment to clean the duct work within your home or business. We target the areas where the buildup is the worst to ensure the area is clean. This way, the air that enters the space is fresh and clear instead of dirty and contaminated.
With our duct sanitizing service option, we can provide a way to freshen the air of the home. Often times, there are odors that enter the home due to organic material located in the duct work. Mice or other rodents can use the duct work to move about the home and over time, leave behind droppings and urine. They also can die inside and then decompose. This will create a stinky odor.
Biocontaminents can also create a smell that runs through the duct work. Whatever the case may be, the odors you are experiencing can be eliminated if duct sanitization is provided. This service is easy to schedule, and you will see a big difference once the cleaning process is complete.

In the end, with our sanitizing or duct cleaning service, you end up with fresh air in the space, enjoying a clean and healthy environment!
Standard Services
At Brevard Cooling and Heating Inc., we also focus on offering the standard HVAC services that customers have come to expect. From installations and repairs to regular maintenance, we offer it all so that you can ensure your heating and cooling system will last for years to come.
With our installation service option, we can help you find the perfect unit to replace an existing one. After reviewing your HVAC needs we can recommend a few systems that will work best for your home or business. Considerations need to be made, such as the size of the space and budget, in order to meet affordability needs as well as maximum energy efficiency.
Our technicians are happy to talk to you about your options, helping you to make the right decision for a new unit. Once installed, you will be able to enjoy quality comfort with better energy efficiency and lower monthly utility bills.
We also focus on offering repair service, perfect for when your HVAC system is acting up or shuts down completely. Whatever your service needs, we can help. Our team of professionals has vast experience in working on a variety of heating and cooling units, easily able to provide you with service.
If your Satellite Beach HVAC system starts making noise, ices up or has other issues, contact our office immediately. We can arrive on site quickly and evaluate your system in no time. Once the problem has been identified, we will get to work preparing your system to function properly. Repairs need to be dealt with quickly to avoid major problems.
Each component of the HVAC system relies on others to function. When one stops working, the rest of the unit can suffer. When a problem goes unchecked, larger repair needs are created which equals more money and time spent on repairs.
Along with our repair service and installations, we offer maintenance options. Whether you are a residential customer or commercial, we provide the proper maintenance options for your HVAC system needs. We can service heating and cooling units, ensuring your system is ready to function during the more extreme seasons.
Our maintenance service includes cleaning and the inspection of your full system. With our run through, we make sure that every component is operating effectively. When it isn't, we then can work on getting the unit up to par. Maintenance service is the best way to find any imperfections with the system along with checking for energy efficiency.
We can schedule maintenance checkups around your schedule and discuss with you what we find. We can make recommendations for repair needs along with other options. We focus our efforts on ensuring your unit is ready to function year-round.
Whatever your Satellite Beach HVAC needs, we can help. At Brevard Cooling and Heating Inc., we are ready to serve you. Contact our office when in need of a new installation, repairs, maintenance service, duct cleaning and more. Our team is ready to schedule an appointment and get started assisting you. As a result of our help, you will have an HVAC system you can rely on for years to come!