Back to Locations
Satellite Beach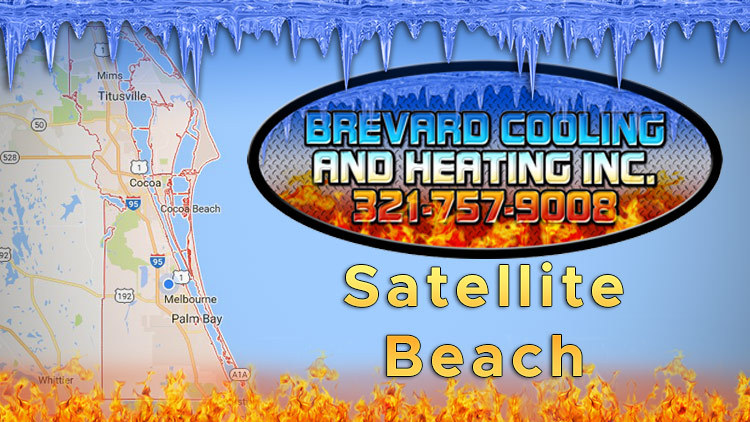 Professionable Air Conditioning & Heating Comany in Satellite Beach, Florida
For home and business owners in Satellite Beach, Florida, Brevard Cooling and Heating Inc. is ready to offer you every HVAC service needed for a comfortable and healthy space. Our HVAC company focuses on the main objectives of HVAC services, including installations, repairs, and maintenance. However, we also provide additional service options, like ductwork cleaning and duct sanitizing, to ensure the air you breathe is fresh and clean.
If you are like most HVAC system owners, you take care to change out the air filters in your unit and scheduled maintenance service. However, did you know that most home and business owners neglect a key component to the system? The duct work plays a vital role in providing comfort and it is often neglected. Duct work needs to be cleaned and sanitized on a regular basis to ensure the system continues to operate smoothly and can provide healthy and clean air in the home or business.
---
Why Duct Cleaning Matters
Because duct work moves heating and cooling into a space, it needs to be cleaned from time to time. The air of your home or business will only be healthy and clear of contaminants if the proper cleaning and sanitizing methods are provided. In Satellite Beach, we focus on providing such services, so you can ensure the air you breathe is clear.
Over time, allergens can build up within the duct work, along with other issues. Dust, pet dander, even biocontaminents can exist within the duct work. When this happens, the health of those inside the home or business is at risk. By contacting Brevard Cooling and Heating Inc., we can provide the essential duct cleaning services needed to clean your duct work.
Our company has highly trained technicians that can use specialized equipment to clean the duct work within your home or business. We target the areas where the buildup is the worst to ensure the area is clean. This way, the air that enters the space is fresh and clear instead of dirty and contaminated.
With our duct sanitizing service option, we can provide a way to freshen the air of the home. Often times, there are odors that enter the home due to organic material located in the duct work. Mice or other rodents can use the duct work to move about the home and over time, leave behind droppings and urine. They also can die inside and then decompose. This will create a stinky odor.
Biocontaminents can also create a smell that runs through the duct work. Whatever the case may be, the odors you are experiencing can be eliminated if duct sanitization is provided. This service is easy to schedule, and you will see a big difference once the cleaning process is complete.

In the end, with our sanitizing or duct cleaning service, you end up with fresh air in the space, enjoying a clean and healthy environment!
Standard HVAC Services
At Brevard Cooling and Heating Inc., we also focus on offering the standard HVAC services in Satellite Beach that customers have come to expect. From installations and repairs to regular maintenance, we offer it all so that you can ensure your heating and cooling system will last for years to come.
Installation
With our installation service option, we can help you find the perfect unit to replace an existing one. After reviewing your HVAC needs we can recommend a few systems that will work best for your home or business. Considerations need to be made, such as the size of the space and budget, in order to meet affordability needs as well as maximum energy efficiency.
Our technicians are happy to talk to you about your options, helping you to make the right decision for a new unit. Once installed, you will be able to enjoy quality comfort with better energy efficiency and lower monthly utility bills.
Repairs
We also focus on offering heating and ac repair service, perfect for when your HVAC system is acting up or shuts down completely. Whatever your service needs, we can help. Our team of professionals has vast experience in working on a variety of heating and cooling units, easily able to provide you with service.
If your Satellite Beach HVAC system starts making noise, ices up or has other issues, contact our office immediately. We can arrive on site quickly and evaluate your system in no time. Once the problem has been identified, we will get to work preparing your system to function properly. Repairs need to be dealt with quickly to avoid major problems.
Each component of the HVAC system relies on others to function. When one stops working, the rest of the unit can suffer. When a problem goes unchecked, larger repair needs are created which equals more money and time spent on repairs.
Maintenance
Along with our repair service and installations, we offer maintenance options. Whether you are a residential customer or commercial, we provide the proper maintenance options for your HVAC system needs. We can service heating and cooling units, ensuring your system is ready to function during the more extreme seasons.
Our maintenance service includes cleaning and the inspection of your full system. With our run through, we make sure that every component is operating effectively. When it isn't, we then can work on getting the unit up to par. Maintenance service is the best way to find any imperfections with the system along with checking for energy efficiency.
We can schedule maintenance checkups around your schedule and discuss with you what we find. We can make recommendations for repair needs along with other options. We focus our efforts on ensuring your unit is ready to function year-round.
Get A Free Quote Today
Whatever your heating and repair needs are, Brevard Cooling and Heating Inc., we are ready to serve you. Contact our office when in need of a new installation, repairs, maintenance service, duct cleaning and more. Our team will provide you with a free quote for any HVAC services in Satellite Beach. As a result of our help, you will have an HVAC system you can rely on for years to come! Request a free estimate.
---
Great Job
We have used these folks twice now when our air conditioner was acting up. Justin was the technician both times and he did an excellent job. He was friendly, courteous, and very knowledgeable. He explained everything in detail so we fully understood the situation. As a retired US Army Master Sergeant I was very impressed by this young man. He was very respectful and professional. I highly recommend this company.
John Parks
Satellite Beach, FL

Monday, July 25, 2022
job well done!
Been enjoying a fantastic new Daikin system installed by Eric, Derek, Dave & Kevin who all did a really professional job! Even the code inspector was impressed by their work! I researched a lot of installers, their products, and then their estimates. Brevard Cooling & Heating came in #1 in my research -- and their bid checked out too (sadly, I couldn't say that for some of their competitors....). On a major purchase like this, I wanted to be sure I was dealing with a company that valued integrity.
lars
Satellite Beach, fl

Friday, April 16, 2021
Great service.
Arrived on time, cleaned after finished, and took time to show all features and explaine any questions I had.
John Campbell
Satellite beach, Fl

Monday, September 21, 2020
Highly Recommend Brevard Cooling!
Excellent service. I had a condensate line clog, and Brevard Cooling sent out Tech Jamie to service my system. Jamie called to let me know his arrival time, was prompt, on time, courteous and very professional.

Jamie addressed the issue and offered additional tips and advice to help maintain the system in the future. He was patient and respectful and answered all of my questions with an impressive degree of overall knowledge.

Even though I told Jamie it was not necessary to put on shoe booties when he entered the house, he said he would prefer to do so to be completely professional. It is this attention to the little (but important) details that impress a homeowner.

I was not charged for the service call since Brevard Cooling had installed new coils the month earlier.

Brevard Cooling installed the system in October, 2018 and since then every service and maintenance call has been very professional.

I would highly recommend Brevard Cooling and Tech Jamie for any of your air conditioning needs.
Patrick Laughna
Satellite Beach, Florida

Thursday, August 20, 2020
Just to say THANK YOU ! ! !
Dear Brevard Cooling and Heating Family,
I care about your happiness, just as you care about mine.
I could not be at peace, if you were not.
April 2020 / coronavirus pandemic/ I was happy to be served by your strong, smart, energetic and handsome sons: Eric, Chachi and Dave.
Thank You!!!

I.V. AsabinaPleffner
Satellite Beach, FL

Saturday, May 09, 2020
Mr.
We just had our entire system replaced from the A/C unit to all of the ducts throughout the house. The crew was great, very professional, worked well together, cleaned-up and was a pleasure to have in our home. Thank you Dave, Derek, Sean, Tyler & Cha Chi
Eric, our sales and project manager was very helpful and explained everything; he also ensured that the crew was on track. We would definitely recommend Brevard Cooling & Heating, in fact we already gave one of our neighbors your card.
Thanks
Christopher Meloro
Satellite Beach, FL

Saturday, January 18, 2020
Above and Beyond
This company has truly spoiled me on what to expect from a contractor. I would give them 10 stars if I could. I've dealt with a lot of companies in the past, but never with one that has so much to offer. They are a prompt, organized, honest, polite, knowledgeable, competitively priced family business that I would highly recommend to anyone searching. We needed to replace 2 HVAC systems with one being a zone system that we wanted to also upgrade to make WIFI compatible. They took plenty of time with us from the quote to the final setting up of the WIFI. We are super satisfied and absolutely love the fact that we can control and monitor our systems from anywhere.
They arranged our installations to occur on one big day which I really appreciated. When they pulled in the driveway, everyone headed to their predesignated tasks without delay. As jobs were completed throughout the day, workers left and those remaining finished the installation. It was a well managed workforce with well trained employees and supervisors.
If you're looking to install a system, make sure you have this company included in your estimates and make sure you listen and consider additional suggestions they make that could enhance the end result. They go above and beyond to service their customers!
Sharon Crawford
Satellite Beach, FL

Friday, April 26, 2019
Great AC Company
Great company to work with from Dan R, the salesman to Anton & Roger the installers. Dan was very informative and honest with equipment and pricing. Anton & Roger were on time, very polite and cleaned up after themselves. All three answered my questions. I would recommend them to anyone looking for a new A/C system.
Gail Silva
Satellite Beach, FL

Tuesday, December 18, 2018
Awesome company
Brevard heating and cooling are the best We are so happy with our A/C over 6yrs In Feb we had work done and we were waiting for a part to come in My husband just had shoulder surgery and it was warm in the house When the owner heard that the part didn't come in he immediately call and sent a worker to install a portable A/c for my husband and it was fixed I recommend this company to all my friends
Maureen Cole
Satellite Beach , Florida

Saturday, April 28, 2018
2039
We needed a new AC unit for our office condo and Eric provided a very reasonably priced option that met all our needs and was installed within a few days of purchase. It's been running great and it's nice to have a unit we can count on in these hot summer months. The installers were very knowledgable and did a wonderful job (even finished early) and cleaned up nicely after they were done. It was such a pleasurable experience and I highly recommend Brevard Cooling & Heating.
Jennifer Nifakos
Satellite Beach, FL

Monday, June 12, 2017
2038
Our A/C was toast and after several interviews with local companies, Erik made a great impression. He was friendly and very knowledgable and helped us choose the perfect air conditioners to get us up and running again. The price was right and we couldn't be happier with our new units. On a recent call to the office for a repair, Holly was very helpful and hooked us up with a same day appointment. We are extremely satisfied and highly recommend Brevard Cooling & Heating.
Spiros Nifakos
Satellite Beach, Florida

Monday, June 12, 2017
Quality Workmanship and Service
I found the installers to be very professional, courteous and polite. Alex and Ryan ran into some unexpected problems and handled them in a superb manner. They worked hard and would not be satisfied with a job less than perfect. I also called a few days after installation and service was provided in a prompt manner instantly. I have and will continue to recommend this company for any needs concerning air or heat.
DeAnn Bohm
Satellite Beach, FL

Sunday, October 11, 2015
Honest Professionals...
Had 3 heating and air units replaced. The service tech was honest as to what needed immediate replacement and what could wait. We elected to replace all at once.

Everything was completed as promised on time and at the quoted price. They did a great job cleaning up after, and stayed late to get the job completed as promised.

James H.
Satellite Beach, Fl

Tuesday, December 04, 2012