Back to Locations
West Melbourne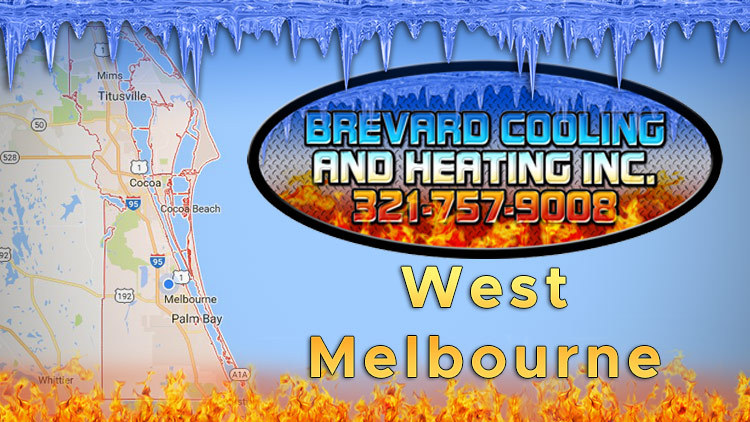 Brevard Cooling and Heating, Inc. is known as the go-to place for all your HVAC needs in the West Melbourne area. We have been in business for many years, and we have worked hard to solidify a strong reputation as a top-quality HVAC company. When it comes to your heating and cooling system, you want to have a unit that not only functions properly but also provides you with quality energy efficiency. We can help you have a top-operating unit in your home via our HVAC service options.

At Brevard Cooling, we understand the importance of a heating and cooling system. You rely on the comfort of your system to remain comfortable year-round. Because of the immediate need for an HVAC unit, we make sure to offer the must-have services, including installation, repair, and maintenance. With each service option we offer, our technicians arrive on time, provide quality information and above average servicing.

Our HVAC Service Options

For West Melbourne, we offer a long list of HVAC services. This includes installations, maintenance, and repairs. Whether you need a new unit, have a repair need or want your existing unit to maintain energy efficiency and operating power, we can help. Take our installation service for instance. If you are having trouble with an older unit, we can provide the essential estimates to show you just how your home or business can benefit from a new unit. With our help, you will find a unit that lowers your monthly utility cost as well as increases the comfort levels of the property.

With an installation appointment, we will arrive at your home or business and evaluate your current unit. We will then configure estimates for units that will be in the best interest of your property, factoring in cost and energy efficiency. We will then talk with you about your options and help you to make an informed decision.

Once you find the unit for your property, we will schedule the installation appointment. In no time, you will have a brand new unit ready to provide the much-needed cooling and heating to stay comfortable year-round.

As far as your existing unit is concerned, any time a repair need arises, we can help. Our team of technicians has vast experience in repairing all makes and models of heating and cooling units. We inspect your system thoroughly to discover the problem and then work quickly to resolve the issue. In most cases we can install a portable a/c or heater to keep you comfortable. You will only be without your unit for a short time before it is back in action.

To ensure your unit is not in need of repairs in the future, we recommend every home and business owner take advantage of our maintenance service. With regular maintenance, an air conditioning and heating system can maintain high energy efficiency levels as well as the integrity of the system. Components are cleaned and checked, ensuring that every aspect of the unit is working as it should be.

Our technician's service units time and time again for repairs and often find that the home or business owner does not use a maintenance program. Such issues that we see with repair calls could easily be avoided with regular servicing. Small issues can easily go unmissed if the unit seems to be functioning properly. Then, once the system breaks down, you are without cooling or heating for an extended period of time while the repair is being worked on.

With our maintenance options, a small issue is found even if the unit is still functioning and repaired. This way, small issues are dealt with so that large problems are not created. You avoid a major cost as well as your system not working by using our maintenance service option.

Trust Our Professionals

Do you need help with your air conditioner, heater, or other HVAC equipment in the West Melbourne area? If so, are you concerned about the kind of person you let into your home or business? And do you want to be sure that you get great service, professional work, and a fair price? If the answer to any of these questions is "yes" then give Brevard Cooling and Heating, Inc. a call!

We train our employees thoroughly, ensuring that each one knows what we expect in terms of professionalism and customer service. And, on top of this, we make sure that all our technicians hold the necessary licenses, certifications, and other credentials. We considering such details imperative to providing the best customer experience. With the proper certifications and licensing, you can trust our technicians to provide the highest quality of service, whether you have scheduled repairs, maintenance or a new installation.
What's more, we take your safety and comfort very seriously: we perform a background screen and drug test on all our professionals. We want you to know that the person we send to you is serious about your safety and comfort. Each of our technicians is ready to provide expert and friendly service to both residential and commercial customers.

Affordability and Convenience

In addition, we know that our customers expect quality work at a fair price. We work hard to provide this, leveraging our size to purchase HVAC equipment in bulk, and passing the savings on to our customers. We know that repairs and installations are added expenses that you are not expecting. We take a budget and affordability into account when providing all of our service options.
In West Melbourne, there really is only one place to go for your HVAC needs: Brevard Cooling and Heating, Inc. Give us a call today and let us come to take a look. If your furnace or air conditioner needs a minor repair, we can do that. Likewise, if you need a new air conditioner or heater, we can obtain and install the correct unit to meet your needs. Let our team of highly trained professionals work for you.

Give us a call today and let's get started! We look forward to answering any questions you may have or scheduling an appointment for service. Our technicians are standing by to help you today.