Back to Locations
Rockledge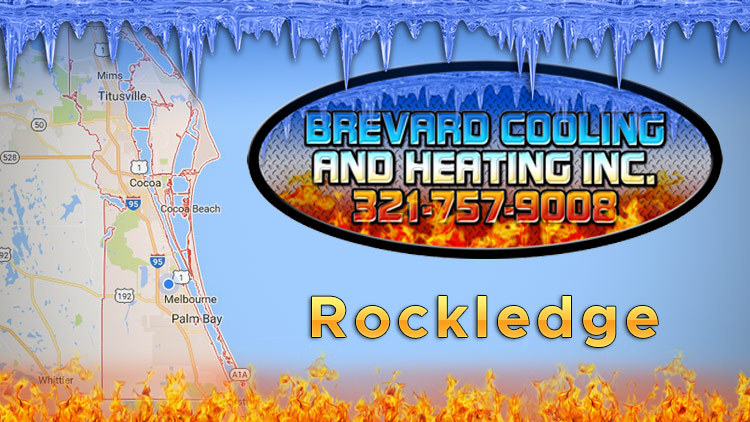 If you have a home or business located in Rockledge, there is only one name you need to know when it comes to the air conditioner, furnace, and other HVAC repair and installation. That name is Brevard Cooling and Heating, Inc.

At Brevard Cooling and Heating, Inc., we know all about HVAC equipment. Whether it's an air conditioner that seems to be sputtering out, a furnace that doesn't quite get the job done, or some other piece of HVAC equipment that simply isn't working anymore, when you call Brevard Cooling and Heating, Inc. you know you're getting professional service at a great price.

Installation, Repairs, and Maintenance

In Rockledge, we offer the main areas of service that every home or business owner needs. Installation, repairs, and maintenance are all covered so we can provide any service you need, at any time. New installations are important for new builds or when your existing HVAC system is acting up, constantly in need of repairs. When your heating and cooling system is unable to function at maximum efficiency, you lose energy, pay more for your monthly utility bill and end up with less comfort in your home or business.

With a new installation, you can have your pick of a top-rated system that will provide above-average energy efficiency within your home or business. The unit will use less energy to function, which means less spent on monthly utilities and better comfort. You will certainly see a difference once your new unit is up and running and wonder why you waited so long to make the switch to a new system!

When you schedule a new installation appointment, our technicians arrive onsite and begin inspecting your current system. We review the size of your home and cooling/heating load needed along with other factors. Once we have finished our review, we can then begin to offer you several estimates for a new system. Our technicians will go over with you the options, helping you to decide which unit will better serve your needs.

Once a decision has been made, we will schedule an appointment for the install. In no time, you will have a new unit in operation, seeing just how the better system provides higher quality heating and cooling.

With existing units, repair service is a must, especially if a system is having problems. When your unit breaks down or begins to act in an odd manner, quality repair service is needed. Our experts know how to service every type of HVAC system, from central units to furnaces and more. With our help, we will detect why your system is making a weird noise or why it won't cut on. Whatever your issue, we will diagnose the issue and get your system in proper working order in no time.

We know that a heating and cooling unit can break down at any time. Because of this, we offer a repair service making you a priority. Contact us at any time so that we can provide repair service for your system, ensuring your home or business has a unit that works effectively.

To keep your heating and cooling system in check year-round, we recommend maintenance service options. With a regular inspection, an HVAC system is cleaned, and every component reviewed. If even the tiniest of problems exist, our team can provide a solution. Regular maintenance service ensures your system is functioning properly, able to maintain operations and energy efficiency with ease.

Professional Team of Technicians

We make sure our technicians know their business: every one of them holds all the licenses, certifications, and other credentials the law requires. What's more, we engage in a thorough training program to ensure that our professionals know exactly how to interact with customers and safeguard our reputation for quality and friendly service.

On top of that, you never have to worry about who you're allowing into your Rockledge home or office. We perform background checks and drug screenings on our employees, ensuring your safety and comfort. Our team provides friendly and courteous service, ready to serve your every HVAC need with a smile.

Additional Service Options

On top of our standard HVAC installation, repair, and maintenance service, we also offer additional options. Home and business owners with duct work can certainly benefit from our duct cleaning and duct sanitizing service options.

Both services provide healthier air quality. When duct work is used to provide heating and cooling in the home, dust, dirt, allergens and other contaminants will settle within the duct work. When the unit is turned off and on, the particles in the duct work stir up and are transferred into the air of your home. Without regular cleaning within the duct work, the home or business is susceptible to these components in the air.

With our duct cleaning and sanitizing service, we can remove such particles and ensure your property is not affected by poor indoor air quality. Our team has the professional tools and know-how to clean your duct work, ensuring that the air you breathe is clean and clear.

Work with the Professionals

When it comes to HVAC service and installation in Rockledge, the place to go is Brevard Cooling and Heating, Inc. Give us a call today, and we'll be happy to come by your home or business. We'll take a look at your issue and either perform the necessary repairs on the spot or sit down with you and tell you what we think you should do.

We will make sure you're educated about your options, so you can make the best choice for your home or business. And, above all, we will always keep your satisfaction and happiness in mind. We worked hard for our reputation as the leading HVAC company in Rockledge. Call us and find out just how good we are!

We look forward to serving you and your HVAC needs. Our focus is on the local community and we want to provide the information and services for our neighbors to have a quality HVAC system in the home or within a business. Give us a call today!