Back to Locations
Cocoa Beach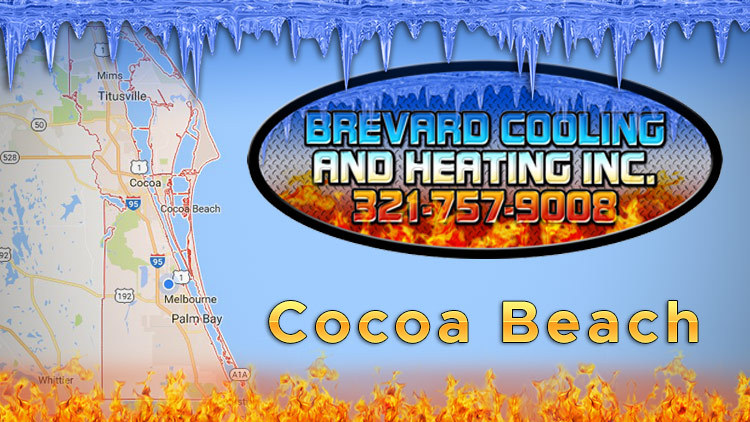 At Brevard Cooling and Heating, Inc., we offer quality HVAC services to many areas of Florida, including Cocoa Beach. In this area, we focus our efforts on providing the best in installations, repairs, and maintenance of heating and cooling systems. We know that both home and business owners rely on HVAC systems to be comfortable and we want our community to thrive with only the best HVAC units installed, with each system running at peak performance.

If you live in Cocoa Beach, then you know the area is like a little slice of paradise on earth. Yet, during the summer months, if your air conditioner is broken or in need of a tune-up, Cocoa Beach can seem quite unpleasant, to say the least. The good news is that you don't have to suffer through the heat, being uncomfortable at home or in the office. You can get a professional from Brevard Cooling and Heating, Inc. to come to your home or business. We can take a look at your air conditioner and tell you what needs to happen.

If you just need a minor repair or tune-up, we are more than able to get that done in a fast and efficient manner. Likewise, if you need to have a new air conditioner installed, we are the business to go to for that, too!

Professional Service for Your Home or Business

Our professional technicians are among the best in the business. We rigorously screen our employees and hand-pick them for their professionalism and friendliness. What's more, we conduct a background screening as well as drug testing to ensure your safety and comfort. Each of our employees is both friendly and experienced, ensuring that your service call is completed in a timely manner. Our main goal is to create a community feel, and our technicians are part of that goal.

When arriving at an appointment for service, our technicians will greet you with a smile and get to work. We offer information on the scope of service, be it alerting you of repair needs or explaining how your new HVAC system works. We include the home or business owner in the process, so you better understand the service being completed.

Our Services

In Cocoa Beach, we provide both residential and commercial customers with installation, repair and maintenance options for all types of heating and cooling systems. We offer additional services as well including tune-ups, duct cleaning and duct sanitizing. Each of our services will ensure your HVAC system is ready to function effectively.

In many homes, the HVAC system is working correctly, offering quality heating and cooling when needed. But over time, every unit will experience wear and tear. Because of this, it is essential that you schedule quality maintenance service for your system. This way, the unit is inspected and cleaned, ready to function when needed.

HVAC units can easily have a repair need that goes unnoticed. When you schedule maintenance, our technicians review many components that are critical to the life of the unit. We then get to work making the needed repairs, ensuring your system is not going to break down or have issues in the future.

Without our maintenance option, your unit can be in need of repairs and then break down when you need it most. There is nothing worse than an HVAC breakdown, particularly in the summer or winter months. Being without cooling or heating when the temperatures are extreme can lead to an uncomfortable home or business. With our maintenance help, you can rest assured that your system will continue to provide the comfort you need.

At Brevard Cooling and Heating, Inc., we also focus on offering quality installation and repair service. Whether you need a new unit or repairs, we can help. Has your older system started to break down on a regular basis or not provide sufficient heating/cooling in the home? If so, our technicians can evaluate your system and prepare estimates for a new installation.

With a new installation, we give you examples of several options, allowing you to choose options to meets your budget as well as cooling and heating needs. With our help, you will have a new system for a installation providing maximum energy efficiency as well as premium air quality in the home.

If you already have a good unit installed within your home or business and are in need of repairs, we can help! Contact our team immediately when you have an issue with your unit. Wether its a strange sound coming from your furnace or the cooling system is freezing up. Whatever the repair need, we can help. Our technicians have been trained in all areas of repair service, easily able to focus on the system you have and come up with a quality solution.

Let Us Serve You

If you are wondering where you can turn for help with your air conditioner or furnace in Cocoa Beach, turn to Brevard Cooling and Heating, Inc. We are proud of our reputation for strong service, quality work, and reasonable prices. Over the years, we have helped many homes and business owners stay comfortable via HVAC systems.

If you need help with your air conditioner, give us a call. Even if you're not sure what you need, we can come to your home or business and take a look for you. Our professional technicians are able to quickly pinpoint the issue and provide you with suggestions as to the best route to take. We help you make an informed decision to ensure comfort in your space.

Remember, our professionals are highly trained: we ensure that they obtain and maintain all the necessary licenses, credentials, and other qualifications required by law. You don't have to worry when you call us for your Cocoa Beach HVAC needs.

Give us a call today to learn more about our many service options or to schedule an appointment. We look forward to providing you with the essential services needed to keep your HVAC system in check, staying comfortable year-round.