Back to Locations
Viera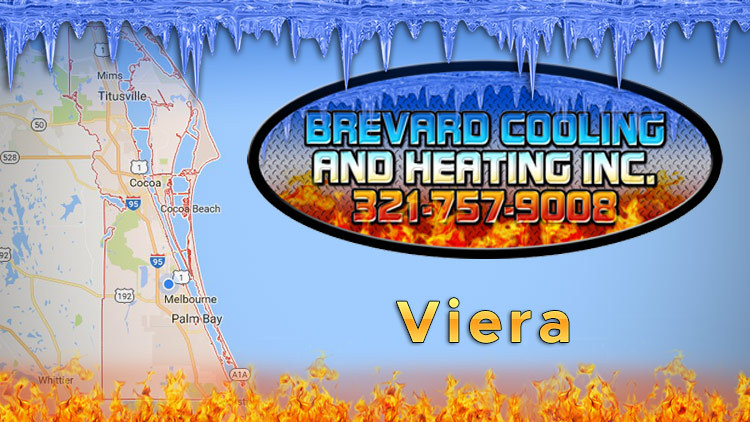 Cooling and heating comfort are essential within any home or business. If you need to have your air conditioner, furnace, or other HVAC equipment serviced, call Brevard Cooling and Heating, Inc. At Brevard Cooling and Heating, Inc., we are proud of our reputation as the leading HVAC business in Viera. We have worked a long time—we have more than 34 years of combined experience—to establish ourselves as the place to go for all your HVAC needs.

Our experience and know-how allow us to serve customers in the Viera area, no matter the HVAC need. From installation and repairs to maintenance service, we offer it all so that your home or business can be comfortable year-round.

Is your HVAC system old and outdated? Are you constantly in need of repairs or find that your system is not functioning as it should to provide heating or cooling within your property? If you have an issue with your existing HVAC system, give our experts a call. We can easily provide you with an inspection to see if you can benefit from a new installation.

As HVAC units age, they begin to show signs of wear and tear. They also do not function as they would during their early years. It is only natural to need a new unit over a course of 10 to 15 years. When your heating and cooling unit has seen better days, our technicians can offer you an estimate for a new installation. Once we review your existing HVAC system and your home, we can provide options for a new install.

We explain the pros and cons of each estimate, helping you to make an informed decision. We break down what each unit can provide to help you determine which system will be better for your heating and cooling needs. With our help, you can have a new system installed that meets your budget needs, is energy efficient and lowers your monthly utility bill.

When your unit is functioning properly, it is able to keep your home or business comfortable no matter the season. However, from time to time, your system may act up. Air conditioners often freeze up due to overworking or if the air filter has not been changed out in some time. If your unit is not functioning or giving you problems, we can help.

Our team provides repair service for every type of HVAC system, from central units to furnaces and more. No matter your unit type, we can help. our technicians have vast experience working on several unit types and will take their time diagnosing the issue with your system and coming up with a quality solution.

Whenever your system is acting funny or shuts down, give us a call. If your unit is giving you trouble, do not delay. When a system is in need of repair, the issue needs to be addressed quickly. Every component of the HVAC system is important and relies on one another to function. Even if the smallest component is in need of repair, it can damage the entire system.

At Brevard Cooling and Heating, Inc., we have seen Viera customers who have waited too long to have their unit repaired only to find the issue has caused an even greater repair need. This causes a higher cost for repair as well as more time to complete the repair process. Avoid paying more or having your unit shut down for longer by scheduling repairs immediately.

To help avoid repairs and keep your unit in proper working order year after year, we recommend our maintenance service. With our maintenance program, your unit is inspected on a regular basis and any small repair needs can be caught in time. This service keeps your unit in check and ready to function when you need it most. We recommend that such maintenance appointments be scheduled in the spring and fall so that your system is ready to function in summer and winter when temperatures are more extreme.

Professional and Courteous Technicians

Are you concerned about who you let into your home or business? You'll be happy to know that at Brevard Cooling and Heating, Inc. we screen all our professionals before we ever let them put on the uniform. We perform a background check and drug screening to ensure that the people we send to your home or business are true professionals in every sense of the word. We do this because your safety and comfort are of utmost importance to us.

But we don't stop there. We want to ensure that our professionals are the best at what they do. To do this, we make sure our technicians have all the necessary licenses, certifications, and other credentials required by law. That way, when you need HVAC help in Viera, you'll know the person we send to you knows what he or she is doing.

Work with Our Team

If your air conditioner or heater just doesn't seem to be working the way it should, give us a call. We'll be happy to send a professional to your location to take a look. He or she will be able to quickly pinpoint the issue and either perform an immediate repair or come up with a plan for getting your HVAC system up and running again.

We'll sit down with you, go over your options, and make sure you're educated as to what will work best for you. We explain every process, be it repairs or installation, so feel confident about the service we can provide your home or business.

When it comes to heating and cooling service options, we have you covered. Our team of experts is always on hand to assist with installations, repairs, and maintenance service. We also offer additional options including check-ups, duct cleaning, and duct sanitization. Whatever your need, we can help. Contact Brevard Cooling and Heating, Inc. in our Viera office today for all your HVAC needs! We look forward to hearing from you and scheduling an appointment for service.