Back to Locations
Viera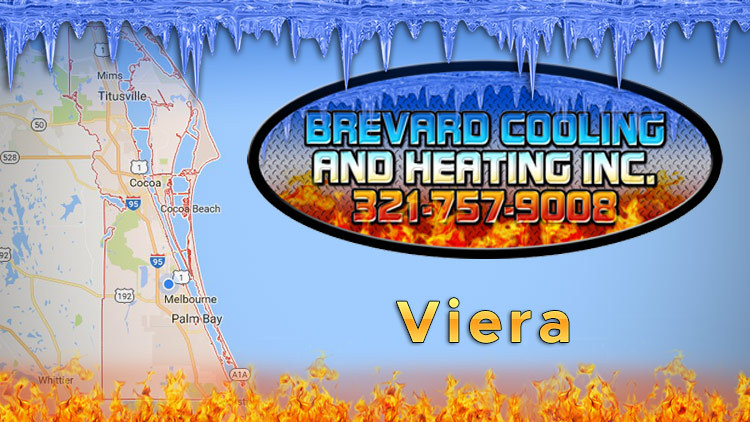 Professional HVAC Company in Viera, Florida
Cooling and heating comfort are essential within any home or business. If you need to have your air conditioner, furnace, or other HVAC equipment serviced, call Brevard Cooling and Heating, Inc. At Brevard Cooling and Heating, Inc., we are proud of our reputation as the leading HVAC business in Viera. We have worked a long time—we have more than 34 years of combined experience—to establish ourselves as the place to go for all your HVAC needs.
Our experience and know-how allow us to serve customers in the Viera area, no matter the HVAC need. From installation and repairs to maintenance service, we offer it all so that your home or business can be comfortable year-round. Schedule service with Brevard Cooling and Heating today.
---
New HVAC Installs
Is your HVAC system old and outdated? Are you constantly in need of repairs or find that your system is not functioning as it should to provide heating or cooling within your property? If you have an issue with your existing HVAC system, give our experts a call. We can easily provide you with an inspection to see if you can benefit from a new installation.
As HVAC units age, they begin to show signs of wear and tear. They also do not function as they would during their early years. It is only natural to need a new unit over a course of 10 to 15 years. When your heating and cooling unit has seen better days, our technicians can offer you an estimate for a new installation. Once we review your existing HVAC system and your home, we can provide options for a new install.
We explain the pros and cons of each estimate, helping you to make an informed decision. We break down what each unit can provide to help you determine which system will be better for your heating and cooling needs. With our help, you can have a new system installed that meets your budget needs, is energy efficient and lowers your monthly utility bill.
When your unit is functioning properly, it is able to keep your home or business comfortable no matter the season. However, from time to time, your system may act up. Air conditioners often freeze up due to overworking or if the air filter has not been changed out in some time. If your unit is not functioning or giving you problems, we can help.
Knowledgable Repair Technicians
Our team provides repair service for every type of HVAC system, from central units to furnaces and more. No matter your unit type, we can help. our technicians have vast experience working on several unit types and will take their time diagnosing the issue with your system and coming up with a quality solution.
Whenever your system is acting funny or shuts down, give us a call. If your unit is giving you trouble, do not delay. When a system is in need of repair, the issue needs to be addressed quickly. Every component of the HVAC system is important and relies on one another to function. Even if the smallest component is in need of repair, it can damage the entire system.
At Brevard Cooling and Heating, Inc., we have seen Viera customers who have waited too long to have their unit repaired only to find the issue has caused an even greater repair need. This causes a higher cost for repair as well as more time to complete the repair process. Avoid paying more or having your unit shut down for longer by scheduling repairs immediately.
To help avoid repairs and keep your unit in proper working order year after year, we recommend our maintenance service. With our maintenance program, your unit is inspected on a regular basis and any small repair needs can be caught in time. This service keeps your unit in check and ready to function when you need it most. We recommend that such maintenance appointments be scheduled in the spring and fall so that your system is ready to function in summer and winter when temperatures are more extreme.
Professional and Courteous Staff

Are you concerned about who you let into your home or business? You'll be happy to know that at Brevard Cooling and Heating, Inc. we screen all our professionals before we ever let them put on the uniform. We perform a background check and drug screening to ensure that the people we send to your home or business are true professionals in every sense of the word. We do this because your safety and comfort are of utmost importance to us.
But we don't stop there. We want to ensure that our professionals are the best at what they do. To do this, we make sure our technicians have all the necessary licenses, certifications, and other credentials required by law. That way, when you need HVAC help in Viera, you'll know the person we send to you knows what he or she is doing.
Contact Brevard Cooling and Heating

If your air conditioner or heater just doesn't seem to be working the way it should, give us a call. We'll be happy to send a professional to your location to take a look. He or she will be able to quickly pinpoint the issue and either perform an immediate repair or come up with a plan for getting your HVAC system up and running again.
We'll sit down with you, go over your options, and make sure you're educated as to what will work best for you. We explain every process, be it repairs or installation, so feel confident about the service we can provide your home or business.
When it comes to heating and cooling service options, we have you covered. Our team of experts is always on hand to assist with installations, repairs, and maintenance service. We also offer additional options including check-ups, duct cleaning, and duct sanitization. Whatever your need, we can help. Contact Brevard Cooling and Heating, Inc. in our Viera office today for all your HVAC needs! We look forward to hearing from you and scheduling an appointment for service.
---
AWESOME JOB!!
We've used Brevard Cooling and Heating for regular maintenance for several years and they've always done a great job! When it came time to replace our old Lennox AC system, Franco was very knowledgeable, and did an extremely thorough assessment of our needs. He explained everything in a very courteous, professional and detailed manner. We replaced our old system with a Daikin system because of its 12-year warrantee and its positive reviews. The installers Anthony and Josh were prompt and were also very knowledgeable, professional, and personable. They were able to replace and test: the air handler; the compressor; and some necessary duct work; in a single day! Jessica and Annie in the office have always been very helpful and pleasant to work with as well over the years. We are very happy with our new Daikin system! It is quiet and cools our house down quickly! AWESOME JOB everyone!!
Roger H.
Viera, FL

Wednesday, December 14, 2022
Fantastic Service
I purchased a Dakin A/C from Brevard Cooling & Heating a few years ago. They are the best A/C service providers - always punctual, friendly and knowledgeable. Any issue I have had has been fixed within the warranty period and very much to my satisfaction. They were very easy to work with a few years ago during the sales period and have been terrific about servicing my A/C through the years.
Aleta Allington
Viera, FL

Friday, September 16, 2022
New System
Excellent!
We had a new system installed on 6/10. The team at the office was very helpful to give me a quick quote. I felt the price was fair after much research with other companies. Very satisfied with the name brand unit that offered a much better warranty than others. The installation team was very professional from start to finish. The job was completed timely with good results. So glad I chose Brevard C&H who I would highly recommend.
Fred B
Viera, Florida

Saturday, June 11, 2022
EXCELLENT JOB!!
Excellent Job!!
We had our new Daikin "FIT" cooling/heat pump system installed on March 14, 2022, and the county inspector was here and gave it a thumbs up. Eric was our sales rep and was super knowledgeable about all three Daikin systems he presented. He was very patient with all of our questions and really impressed us with his knowledge. We really knew nothing about Daikin, but were sold after Eric described our options and, especially, the twelve year Daikin warranty. Competitors couldn't even come close to Brevard Cooling's quality and price. We decided on the "FIT" model because it seemed to be their state of the art system, and we couldn't be happier because the system works beautifully. Also, it is so unbelievably quiet outside that you can hardly hear it running. Gabe, Derek and Charlie were the installation technicians and did an excellent job. They arrived early and worked non-stop all day. They were friendly, really professional and got the job done all in one day as promised. We highly recommend Brevard Cooling and Heating. Great job!!

Steven Simone
Viera, FL

Monday, May 23, 2022
Great Responsive Service
My home heater/air conditioning unit went dead late last night. I called Brevard Cooling at 7:00 AM and their technician, Matt, was here to provide service by 9:00 AM. Matt was very friendly, knowledgeable, he listened to all of my concerns, and put together a thorough and cost-effective proposal to replace my worn-out heat pump. Most impressive was that he also made a personal effort to deliver a quick temporary repair to bridge us to next week when the full replacement can be performed. Thanks, Matt, for going the extra mile to deliver excellent service!
David Jensen
Viera, FL

Tuesday, January 18, 2022
New System Install
We chose Brevard Cooling and Heating because of prior services they provided us and we couldn't be more satisfied.
Eric was fantastic helping us navigate the plethora of new systems available and finally deciding on the best product for us.
The install team, Derek and Will, arrived on time and got right to work. They installed a new 16 seer Daikin 5 ton , electronic air filter and space age thermostat. The job was completed on time, the work area was left clean. They kept us informed along the way of the 7 hr job and explained the system and it's various components. Finally Derek explained how to use the system thermostat and it's WiFi components.
We highly recommend this company. We have had a few very good experiences with them and you gotta love a business that you can count on.
Dan Thompson
Viera, Fl

Wednesday, September 22, 2021
New 5 Ton system install
The team is top notch work is impeccable and knowledge of each step of the installation process was great -being a retired firefighter I ask a ton of questions and want superior quality I got it from every question about the Daikin fit all were answered and on time and appearance of unit is real nice and super quiet my house is freezing I say freezing the crew that did install worked together like a well oiled machine nothing was hard for them they both breezed thru a real quality installation-I got seven estimates and seven different units but I chose Brevard Cooling and heating and you should really consider them !
Fdny Mike Cosgriff
Viera, Florida

Thursday, February 25, 2021
Brevard Heating and Cooling
Brevard Cooling and Heating did a great job. They came out for a service call and ended up giving me 3 choices. I chose to have a new A/C unit installed.

I lived out of state at the time and we face-timed with the help of my daughter.

They were courteous and cleaned up and even painted, when they were done.


Jane C Meyers
Viera, fl

Wednesday, January 06, 2021
Professional
A crew of guys showed up and did a meticulous install on my new Daikin fit. The unit is super quiet and they guys were really great.
I've worked with other local HVAC companies and these guys were the best so far.

Ken Zachar
Viera, Fl

Wednesday, December 30, 2020
Great Service
I had a blower motor replaced in my air handler. The guys were courteous, friendly and did an outstanding job. They did a great job explaining what they were doing during the entire job. I've been using Brevard Cooling and Heating for years and highly recommend them for all your AC needs.
Michael
Viera, FL

Friday, November 13, 2020
Great Job on Maintenance
Greg is the best. He made great suggestions and did an excellent job. It was a pleasure having him here.
Connie C.
Viera, FL

Saturday, February 01, 2020
Great Service Start to Finishing
I wanted an estimate for replacement and installation of my home HVAC system. I received a very quick response and an estimate for my top brand selection that was fair and reasonable. On the date of installation the Brevard Cooling personnel arrived on time and completed the job on time including installation of a new return that was not on the original estimate. All Brevard Cooling personnel were very knowledgeable and professional. I would highly recommend this company.
Gene Albury
Viera, FL

Tuesday, January 21, 2020
Maintenance
Outstanding service, excellent person, took the time to answer all my questions. That is what makes a different in a company. Thanks Greg!
Greg
Viera, FL

Friday, January 17, 2020
Service mechanic review
Just want to thank Greg for the professional job done at our home.
Jack
Viera, Fl

Tuesday, November 05, 2019
New Daiken System installed
New Daiken System installed. Working great so far. Crew did after installation check-up to make sure all was working well and do some re-piping. I got the 12-year warranty on all parts and labor so should be good for the next 12 years.
Ronald G. Rozzo
Viera, FL

Monday, March 25, 2019
Installation of Daikin HVA system
Our thanks to John& Been for sending Will, Derek and Eric to install our HVAC. They arrived at 8:45 and worked diligently until 6PM. Their conduct was professional and kept us informed along the way. We would not hesitate to recommend your company. We are completely satisfied with the product and service provided.
Robert Clark
Viera, Florida

Thursday, March 07, 2019
Great Quality Service
placed a service call to Brevard cooling and heating on the morning of 18 Feb 2019. Expected little as it is a Federal holiday and beeing a new customer I thought they were going to give me the line of next available appointmen is in March. The customer service rep was very efficient and immediately let me know that there was an openenig in the afternoon. Mark (the tech) show up my problem was solved very quickly and professionally he was courteous respectful and knowlegeble. I highly recommend Brevard Cooling and Heating to anyone looking for quality work at very competitive price. Mr. John Thank you for having such great employees
Luis
Viera, Fl

Monday, February 18, 2019
Awesome AC Service
Thank you to Eric for coming to our rescue today by fixing our AC unit with great customer service. We will definitely call and request him as our technician should we have future issues.
Doreen Coryell
Viera, Fl

Monday, July 16, 2018
great service
Eric came right out and found our problem. He was very friendly and knew his business. We would recommend Brevard Cooling and Heating and Eric to our friends.
jeffrey incorvia
viera, fl

Saturday, April 21, 2018
Replace HVAC System
This was the "best experience" we have ever had in comparison to the many other technicians that have come to our home. Brevard Cooling and Heating techs were highly professional and respectful during their day here. Ryan, Daniel, and Nick are #1. We made the right choice by choosing BREVARD COOLING & HEATING!!

Ken Johnson
Viera, FL

Wednesday, September 13, 2017
Amazing Service!
My place was a sauna, no cold air blowing out of the vents and when I turned off the thermostat it wouldn't come back on at 9 pm at night. I found Brevard Cooling online and made an appointment for the following day. A few minutes later I got a call to confirm a time. Very friendly, knowledgeable, on time and efficient! I will recommend to everyone I know! Thank you!
Dani
Viera, FL

Monday, October 10, 2016
The Best!!
I've used several heating and cooling companies over the last 30 years but this company is absolutely the best. Service was fast, prices were very reasonable, and the problem was fixed. Eric was superb: professional, responsive, thorough, honest and friendly. Quality work at a great price! It doesn't get any better. Now that I've moved to Florida, Brevard Cooling and Heating will be my company for life.
Steve Turett
Viera, FL

Monday, October 10, 2016
Service provided by Mr. Franco
The service technician provided excellent support even working while bad weather was not conducive to the job at hand. He was knowledgeable and logical while troubleshooting the problem and he conducted himself in a professional manner.
Oscar Toledo
Viera, FL

Wednesday, September 07, 2016
I am very happy I chose Brevard Cooling to install my new HVAC system. Not only did they provide the best price, they provided a lot more services! Mr. Franco looked at my old system, gave me some suggestions and let me know what his company will do and the cost. They provided all of the services as quoted. The installers were nothing short of excellent. They were very professional, and made sure I understood what they were doing and was satisfied with their work. A couple of days later one of the owners came by my house and looked at their work and asked if I was pleased with their work, which of course I was! You can check around, but I highly recommend you select this company for your HVAC needs!
Jeff Hubert
Viera, Fl

Saturday, October 17, 2015