Back to Locations
Barefoot Bay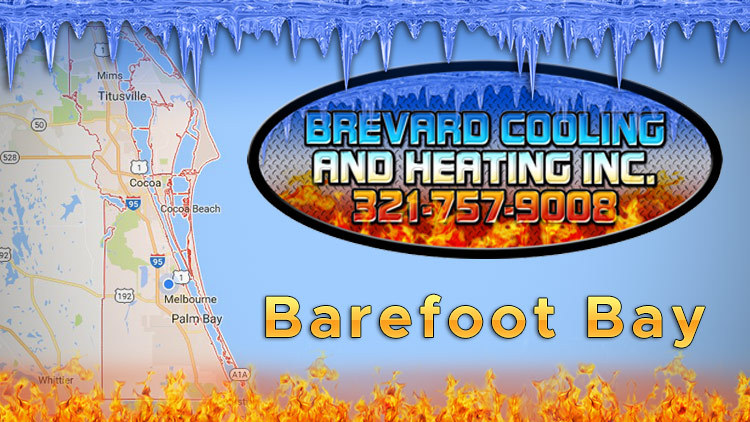 At Brevard Cooling and Heating, Inc. we offer quality HVAC services in Barefoot Bay, for both home and business owners. We understand that the weather in Florida is constantly changing and we want to be able to provide every consumer with the services needed for comfort and convenience. Our team of experts can easily provide you with quality repair service, installations and more.
From older homes to newer businesses, we offer only the best service options so that your space can be comfortable year-round. A quality HVAC system is important for comfort levels as well as energy costs. We work to provide our customers with top quality service and performance no matter the HVAC system type.
HVAC Installation Services
One area we specialize in Barefoot Bay is HVAC installation services. Whether you need an air conditioning installation or heating system installation, we can help. Our technicians are trained and ready to provide an installation that will work best for your home or business. With an installation, there are several factors to consider. Our team will go over every option with you to ensure that the right unit is installed for your heating and cooling needs.
For many home owners, a big mistake is working with an HVAC company that cuts corners and does not focus on the factors that need to be considered with an installation. At Brevard Cooling, we work with you to ensure all aspects are considered and you are able to invest in the best unit needed. Installing a new HVAC unit is a big decision and we want to help you every step of the way.
Such factors that need to be considered include the size of the space, the cooling/heating load needed, the energy efficiency of the home, and budget. We focus on every aspect so that you can choose the best unit to meet your overall needs, including being affordable as well as saving you energy. Our installations are completed in a timely manner with a full explanation of how to use the unit so that you can remain comfortable year-round.
Repair Service
In Florida, HVAC systems are often overworked due to the overwhelming heat during the summer months. Because of the constant need to use the systems, an air conditioning unit can break down from time to time. We know that your Barefoot Bay unit will break down when you least expect it. Once the unit is not working properly, you want it to be repaired as quickly as possible. A home in Florida can easily become too hot to bear when temperatures are in the 90s or higher.
With our help, your air conditioning system will be back on track in no time. We focus on providing quick and expert repair service for your home or business. Without proper cooling, the inside of your home or store can become stuffy and uncomfortable. When you call our company for repair service, we arrive quickly and get straight to work, so you are not without cool air for long.
Whether you have a home or business air conditioning unit that is broken down, we are happy to assist you. Our technicians have been trained in all unit types, so we easily have someone who can repair your system, no matter how old or complicated.
Checkups and Cleaning
Another aspect of service we provide in Barefoot Bay is checkups and cleaning. An HVAC system needs to be evaluated on a regular basis to ensure the system is not having any issues and can stay in the same energy efficiency setting. Over time, an HVAC system can have issues, which results in improper operation. When a unit is not serviced, problems can occur and in a short time, the unit can become non operational.
To avoid any unwanted breakdowns or major repair needs, we recommend that you schedule a checkup and cleaning at least once a year if not twice a year. Central HVAC systems that offer both cooling and heating service, should be evaluated twice a year; once before summer and once before winter. With our inspection, we can ensure that each component of the system is functioning properly.
If even the smallest piece of the unit breaks down or is not functioning as it should, it can damage the entire unit. By not having a regular checkup a small problem quickly becomes a major issue. The unit may shut down and not work when you need it most or it might stop functioning properly and cost more to keep the home or business at a comfortable temperature.
With our inspection service, we will look over every aspect of your system. We review every component thoroughly so that we can detect even the smallest problem. If an issue is found, we repair it so that your system will continue to operate smoothly. If no problem is found, then we clean the system and ensure it is operating based on expected energy efficiency levels.
A unit that goes unchecked can lose energy efficiency which means you are paying more to keep your home comfortable as more energy is needed for operation. With our help, you can avoid wasting energy and money by having a system that functions as it should.
We are happy to schedule a regular cleaning and inspection for your HVAC system, ensuring the unit is functioning accurately without any issues. If we find a repair need, we discuss it with you first and quickly get to work repairing your unit.
At Brevard Cooling and Heating Inc., we want the best for our customers. We work hard to provide every service needed for a properly functioning cooling and heating system for both residential and commercial customers. Whether you are having problems with your existing unit, want to maintain your system or need help with a new installation, we are available.
Give our office a call today to find out more about what we can provide for your home as well as schedule an appointment for service. We look forward to providing you with the services needed for a comfortable space, with proper heating and cooling operations.