Back to Locations
Grant Valkaria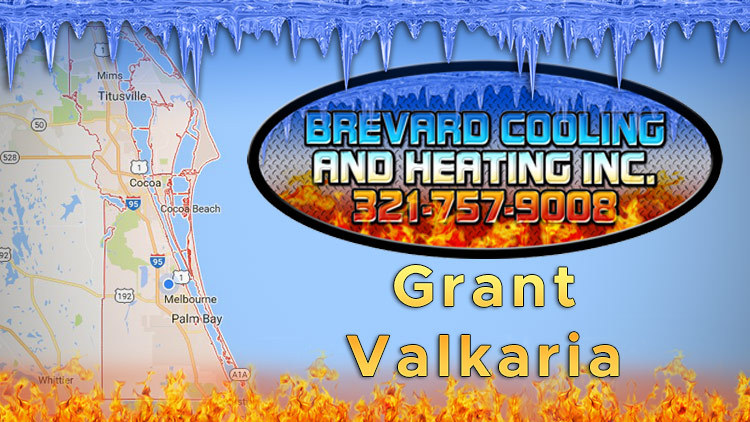 Affordable Heating & Cooling Services in Grant-Valkaria, Florida
At Brevard Cooling and Heating, Inc. we provide quality HVAC services for several areas in the state of Florida, including Grant Valkaria. In this region, home and business owners can benefit from our many service options, including HVAC repairs, installations, checkups and more. With the right heating and cooling team by your side, any property can be comfortable year-round.
The temperatures in Florida tend to fluctuate, but more often than not, residents are relying on their cooling system more than a heating unit. However, both are required for seasonal comfort. Whether you are a home owner or business owner in the region, it is important to have your unit inspected and cleaned on a regular basis as well as updated when the unit becomes too old to function.
To ensure quality comfort, trust our HVAC experts at Brevard Cooling. With years of training and experience behind us, we are more than capable of handling your HVAC needs, be it heating or cooling. Our technicians are constantly updating their training to be ready to tackle even the toughest HVAC job. Let our team provide the much-needed heating and cooling services for your home.
---
Quick HVAC System Check-ups
For your HVAC system to operate normally, it needs to be checked from time to time. With units such as central systems, it is recommended that the system is inspected and maintained before the extreme seasons, summer and winter. With a regular check-up, our technicians will be able to determine if your unit is operating at maximum efficiency.
A system that does not operate as it should can increase the amount of energy spent on cooling and heating the home, which means more money spent by you each month on your electricity. The goal of every home or business owner should be to keep the HVAC in top running condition. This way, the system will be operating at its very best 24/7, using the least amount of energy, but still keeping the home or business comfortable.
The heat experienced in Grant Valkaria can be unbearable during the summer months, so having a properly functioning air conditioning system is a must. With our help, your air conditioning system can be reviewed and repaired as needed. With our regular quick system check-ups, your unit will be fully inspected. Each component is reviewed and if a problem is found, we go over it with you.
With a check-up, our technicians can spot problems early. This means we are better able to take care of issues before they get out of hand. When a unit is not inspected on a regular basis, small problems go unnoticed. Then over time, the system begins to malfunction and even shut down. With a shutdown, you are potentially without cooling for an extended period of time.
Parts may need to be ordered or the repair may be extensive. So, while you wait on the repair, your home or business is stifling. The Florida heat will cause the space to be extremely uncomfortable. In a home, this creates misery and, in a business, it creates a loss of revenues. To continue to have a comfortable space, check-ups are recommended to avoid any unwanted repairs, saving yourself time and money!
Heating and Cooling Installation
Along with repair service, we also offer Grant Valkaria residents and business owners installation service. We can install heating and cooling systems, providing a way for your space to be updated with the HVAC unit. With a new installation, you can experience better heating and cooling in the space as well as lowered electricity bills.
With an HVAC system, it is recommended that the unit is replaced after a ten-year time frame. Most HVAC systems begin to lose energy efficiency after a ten-year time frame. However, depending on the type of unit you have and how it has been maintained, you may be able to extend the life of the system.
Our technicians are well-versed in most heating and cooling system types, easily able to review your unit and see if your property can benefit from a new unit. Over time, an HVAC system will lose energy efficiency and have a more difficult time keeping the space comfortable. This causes the unit to overwork, which can lead to the need for repairs on a more regular basis.
Instead of having the unit continually worked on, it can be beneficial to install a new system. At Brevard Cooling, we can help. Let our technicians inspect your heating and cooling system. We can determine if the unit is best left alone, cleaned, tuned and repaired as needed, or if you will be better suited for a new installation.
If we recommend a new HVAC system, we will provide you with examples and help you choose the right system that fits your home or business needs as well as one that meets any budget restrictions. We know that adding a new HVAC system can be a big undertaking and we want to make the process as seamless and comfortable as possible.
We recommend only the best brands and products, to ensure that your home or business enjoys a quality installation. With our recommendations, you will have access to an HVAC unit with a high SEER rating and the best energy efficiency, ensuring that your home is comfortable year-round without using a ton of energy and racking up high electric bills.
Contact Us Today
Whether you are a business owner in Grant Valkaria or a home owner, having a properly functioning HVAC system is a must. We all rely on heating and cooling to provide a comfortable space for family and friends or customers. With our help, you can achieve the right comfort for your specific needs. From repairs to installations and maintenance service, we offer it all to you. Contact us for a free estimate.
When you are in need of HVAC servicing, give us a call. Our technicians are happy to answer any questions you may have as well as work with you to schedule an appointment for service. Let our team of highly experienced technicians work for you!
---
New AC Install
Josh, Will and Joe did an amazing job installing our new AC unit. They were professional, knowledgeable and completed the job on time. Everything they did from install, set-up and clean up surpassed our expectations. We would highly recommend them for any AC installation.
Donna Samaco
Grant Valkaria, FL

Thursday, June 01, 2023
True craftsman
Eric came out to my house on 8/4/22 and explained the difference on n units and which one would keep the house the coolest and save energy at the same time. Eric was very knowledgeable and did pressure sales at all. I went with a Daikon 4ton unit, and Eric had me set up with financing within minutes. The unit was installed on 8/16/22 by three of the most professional tradesman I've met. They were very cautious and laid drop clothes on floor and brought in a garbage can to keep the area clean while working . When the install was complete they gave me a thorough instructions on how the thermostat worked and what preventative maintenance to perform. As I walked through each room of our 2100 sqft home I checked all the vents. To my surprise one of the rooms that we never had good airflow in was just as strong as the rest. I highly recommend this company to anyone in need of an ac. Thanks guys
Chris
Grant Valkaria, Fl

Friday, August 19, 2022