Back to Locations
Mims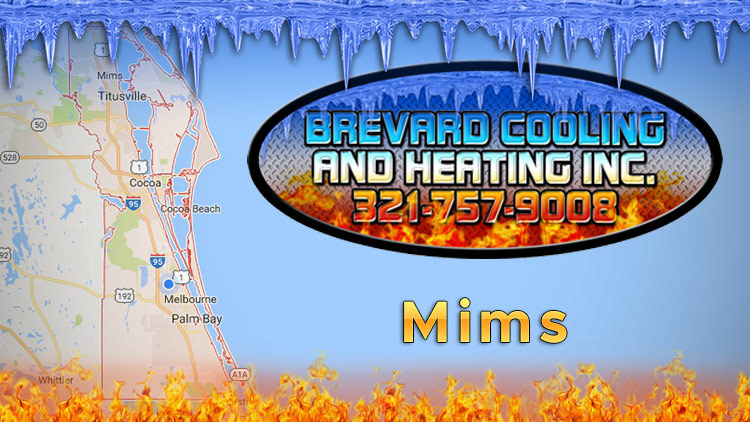 Professional, Affordable Cooling & Heating Company in Mims, Florida
Residents and business owners of Mims know the importance of an HVAC system. Offering both heating and cooling options, an HVAC unit is used year-round in the area due to the extreme seasons of Florida. Having a quality system ensures that family and friends or customers are comfortable in your space. At Brevard Cooling & Heating Inc., we focus on offering the essential service options needed to keep your HVAC system operational.
At Brevard Cooling, we have years of experience under our belt, able to offer you exceptional service options, whether your system has shut down, you need a new installation, maintenance or other needs. Our highly trained team of technicians are always available, ready to provide you with HVAC servicing. We focus our efforts on hiring only the most knowledgeable and experienced technicians working today so that you can rest easy knowing your unit is in good hands.
So, what service options do we provide? Our main areas of service include installations, repairs, and maintenance. However, we also offer tune-ups, insulation, and duct cleaning services. We offer it all, so you can ensure your heating and cooling system is performing well and ready to keep you comfortable.
---
A New HVAC System
If your existing HVAC system begin to break down on a regular basis and is not providing adequate comfort in the home, its time for a new installation. Have you noticed that your unit is not operating normally? Have you been in need of repairs time and time again? If so, it is probably time that you install a new system. A new unit will provide better energy efficiency which will lower your monthly utility bill. You will also find a newer unit saves you money in the long run as you are not contacting a repair team on a regular basis.
There are several factors that need to be considered when weighing a new installation. How old is your existing unit? If the system is 10 years old or more, it's probably time for a new unit. Each year, new systems are created by HVAC manufacturers that offer better energy efficiency and more features that are beneficial to the home or business.
The repair needs of your unit also need to be considered if you are weighing your options between repairs or a new system. Have you had your unit serviced more than once in a six month to year time frame? How many times has your system broken down? If the answer is multiple times, then you need to focus on a new installation.
In Mims, we offer quality installations for residential and commercial customers, offering multiple unit types so you have an affordable as well as energy efficient option. Our technicians can review your home and provide options for a new installation. With our help, you will have a new HVAC system installed in no time that is free of repair needs and keeps your property comfortable at all times.
HVAC Unit Breakdown? We've Got You Covered
If your Mims property experiences an HVAC breakdown or other repair need, we can help. Our technicians know that heating and cooling units can break down unexpectedly and leave your space uncomfortable. With the Florida heat, it does not take long for a break down to result in an extremely hot and unbearable space. With our help, your unit will be back on track in no time.
Once a system starts to make noise or act in a manner that is unusual, give us a call. We can help by providing the essential service options for your system. Loud noises or turning on and off are not normal signs of operation. When you find that your unit is acting out, contact our technicians as soon as possible. We can ensure that your system is working once again in no time, with every aspect of the unit working properly.
Never avoid a repair due to the fear of cost or time to fix. At Brevard Cooling, we know that repairs can happen at any time and you may not be financially prepared. This doesn't mean you should go without cooling or heating in the home. We work with you to ensure that you can afford the repair service and that you have a comfortable home or office once again.
Whether your unit is icing up, won't turn on or you are experiencing another issue, we can help. Contact us during normal business hours for an appointment or contact our after-hours emergency team for help when your system stops working.
Maintenance for a Reliable Unit
For your HVAC system to remain reliable and energy efficient, regular maintenance is a must. With regular servicing, your unit is inspected thoroughly by our technicians. Whether you have a business or home in Mims, the HVAC system must be evaluated on a regular basis. This will help to catch any problems that can occur, avoiding any unwanted or costly repairs.
With our maintenance service option, we like to schedule appointments before summer and winter. These are the extreme seasons and your unit needs to be prepared for cooling and heating when the temperatures fluctuate more. By having your unit inspected before these seasons, you can rest easy knowing the system will work when you need it to.
Our technicians have been trained to provide maintenance options for a variety of units, and can easily service the system used in your home or business. A maintenance call will take a few hours as the entire system is inspected. All components are checked to ensure that the unit is functioning properly. If any repair needs are discovered, we will act quickly to alert you of the repair need and then fix the unit. Your system will then be ready to function, providing comfort in the space.
When it comes to your Mims HVAC needs, we can help. Give our team a call today to learn more about our many service options or to schedule an appointment.
---
Excellent Service
We are very pleased with the service we receive from Derek and Colin when they installed a whole new system in my elderly parents house. They were very professional, knowledgeable, and thorough. I would definitely recommend Brevard Cooling and Heating.
Debbie
Mims, Fl

Monday, November 15, 2021