Back to Locations
Cape Canaveral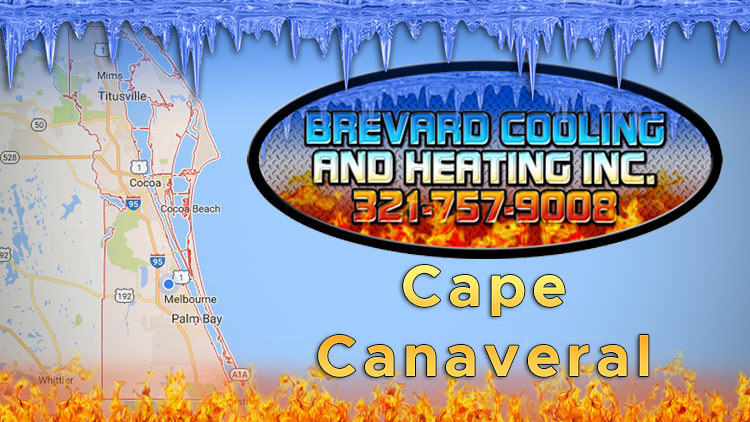 If you need a quality HVAC company in the Cape Canaveral area, look no further! Brevard Cooling and Heating, Inc. is here to help you with your air conditioner, furnace, and other HVAC needs. With more than 34 years of combined experience, we know how your HVAC system works. Our team of technicians has what it takes to provide you with quality HVAC services that will ensure your heating and cooling unit is ready to function year-round.

Whether it's a furnace that is no longer operating properly or an air conditioner that needs repairs, we are here to help. What's more, our professional technicians are friendly, competent, fully licensed and credentialed. At Brevard Cooling, we hire only the best HVAC technicians, individuals we consider family, who are ready to assist with your every need. From repairs to installations and more, we provide every service needed for a fully-functioning high quality system.

Hiring the Right Company

You are probably a little bit cautious about just who you allow into your Cape Canaveral home or business. This is smart, but it can be frustrating when you need to have a service call for your air conditioner. Fortunately for you, we have already done the legwork for you to help ensure you'll be safe and comfortable. We screen all our technicians by performing background checks and drug testing. When we send a professional to your home or business, you'll know you're getting a professional in every sense of the word.

Brevard Cooling has been in business for many years, serving both residential and commercial clients. We have the know-how and experience to ensure your unit is repaired correctly, a new system installed in a timely manner, and existing units maintained to perfection.

New Installation and Repairs

Cape Canaveral can be a hot place during the torrid summer months. If your air conditioner needs to be repaired or replaced, let us come to pay you a visit. We can look over your building, evaluate your needs, and sit down and give you our suggestions. We're happy to review everything with you and tell you why it is we're recommending the air conditioner we are. What's more, we are ready to answer all your questions to help you make an informed decision.

Installing a new unit or undergoing major repairs can be stressful. At Brevard Cooling, we help to remove the stress of such needs by discussing what needs to be done and how we can help. When you need a new HVAC system, we focus on reviewing your entire home as well as the existing unit. We ask questions to evaluate your comfort level needs, then provide detailed information on what types of units will work best in your home.

We don't just offer you a high-priced HVAC unit for installation. Our technicians will provide you with several variations, each offering quality energy efficiency and comfort in your home or business. Then, we can show you the pros and cons of each, helping you to weigh your options. This will help you to make the right decision based on budget needs as well as what you wish to accomplish with your new system.

When it comes to repairs, we offer the same detailed information. Many Cape Canaveral home owners have been swindled in the past by shoddy workmanship or unneeded repairs. At Brevard Cooling, we always do what's right and repair an HVAC system as needed. If a unit needs to be repaired, we go over what needs to be done thoroughly with you. This way, you understand what went wrong with your system and you can easily see how it will be fixed. We are up front with our clients and never provide service that is not needed.

Additional Service Options

Along with our installation and repair services, we provide maintenance, duct cleaning, and duct sanitization. With our maintenance service, your air conditioning and heating system are fully reviewed. We look for any imperfections or issues within the unit. If we find any problems, we alert you of the issue and begin repairs. With maintenance service, an HVAC system can continue to function properly. Without it, the unit can have a repair need go unnoticed.

When repairs are not taken care of quickly, they can lead to bigger problems. Bigger issues mean more money spent as well as the time needed to repair the system. To avoid the need for such repairs, have your system reviewed at least once or twice a year by our team of expert technicians. We can easily schedule maintenance service for your home or business, arriving on time and assessing your system for function and energy efficiency.

Duct cleaning and sanitization are additional options we provide for a clean environment. With both services, the duct work of your home or business is reviewed. Our technicians take great care to remove any dust, dirt, and allergens that may have settled within your duct work. Over time, the contaminants in the air will settle within the duct work. When the unit is continually turning on and off, the particles are stirred up and can enter the air you breathe.

By taking advantage of our duct work services, such particles are removed from the air, creating a fresh environment. When dust and allergens are in the air, they can create allergic reactions which lead to issues with a runny nose, sneezing, itchy eyes, and other symptoms. Having these services performed helps to create clean air quality and an overall better environment.

At Brevard Cooling and Heating, Inc., we are proud of our reputation as one of the leading HVAC businesses in Cape Canaveral. Contact us today and see for yourself why our customers have so many good things to say about us! We are happy to answer any questions you may have and provide more information on the many service options we offer our clients. Give us a call to learn more or to schedule an appointment. We look forward to hearing from you.