Back to Locations
Indian Harbour Beach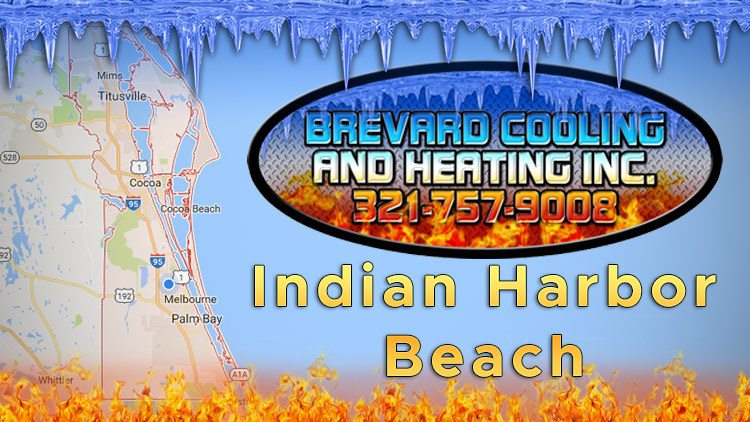 Professiona HVAC Company in Indian Harbour Beach, Florida
Are you in need of a friendly and qualified professional HVAC company in Indian Harbour Beach? Has your air conditioner stopped working, leaving you a sweltering mess? Do you want to contact someone for service, yet you are concerned about not getting a fair price, or wondering if the person coming into your home or business is someone you can trust?
Fortunately for you, you've come to the right place! At Brevard Cooling and Heating, Inc. we have more than 34 years of combined experience in repairing, installing and maintaining air conditioners, furnaces, and other HVAC equipment. During that time, we have established a reputation as the best place to go for friendly, honest, and reliable service.
Our company can easily provide you with the services options needed to have a properly functioning system in your home or place of business. We provide only top-quality services for our customers, ensuring satisfaction and comfort with every service call.
---
Our Service Options
Our installation service is second to none as we provide only the best product solutions for commercial and residential customers. Whether you are working on a new build or need to replace your existing system, we can help. Our team of experts can easily provide an option for a new HVAC unit for your property.
As a top rated HVAC company we focus our efforts on the main areas of service: installation, repairs and maintenance. As a home or business owner in Indian Harbour Beach, you rely on your air conditioning unit when temperatures outside turn extreme. If your AC isn't working correctly, you can always turn to Brevard Cooling and Heating for fast service.
The Inspection Process
To get started, we arrive at your home or business and review your existing unit. We discuss with you what cooling and/or heating problems you have been having, reviewing the size and comfort needs of the space. Once we have evaluated all the elements necessary, we then focus on a new unit. We provide you with estimates for several systems, so you have a choice as to what you will install in your home or business.
Our technicians keep in mind any budget constraints, as well as energy efficiency needs so that you can save money on the initial installation as well as the operation of your new system. When it comes to a new HVAC unit install, let our experienced technicians get to work finding the right unit for your home or business needs.
HVAC Repairs
With our repair service, we always have technicians on hand to solve your repair needs. We know that a heating and cooling system can shut down at any time, so we want to be available when you need us most. The Florida heat can be overwhelming and cooling units often shut down when they are overworked. Instead of suffering in the heat, contact our office for immediate repair.
We are well-versed in all unit types, so we can easily provide a repair service option for your home or business. No job is too large or too small for us to handle. Once we have evaluated your unit, we provide an estimate for repairs and get to work quickly so you can be comfortable once again.
To maintain the integrity of your existing HVAC system, proper maintenance is required. An HVAC system needs to be inspected and cleaned on a regular basis to ensure that all components are working properly. Even the smallest of problems can lead to a major issue that will result in your system shutting down. When this happens, you are without cooling or heating and you have to wait for the repair to be completed.
Remaining proactive and scheduling regular maintenance avoids any unwanted issues that can be time-consuming as well as costly. Let us schedule maintenance service for your home or business to keep your HVAC unit in check.
Experienced Technicians
Before you let a technician into your Indian Harbor Beach home or business, you probably want to be sure that they are professionals in every sense of the word. You'll be happy to know that we rigorously screen all our employees, performing a background check as well as drug screening. In this way, we ensure your safety and comfort when they come into your home or business.
On top of working to ensure your safety, we ensure that our Indian Harbor Beach technicians are properly trained. Each and every one of them holds all the licenses, certifications, and other credentials required by law. We want you to know that when we send someone to you, he or she is going to get the job done right. Our technicians are qualified and continually trained so they can provide you with nothing but excellent service.
Because our technicians are experienced, we can diagnose repair problems quickly. You never have to wait days for your system to be repaired. Our experts are also handy with installations and can easily provide you with information on new units so that you can make a quality decision on a new system for your home or business. Maintenance appointments go off without a hitch due to our knowledge and if any repair needs are present, they are taken care of right away so you can remain comfortable at work or at home.
Contact Us For A Quote
If your air conditioner is broken, or if you think it needs some routine maintenance, give us a call. We're here to help you out, and we look forward to making you another one of our happy and satisfied customers. Our goal is to provide the community with access to the best HVAC services, so businesses and homes can continue to be comfortable during any season.
Give us a call today and tell us what your issue is or request a free estimate for installation or repair. We're the leading HVAC company in Indian Harbor Beach, and we look forward to showing you why! Contact our office today!
---
Great Job!
Brevard Cooling was a great experience. They were professional, on time and high quality. They were also fairly priced. You get what you pay for and I got a lot. I would highly recommend them.
Oscar B
Indian Harbour Beach, United States

Wednesday, January 11, 2023
Surfer joe
New AC installed !! Great service real professional installers .5 star treatment !! Josh & anthony did great
Joseph Schacht
Indian Harbour Beach, Florida

Tuesday, September 20, 2022
Awesome Install!!
If I could give 10 stars to Dan , Ian and Anthony I would! Their customer service is impeccable and workmanship is top notch. I have never received such awesome service from any company like this.
I am very pleased with my new AC and would recommend these guys to anyone and everyone.
Thank you very much for a job very well done.
Shawn King
Indian Harbour Beach, Florida

Tuesday, February 26, 2019
Great Holiday Service
There's nothing like having your AC quit on a Saturday during the Christmas holidays when you have a house full of company and the temperature and humidity are both on the rise! Made a quick call to Brevard C&H and Franco assisted with trouble shooting over the phone...no joy. Called back and he said he would be here in about an hour...30 minutes later he was at the door and less than an hour later the AC was up and running...! Great service! A big shout out to Franco!
Tom Richardson
Indian Harbour Beach, FL

Monday, December 31, 2018
2138
Brevard cooling installed my new AC system. The office staff is very knowledgeable and helpful in every way. The service team was courteous and professional. My thanks to Ben and Eric for their continued support throughout the installation. I highly recommend Brevard Cooling!
Sharon laPersonerie
Indian Harbour beach , Florida

Monday, September 17, 2018
Great Service at a Challenging Time
We have waited almost a year to comment as our home was a rental when our old system(s) failed just days before Hurricane Irma and our tenants needed A/C immediately for medical reasons. Eric came out immediately and sized up our needs and pushed us to the head of the install list for the Thursday before Irma hit. With Irma bearing down on us and evacuation of the island ordered, Brevard C&H understandably had to delay the installs until after Irma and performed them on Thursday following the storm (the first full day of power). They installed two full systems in one day allowing our tenants to return to a cool and comfortable home!
But here is the reason for my delay in commenting... We took the home back from the tenants on 1 October and immediately began a major renovation where we did not need A/C (and only minimal heat) until April '18. Eric and the team had also recognized, during the install, the need to upsize our ducting to obtain optimum efficiency of the systems and returned to do this work in February '18 to have us ready for the cooling season.
Having now endured the majority of the summer heat, we're happy to report that we couldn't be more pleased with our new systems' performance and the response/professionalism of the entire Brevard Cooling and Heating Team! This is the second home where we have used them for installation/services and we plan to continue using them in the future.
T. Richardson
Indian Harbour Beach, FL

Friday, August 31, 2018