Back to Locations
Palm Bay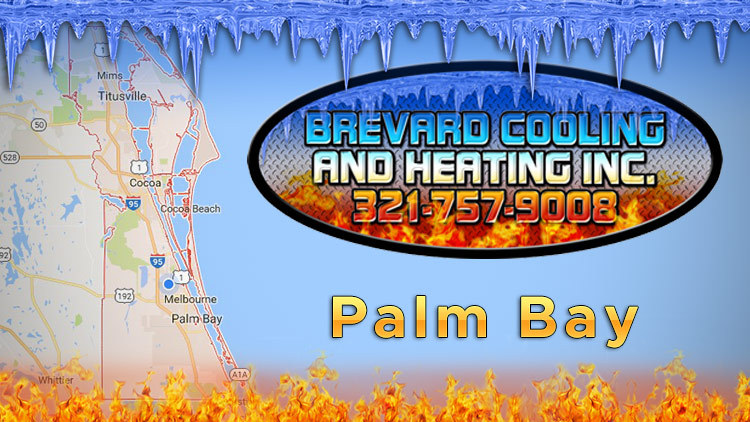 Professional Cooling & Heating Company in Palm Bay, Florida
If you're in Palm Bay and you need help with your air conditioner, furnace, or other HVAC equipment, there really is only one place to go: Brevard Cooling and Heating, Inc. At Brevard Cooling and Heating, Inc., we have worked hard to establish ourselves as the go-to place for all your HVAC needs. We have more than 34 years of combined experience, and we are proud of our status as one of the industry leaders in terms of quality service and customer satisfaction.
We work hard to make sure that our Palm Bay customers are just as happy with our service as all of our previous customers were. This means we take steps to ensure customer safety, comfort, and satisfaction.
In terms of customer safety, we closely screen all of our employees, conducting a background check as well as drug testing to make sure that anyone who puts on our uniform is a professional in every sense of the word. In terms of comfort, we train our employees on the proper way to interact with our customers, working to ensure that they are professional in conduct and demeanor. Finally, in terms of customer satisfaction, we stress to all of our employees that making the customer happy is of the utmost importance.
Our goal is to hire only professionals, individuals who have experience in the HVAC industry, but also those who wish to help our clients and provide only the highest quality of service. From our installation options to repairs and maintenance, you can rely on our team for all your heating and cooling needs.
---
Services We Provide
At Brevard Cooling, we focus our services on what home and business owners need regarding HVAC systems. This includes new installations. Over time, an existing HVAC unit will run its course and need to be replaced. As a unit ages, it loses its energy efficiency as well as the ability to operate effectively. When this happens, you are paying more to keep the unit running over time then you would with a new installation. A new unit will provide energy savings as well as peace of mind as you know the system will not be breaking down any time soon.
Installation
An existing heating or cooling unit that is ten years or older is going to need to be replaced sooner rather than later. If you notice your electricity bills increasing or the unit is in need of repair more often than not, its time to consult with our experts for a new installation.
With our installation service, we will arrive at your home and review your current unit. We evaluate what type of system you currently use and what your home or business could benefit from. Once we have a proper evaluation, we can then provide you with an estimate as to what will work best for your home. We work within your budget as well as comfort needs, to ensure you have access to an HVAC system that will be affordable and provide the much-needed heating and cooling for your property.
Repairs
Existing units needs to be repaired when an issue arises so that no further damage is done to the system. With maintenance, you avoid any unwanted repairs by keeping the system in check, ready to function during the more extreme seasons.
Each of our technicians can provide quality repair service when your unit breaks down or is acting strangely. Even newer units can experience a break down from time and time and when this happens, you want an experienced team by your side to help. By contacting Brevard Cooling, you have access to a team of experts who will arrive as quickly as possible to repair your system. Once the unit has been properly reviewed, a technician will provide you with an estimate for service and explain what is going on with your system. In no time, your heating and cooling unit will be working properly again, providing a comfortable environment.
Maintenance
Maintenance service is a must for HVAC systems, but unfortunately, most home and business owners neglect to have their systems serviced on a regular basis. Without an inspection each year, the unit can suffer from wear and tear and repairs go unnoticed. When a repair is allowed to go unchecked, other components can break down. This leads to even greater repair needs which means more cost to you and more time needed to get the unit functioning properly again.
We recommend that a heating and cooling unit be inspected in the spring and fall months. This provides a checkup before the extreme summer and winter season. You will use your HVAC system more when the temperatures rise and fall dramatically. With our help, your unit will be ready to offer comfort in the home or within your business.
Why Choose Brevard Cooling and Heating

In Palm Bay, there really is only one place for fair, friendly, and excellent HVAC service: Brevard Cooling and Heating, Inc. When you come to us, you'll never have to wonder whether you're getting a fair price, or whether we are going to actually get the job done. We strive that every customer will be happy with our service and work with us again and again for all HVAC needs.
Reputation is everything, and we proudly point to ours. We have been operating in Palm Bay for many years, and we take our customer satisfaction very seriously. Our goal is to serve our local community and provide both residents and business owners with quality HVAC services. Your dwelling should be comfortable at all times and a properly functioning HVAC system is the only way to achieve maximum comfort.
So, give us a call today, and we'll be happy to come out and take a look at your air conditioner or furnace issues. We look forward to answering any questions you may have or scheduling an appointment for service.
---
system change out
I have used Brevard cooling for repairs in the past and have been more than pleased with their service and price. Last week I called them out to look at my aging unit again that has been leaking freon and is out of warranty. the leak is undetectable as they have tried to find it months ago. I already knew I would need a new unit. Jesse came out and I decided not to dump any more money into it. He would have put more freon in it if I wanted, he didn't try to sell me another system. I asked him for new unit options that would fit my need. He gave me three options with prices for each and didn't try to over sell me on anything. It is important to note that I have past experience in the a/c field. We decided on a 31/2 ton Daikin straight cool system. Today Kyle and Zack installed it. They were professional,efficient and showed great attention to detail. Every aspect of the system is new. They replaced the line set, the breaker box, installed a surge protector, sanitized the ducts just to name a few. The supply plenum on the evaporator unit is so beautifully done and everything is sealed like I've not seen before. I'm sure I could have had a cut rate company throw a new unit in for less but I would have gotten what I just replaced.The quality of the system matters, Daikin has a 12 year warranty, even if the line set under the ground leaks Brevard Cooling will replace it. I don't have to spend anything else for 12 years because not only are the parts warranted, so is the labor cost. As much as the system matters, equally as important is who installs it because above all character and integrity matter, both of which everyone I dealt with from Hailey in the office to Jesse and then Kyle and Zack have just that. So thank you all for a system I will enjoy for years to come.
Paul Degnan
Palm Bay, FL

Thursday, January 26, 2023
Great Company, Great Techs, Great System
Entire Experience was a good one. This is my first time using Brevard Cooling And Heating Inc, and will certainly continue to use them, and recommend them to others. I called because of the great reviews online, and sure enough, they do hold up to the test. My first point of contact was the very pleasant woman who answers the phone when you call (I'm sorry I forgot your name). She was very positive and willing to help me get a tech out to my house for an issue I was having on a 17 Year old builders install Tempstar System, that I have been putting money into for the past 3 years or so, to keep running. Technician Jessie arrived at my house, explained to me what was causing the issue, and that he could certainly fix it, but couldn't guarantee the fix due to the age of the system (like adding new wine to old wine bottles ;)). He explained everything, and gave me plenty of options with pricing for the fix (which was reasonable), including the price of a new system if we decided to go that route. He even called his boss to see what they could do to help us out with equipment options and pricing if we decided to get a new system. After some deliberation between myself and my wife, we decided to go with the completely new system, as we know a 17 year old AC in Florida is operating on borrowed time (and r-22). I HATE going in to debt, however, we didn't have enough money for a brand new system, so Brevard Cooling And Heating was able to finance the New System at a fair price, for an even lower APR than a Credit Card. One week later, our brand new DAIKIN (Made in Texas) Heat Pump system was installed by installers Collin and Charlie, and she purrs like a kitten, instead of roaring like a lion like the old system. Unfortunately I did have to knock 1 star off, for the installers forgetting to program the thermostat in the installer settings that it was wired up to a 2HP/1C system. They accidentally left it at the Default Conventional 1 Cool/1 Heat setup because it was getting late in the day, and they were getting tired working in the heat all day. Thankfully I am versed in the installation and programming of HVAC control systems, and was able to rectify this myself, although I do not doubt for a minute that they would have come back out to fix it, if I had simply called. Also, through no fault of their own, it started pouring rain, when it was time to adjust the charge in the system, which completely throws off the readings, so they did the best they could and instructed me to call if it felt like it wasn't running good enough over the weekend. Sure enough, it was warm and humid in the house over the weekend due to a needed charge adjustment while NOT raining, so I called Monday Morning, talked to the very pleasant receptionist again, and she had a tech out in 3 hours. This is where I got to meet yet another pleasant knowledgable Technician (Justin, from Tennessee). He hooked up his gauges, and took all the temperatures at all the right places in the system, and got it charged right where it should be, and now we have a cool, crisp, dry running brand new AC! He also double checked everything, and sealed a few places with Silicon including behind the thermostat. The biggest thing I noticed with this company, is that everyone you interact with is Pleasant, and not Stressed, which is great. There is nothing worse than having a Stressed Technician in your house, worying more about his boss, his job and his emotional state, instead of taking care of you as the customer, and staying calm so they can use the knowledge they have to do the job right. Thank you everyone for your service. I will be using Brevard Cooling And Heating in the future, and it would benefit you to do the same. God Bless.
Nathan Gough
Palm Bay, Florida

Monday, May 23, 2022
Great Service
Had my yearly service done today and as always a great job. Jesse was my technician and he was wonderful. He took the time to explain all details of my unit and was professional, courteous and very informative. I have been using Brevard Cooling and Heating for a number of years and have always been completely satisfied with their workmanship, punctuality and professionalism......Well Done!
B. Rabsatt
Palm Bay, FL

Friday, May 20, 2022
OUTSTANDING SERVICE!
The Team at Brevard Cooling and Heat is absolutely the best in town! From the initial phone call asking for a sales visit to the final thank you to the installation team, we have been absolutely impressed with their professionalism and technical knowledge. It is never fun dealing with a complete AC Failure but these guys treat you so well during the entire process. Their goal is to make you feel like your their best friend! Brevard Cooling and Heat installs the very best AC System that money can buy, Daikin. Superior equipment and unbelievable warranty. Their warranty is the best in Brevard. Extremally satisficed customer. We highly suggest that you give them the opportunity to impress you!

Thanks again to the entire Team at Brevard Cooling and Heat!
Guy
Palm Bay, FL

Friday, May 13, 2022
A/C Tune Up
We had a Daikin AC system installed in August 2021. today I just got my first A/C Tune Up, technician Justin was super helpful and patient, answering all of my questions. Next Tune Up, I will continue to ask this technician Justinto maintain my Daikin air conditioner, He is a very professional .Thanks to technician Justin and Brevard Cooling and Heating. We would highly recommend Brevard Heating & Cooling.
Chiu Hsia Wilkie
Palm Bay, Florida

Wednesday, March 16, 2022
AN Honest and excellent AC Company
Finally an Honest AC Company, I have used them in the past for service and they didn't try and up sell me anything, My Heat Pump was going on 20 years old and I figured its time before it breaks, I had no thoughts of who to call except Brevard Cooling and heating. Eric was up front and very informative on estimate, Collin, Zack and Josh did an awesome job on install and also answered any questions I had, would definitely recommend them to anyone... Thanks Again
Mark Gleason
Palm Bay, FL

Tuesday, March 01, 2022
Excellent Job
I am very impressed with the service I received from Brevard Cooling and Heating. I was torn between who to go with to replace my A/C. There was never any pressure and Eric was super helpful and patient, answering all of my questions. The warranty they give is the best in Brevard. The workers were efficient, thorough, and clean. I have nothing but positive things to say about this company.They did all the work and reinstalled my UV light that was in the old unit.2/17/22
Thanks to Kyle,Collin,Gabe.Charlie.and Eric
from Denis homeowner,
Denis A Bubb
Palm Bay, FL

Friday, February 25, 2022
Excellent Service
The technicians Justin were very punctual and arrived at my home early. He was very friendly and polite young man and explained what problems he found. Got the air working for us.patiently explained some of the questions I asked. was personable and knowledgable. Would recommend your company to anyone.
Chiu Hsia W
Palm Bay, FLORIDA

Thursday, September 23, 2021
Excellent Service
Excellent Service and Nevil who serviced our A/C was a respectful and knowledgeable and a great guy. When we do ever purchase a new unit it will because of your company and Nevil.
Alyson Walsh
Palm Bay, Florida

Tuesday, September 21, 2021
Install brand new Daikin AC system
Brevard Cooling and Heating is a great company, well organized and easy to work with. The details of the equipment, installation and testing were explained to us. Derek, Collin and Nevell the installers did a wonderfull job, kept us informed on the progress and completed the installation in one day. During the testing phase, Franco tested and fine tuned the system. We now have an efficent, humidity controlled and quiet AC system. WELL DONE! Brevard Cooling and Heating Inc.


Chiu Hsia Wilkie
Palm Bay, FL

Wednesday, September 01, 2021
Install of a 3 Ton / 2 stages HVAC unit
After my old AC died, Brevard Cooling came for a free quote the next day and gave me the best price for value for a Daiking 16 SEER (3 Ton / 2 stages) witha 12 years warranty on labor / parts and compressor.
The install was doen in 6-7 hours and the technicians were extremely professional and knowledgeable.
All in all very happy with Brevard Cooling.

Jean-Philippe Blanc
Palm Bay, FL

Thursday, August 26, 2021
great product and service
We had our Daikin A/C installed in Sept 2020. We waited until several months passed to submit a review.
We got a few estimates before choosing Brevard Cooling. They were not the lowest or the highest, but they were the most articulate in explaining how the system works. Eric was very knowledgeable and we felt very comfortable in his recommendation of the Daikin AC.
We could not be more pleased with the performance of our new system.
Barbara Dichicco
Palm Bay, FL

Tuesday, June 29, 2021
So happy with my new AC unit!
So happy with our new AC unit ! This one doesn't blow you off the couch but keep the house nice and cool. Also really like the new filter system with the special light and newer type filtration system. I have already noticed a difference!
The guys were great - very polite & got the job done! Thanks so much!

Pat Beling
Palm Bay, FL

Saturday, February 13, 2021
Highly recommend!
We researched several AC companies and only a few actually came out to the house and sat down with us to discuss our options and to inform of us their products. We felt most comfortable with Brevard Cooloing and Heating. All of our questions were answered and the units were a reasonable price as well. I feel confident that the company stands behind their parts and warranty. Once installed, the difference in the house is amazing, lowers the humidity, is quiet, truly a fantastic unit! Very pleased we went with this company.Derek, Tyler, Tanner and Wes were informative, efficient and friendly. We are very happy we went with this company and are customers for life!
Brian Cumberland
Palm Bay, FL

Wednesday, February 03, 2021
Awesome company and workers
Awesome company and staff. They arrived on time and didn't stop until every little detail was attended to. I can't say enough wonderful things about Daikin air conditioners. I would highly recommend both Brevard Cooling and heating and Daikin air conditioning to anyone who needs a new system.
Richard Carle
Palm Bay, FL

Friday, November 13, 2020
Installation of New AC
From the start Franco was great at explaining things. Then Derek and Dave were the installers and they were excellent - everything was left clean and tidy. Thank you so much. Great Company
Janet Lewis
Palm Bay, FL

Wednesday, December 18, 2019
Maintenance Service 11-11-2019
Greg performed maintenance service, and he did a great job!
Dwight Beck
Palm Bay, FL

Monday, November 11, 2019
A/C Installation
My new A/C Unit was installed a few months ago. Dave and Anthony did an excellent job, very professional. I would recommend them to anyone.
Bob Ratte, Palm Bay
Robert Ratte
Palm Bay, FL

Wednesday, October 30, 2019
Outstanding Service!!
A superb technician named "Greg" came out today to resolve what seemed to be a non-functioning A/C unit at my home. Greg was determined to analyze, identify, and clear up the problems. Greg was totally professional, knowledgeable and provided- not only the solution to the problem but also gave me tips (that I was previously unaware of) on how to maintain the system between tune-ups.

Greg went above and beyond my expectations and I am very pleased with the outcome- working A/C unit! Thank you Greg and Brevard Cooling & Heating for your help today. You guys totally rock!
Truly
Mark D
Palm Bay, FL

Thursday, October 17, 2019
Goodman Furnace Install
The furnace in was done correctly and on time. Thanks.
Barry Lucas
Palm Bay, FLORIDA

Wednesday, August 14, 2019
Total replacement
We had a total air and heating replacement. The tech's did an excellent job. Everything was completed in a professional manner and we are very pleased with our new unit. Thank you
Holly Ferrari
Palm Bay, FL

Tuesday, August 06, 2019
Very Professional
We had our 6 month check up and Greg the Technician was very polite and courteous. He was right on time with the appointment and displayed a vast knowledge of his profession and did an outstanding service. Keep up the good work,
Rick & Laura
RICHARD BEVILLE
Palm Bay, Florida

Tuesday, July 30, 2019
Installation of an air conditional system
Outstandingly professional work. They installed a complete new system at a reasonable price. I would recommend Brevard Cooling and Heating Inc to all.
Ronald H Lewis
PALM BAY, FL

Tuesday, April 09, 2019
Challenging Installation
Brevard Cooling just finished a new installation at our home. The challenge was that the new unit was a bit larger than the existing one. There had to be some close fitting of the new compressor, some trimming of landscaping, and an exchange of the air handler, to make the new one fit into the cavity left by the old one. They did a great job making everything work out seamlessly. The Technicians were polite and worked at a steady pace until the work was done. Thank you!
Bud Marsic
Palm Bay, Florida

Thursday, August 23, 2018
New unit installation
Anthony and Donald installed our new A/C unit on 8/2/18. They called before arriving. When onsite, they explained what they were going to do and how long it would take to complete. They worked efficiently and without interfering with our routine. When complete they explained about the new equipment and what our responsibility was to maintain the warranty. Very pleased with the work and price. Brevard was maintaining our old system and will continue to maintain the new one.
Tom Gorman
Palm Bay, FL

Tuesday, August 07, 2018
New Installation
Wes and Sam arrived precisely ontime and went right to work to install our new furnace and Dynamic Air Quality system. The work was completed in a timely manner and the guys were terrific at showing us how everything worked and explaining the technical features of the new equipment. I highly recommend Brevard Cooling and Heating.

James Whelan
Palm Bay, FL

Friday, April 06, 2018
Great Service
I was extremely satisfied with the service I received from Brevard Cooling & Heating. They explained everything they did, clean up was amazing, people friendly and polite. I have already referred them to a friend and will do so again if asked about an air conditioning company..Thanks everyone for the good work.
Patricia Vaillancourt
Palm Bay, Florida

Friday, August 18, 2017
2045
After several outrageous estimates and annoying salesman's we had Brevard Air and Heat do the install. John was very informative and a pleasure to work with. Installers Ryan and Brenden were very professional and cleaned up after themselves, They even took the time to help me link the digital programmable thermostat to my smart phone instead of me trying to figure it out with the booklet that is supplied. VERY HAPPY HIGHLY RECOMMENDED.
Rick & Laura Beville
Palm Bay, Florida

Saturday, July 22, 2017
Great Job
The guys from Brevard cooling and heating did a very nice job putting in my new AC system and Blowing insulation into my attic. Very trustworthy guys. I was able to leave them at the house alone when I had to run errands. Would highly recommend them to everyone.
Dore Ann Masi
Palm Bay, Fl

Wednesday, August 03, 2016
Installation - Daikin DZ16 w/Daikin Variable Air Handler
We had a new system installed on 26 Jul 16 and the team of two (Ryan and Danny) were professional at their craft and did a great job of removing the old system and installing the new one. It came with challenges, but they put their skills to the test and updated our base platform for the handler and corrected a 24 year problem from the original building contract. Now the system is more efficient than ever. The guys left the garage as they found it, cleaned up after themselves and used foot covers when inside the house. When all was said and done, they broke down the homeowner instructions and walked me through the digital set up of the thermostat, monthly/quarterly maintenance and any other necessary items to keep our system operating at maximum efficiency. It was an extremely hot day to work outside and they stuck to it. The initial inside house temperature rose to 88 degrees on the install day, which is to be expected, but declined steadily throughout the night. Although the thermostat was set to 77 degrees, we awoke to a very comfortable 75 and the humidity was nil. If you want an installation done correctly call this company!
R. Wells
Palm Bay, FL

Wednesday, August 03, 2016
Wonderful Work
The guys were polite and explained everything before they started working. They showed me how to use the new thermostat and showed me all the new work they did. They cleaned up when they were done and left no mess. I would recommend Brevard Cooling and Heating Inc. to everyone.

Tina Parent
Palm Bay, Fl

Wednesday, August 03, 2016
Friendly - knowledgeable - and thorough. The installation men didn't miss a thing. They covered every aspect both inside and the unit outside. They cleaned up things the last company did very haphazardly and messy. The price I paid couldn't be met for the same equipment by any other companies. We are quite happy with the equipment, the company that provided it, and especially the guys that installed it!! Strongly recommend you consider this company before you commit to purchasing a new A/C system.
Robert Dziubinski
Palm Bay, Fl

Monday, January 18, 2016
Awesome!!
We had insulation coming out of the vents. We called 3 other AC company. No good!! One company even told me it could end up being $15,000 job.(Yeah) Called Brevard Cooling. Wife and I ended up getting a new unit that's going to be installed. Ask for Eric a great guy. Thanks a bunch.
Fernando Costanza
Palm Bay, Fl

Tuesday, December 22, 2015
Installed New Amana 18 seer
Installed new Amana 18 seer unit inside and out. All 3 guys showed up on time Very courteous and answered all questions. They changed all the copper tubing, drain, and thermostat wire that was running in a chase inside to the outside. Other contractors wanted to charge extra to change it.At the end they showed us how it should be maintained and what to look for. They gave us a 10-10-10 year guarantee while other contractors wanted to give a 10-1-1.
James D.
Palm Bay, Fl

Thursday, December 27, 2012