Back to Locations
Palm Bay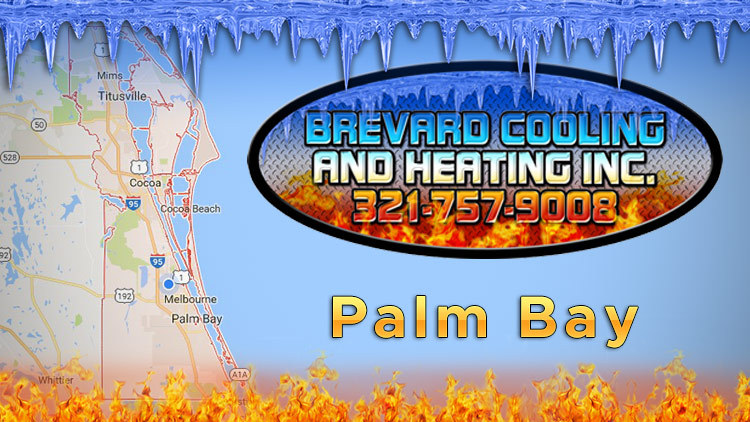 If you're in Palm Bay and you need help with your air conditioner, furnace, or other HVAC equipment, there really is only one place to go: Brevard Cooling and Heating, Inc. At Brevard Cooling and Heating, Inc., we have worked hard to establish ourselves as the go-to place for all your HVAC needs. We have more than 34 years of combined experience, and we are proud of our status as one of the industry leaders in terms of quality service and customer satisfaction.

We work hard to make sure that our Palm Bay customers are just as happy with our service as all of our previous customers were. This means we take steps to ensure customer safety, comfort, and satisfaction.

In terms of customer safety, we closely screen all of our employees, conducting a background check as well as drug testing to make sure that anyone who puts on our uniform is a professional in every sense of the word. In terms of comfort, we train our employees on the proper way to interact with our customers, working to ensure that they are professional in conduct and demeanor. Finally, in terms of customer satisfaction, we stress to all of our employees that making the customer happy is of the utmost importance.

Our goal is to hire only professionals, individuals who have experience in the HVAC industry, but also those who wish to help our clients and provide only the highest quality of service. From our installation options to repairs and maintenance, you can rely on our team for all your heating and cooling needs.

Services We Provide

At Brevard Cooling, we focus our services on what home and business owners need regarding HVAC systems. This includes new installations. Over time, an existing HVAC unit will run its course and need to be replaced. As a unit ages, it loses its energy efficiency as well as the ability to operate effectively. When this happens, you are paying more to keep the unit running over time then you would with a new installation. A new unit will provide energy savings as well as peace of mind as you know the system will not be breaking down any time soon.

An existing heating or cooling unit that is ten years or older is going to need to be replaced sooner rather than later. If you notice your electricity bills increasing or the unit is in need of repair more often than not, its time to consult with our experts for a new installation.

With our installation service, we will arrive at your home and review your current unit. We evaluate what type of system you currently use and what your home or business could benefit from. Once we have a proper evaluation, we can then provide you with an estimate as to what will work best for your home. We work within your budget as well as comfort needs, to ensure you have access to an HVAC system that will be affordable and provide the much-needed heating and cooling for your property.

Along with installation options, we also focus our service options on providing repairs as well as maintenance service. Existing units needs to be repaired when an issue arises so that no further damage is done to the system. With maintenance, you avoid any unwanted repairs by keeping the system in check, ready to function during the more extreme seasons.

Each of our technicians can provide quality repair service when your unit breaks down or is acting strangely. Even newer units can experience a break down from time and time and when this happens, you want an experienced team by your side to help. By contacting Brevard Cooling, you have access to a team of experts who will arrive as quickly as possible to repair your system. Once the unit has been properly reviewed, a technician will provide you with an estimate for service and explain what is going on with your system. In no time, your heating and cooling unit will be working properly again, providing a comfortable environment.

Maintenance service is a must for HVAC systems, but unfortunately, most home and business owners neglect to have their systems serviced on a regular basis. Without an inspection each year, the unit can suffer from wear and tear and repairs go unnoticed. When a repair is allowed to go unchecked, other components can break down. This leads to even greater repair needs which means more cost to you and more time needed to get the unit functioning properly again.

We recommend that a heating and cooling unit be inspected in the spring and fall months. This provides a checkup before the extreme summer and winter season. You will use your HVAC system more when the temperatures rise and fall dramatically. With our help, your unit will be ready to offer comfort in the home or within your business.

Serving Our Local Community

In Palm Bay, there really is only one place for fair, friendly, and excellent HVAC service: Brevard Cooling and Heating, Inc. When you come to us, you'll never have to wonder whether you're getting a fair price, or whether we are going to actually get the job done. We strive that every customer will be happy with our service and work with us again and again for all HVAC needs.

Reputation is everything, and we proudly point to ours. We have been operating in Palm Bay for many years, and we take our customer satisfaction very seriously. Our goal is to serve our local community and provide both residents and business owners with quality HVAC services. Your dwelling should be comfortable at all times and a properly functioning HVAC system is the only way to achieve maximum comfort.

So, give us a call today, and we'll be happy to come out and take a look at your air conditioner or furnace issues. We look forward to answering any questions you may have or scheduling an appointment for service.