Back to Locations
Melbourne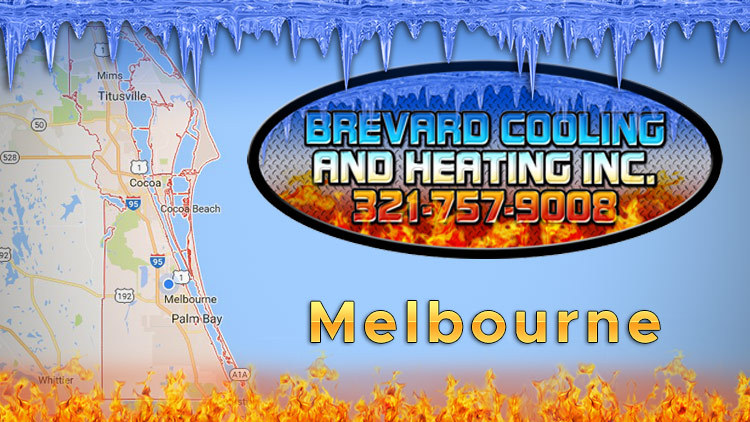 If you need a professional air conditioner or furnace repair performed in Melbourne, call our professional team today. We have a long history of providing quality, reliable, and friendly service. With more than three decades of combined experience, we have had a long time to build the reputation we have today. What's more, we work hard to make sure our technicians are all experts in their craft, and we take steps to ensure your safety and comfort when we send someone to your home.

We understand that a heating and cooling system provide much-needed comfort in your home or a business. We want all of our clients to have access to quality comfort, ensuring that every HVAC system we service or install is operating effectively and with the highest energy efficiency possible. Our focus is on the local community, providing the essential services needed during extreme seasons, like the hot summer months.

Top-Rated Technicians

Melbourne is a great place to live, but if your HVAC equipment needs work, it can be downright miserable. Let us send a qualified technician to your home or business. He or she can look at your system, diagnose the issue, and either perform the necessary repairs or make suggestions as to what needs to be done to get your air conditioner or furnace up and running again.

When you let someone come into your home or business, you want to be sure that he or she is just as much of a professional as he or she claims to be. That's why you'll be happy to know that we carefully screen all of our employees before allowing them to interact with our customers.

Our employees undergo a background check before we ever let them put on the uniform. What's more, we screen for drug use, making sure that the person we send to you is a professional in every sense of the word.

We also ensure that all of our Melbourne technicians are masters at their craft: they all hold the necessary licenses, certifications, and other credentials that the law requires. This way you know that when you call Brevard Cooling and Heating, Inc., you are getting someone who knows HVAC equipment.

Our Local Services

When you hire Brevard Cooling and Heating Inc. for your HVAC needs, you have a team at the ready for your service needs. We cover the main service options needed for heating and cooling in the home or within a business, including the installation of new units, repair service, and maintenance. With each of our services, we provide you with experienced technicians who get the job done quickly and provide you with the information needed based on your service needs.

With our installations, we provide only top-rated units for your home or business. Installing a new HVAC system can be a major undertaking. There is a cost involved as well as time spent having the unit installed. A new unit needs to be configured correctly to provide comfort as well as meet energy efficiency needs. When the proper factors are not considered, you may end up with the wrong size or type of unit installed within your home. With our experts on the job, we provide several options for your installation needs so that you can pick which unit you desire. We focus on energy efficiency and saving you money both on the installation as well as the operation of your new unit.

We also provide repair and maintenance service options. When your heating or cooling system breaks down, you want access to service right away. You need a team of experts on site to get your unit up and running once more. Our technicians have been trained to service all types of HVAC systems, easily able to diagnose the issue within your unit and get your system back on track.
Never wait when you have an issue with your heating or cooling system. By putting off service, you run the risk of a complete breakdown or costly repairs. By contacting our office as soon as you recognize an issue, you can have the problem repaired in no time, at minimal cost and shorter time constraints.

Maintenance is another service that every home and business owner should consider. With regular maintenance, an HVAC unit can maintain its integrity, extend its lifespan and maintain a quality energy efficiency level. Your unit is inspected fully and cleaned, ensuring the system can function properly year after year.

With our regular inspection, our technicians are able to recognize if there is a problem with your system. If a repair issue is present, it is taken care of during this appointment. This ensures your unit will not be subject to further problems in the future. Home and business owners who do not schedule regular maintenance service run the risk of the system breaking down and becoming uncomfortable. Always schedule this service to keep your unit in check.

Additional Service Options

In Melbourne, we also offer our residential and commercial customers additional services. From a quick tune-up to duct cleaning and duct sanitizing, we provide extra services, so HVAC systems can maximize their potential. With our tune-ups, we make sure your unit is ready to function. In Florida, this service is particularly useful as the summer produces extreme heat.

During the hot summer months, your air conditioning system will be working overtime to keep your property cool and comfortable. With a tune-up scheduled in the spring, you can ensure your unit is ready to function before summer arrives. There is nothing worse than going to turn your AC on to only find out that the unit is not working due to some unforeseen issue. With our tune-up, any problems are found before the system is needed to ensure operation in the future.

Our duct cleaning and sanitization services also come in handy. Keep the air quality of your home or business fresh by scheduling our duct service options. Dust, dirt, and allergens will all be removed with our specialized equipment.

Give us a call today to learn more about the many service options we can provide in Melbourne.