Back to Locations
Merritt Island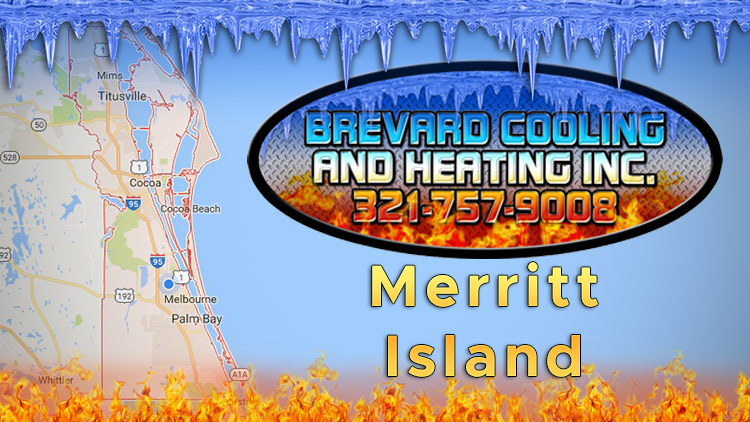 Does your Merritt Island home or business need help with a failing air conditioner or furnace? Are you unsure of where you can go, not sure what a fair price is, or wondering how you can make sure that the person you're allowing into your home or business is just as much of a professional as they claim to be?

Call Brevard Cooling and Heating, Inc., and you won't have to worry about any of these things. We have a strong reputation for quality, fair, and friendly service. We have been in the HVAC business for a long time—more than 34 years of combined service, to be exact. During that time, we have worked hard for our reputation, and you can be sure that we are going to do everything necessary to make sure you're just as happy with us as all of our other customers.

For years now, we have serviced Merritt Island, offering the best in installation, repair, and maintenance service. We also offer complete tune-ups as well as duct cleaning and duct sanitizing. All of our services ensure that your HVAC system is highly operational.

Services We Offer

As a home or business owner, you want the best HVAC system for your property. This is why we work with only reputable brands when it comes to air conditioning and heating unit installations. Our installation process runs smoothly from start to finish. When you need a new unit, we arrive at your property and provide an inspection of your current system. We consider the size of your home or business as well as heating/cooling load need.

Energy efficiency is also important, so we work to find the right unit that will provide you with not only comfort but also a high rate of energy efficiency. This way, your monthly utility bill is manageable, and your unit is not working overtime to provide the heating or cooling for the space.

With every installation appointment, we make several recommendations, so you can find the right unit for your needs and one that meets any budget restrictions. We know that in most cases, a new installation is not anticipated and can be a difficult cost to bear. Our team will work with you to ensure that you can have a new unit installed that is affordable and of the highest quality.

We also focus our efforts on offering the best repair needs. An HVAC unit can break down from time to time and without cooling or heating comfort, your property becomes unbearable. With our help, your unit will be back in action in no time. Our technicians have years of experience repairing a variety of HVAC systems and can easily get your unit back on track.

With every repair appointment, our technicians arrive on time and begin inspecting your unit. We diagnose the problem first and then provide an estimate for repairs. We let you know exactly what is going on with your system and get to work straight away so you are not without your unit for an extended period of time.

On top of our installation and repair services, we also provide maintenance servicing. An HVAC system needs to be maintained in order to stay operational as well as maintain energy efficiency. The unit needs to be reviewed from time to time, to ensure all components are operating as expected. If not, changes can be made to see the system function up to par.
Maintenance service is the best way to keep your unit running smoothly and to avoid any unwanted repairs. It is much better to have this type of service scheduled and to find a repair need instead of ignoring your unit and the system shutting down unexpectedly. It is recommended that a unit is serviced during the spring and fall seasons to prepare the system for the more extreme summer and winter months.

Additional Services

Along with the traditional HVAC service options, we provide duct cleaning and sanitizing. Many home and business owners tend to neglect the duct work of their HVAC unit. This leads to air quality issues in the home. The air quality is affected by contaminants such as dirt, dust and pet dander. When such contaminants are found in the air, they can settle within the duct work of your system. As the unit is turned on and off, the particles swirl in the air and enter the home. With our cleaning and sanitizing process, your duct work is set, allowing your air quality to be premium, avoiding any allergy issues or other problems.

Professional Team of Experts

At Brevard Cooling and Heating, Inc., we take steps to ensure your safety and comfort when we send someone to you. Each and every one of our technicians have undergone a thorough vetting process. We perform a background check, engage in drug testing, and otherwise take steps to ensure that our employees are professional, friendly, and courteous.

On top of all this, we make sure that our employees are properly trained before we allow them to begin working on your air conditioner or furnace. We require them to obtain and maintain all the licenses, certifications, and other credentials required by law, and we work with them to ensure that they are polite, kind, and friendly to our customers.

You rely on our technicians for quality service, inviting them into your home or business. We want to ensure that each of our technicians is qualified and prepared to provide only the highest quality of service to each of our customers.

If your Merritt Island home or business needs HVAC work, call Brevard Cooling and Heating, Inc. We are here to help you, and we look forward to showing you why we have such a strong reputation for quality and friendly service. Give us a call today to learn more about our many service options or to schedule an appointment. We look forward to hearing from you and assisting in any way possible.